Now in its twentieth year, electric tug specialist, MasterMover, has added two new divisions to the business. The company, based in Ashbourne, Derbyshire, now features an automated guided vehicles (AGV) division and a special projects division. The two new divisions, headed by special projects director James Jones, provide increased customisation and automation of the company's existing range of electric tugs for the manufacturing, retail, and warehousing sectors.
In the company's 20-year history, MasterMover has mastered the mechanics of moving loads and is now looking to expand both its product range and bespoke engineering solution services.

The automated guided vehicles (AGV) division follows the increasing demand for automation in the manufacturing industry. The division's automated electric tugs will move loads from three to 30 tonnes without the need for a pedestrian operator.
The AGV 300 TOW, MasterMover's first AGV product offering, is now available for demonstration and is capable of towing three tonne loads autonomously by navigating using its environment. MasterMover will look to expand its AGV weight capacity throughout 2017, as well offering a bespoke AGV design service to its customers.
"In many manufacturing plants, MasterMover's existing customers are increasingly looking towards automated machines to improve efficiency, particularly in low value add processes that involve repeated transportation of loads over long distances", explained James Jones, Special Projects Director at MasterMover. "By integrating the latest in guidance technology across our electric tug range, we're providing our customers with products that offer a solution to move towards safer, leaner operations."
The special projects division has been established to provide project managed engineering solutions to customers whose requirements fall beyond MasterMover's existing product range. For these customers, MasterMover can offer customised electronics, hydraulics and hazardous environment protection to produce variations on the existing MasterMover range as well as offer completely bespoke electric tug solutions.
"20 years of designing and manufacturing electric tugs has given us the experience to effectively evaluate customer operations and innovate solutions to improve the safety and efficiency of customer's material handling challenges", continued Jones. "While our current range of electric tugs services a wide range of applications, the company recognises that some plants have highly specific requirements. Such solutions will now be designed and managed within the newly established special projects department."
Plant managers wishing to find out more about MasterMover's new divisions can contact the company on 01335 301030 or visit the company's website.
Featured Product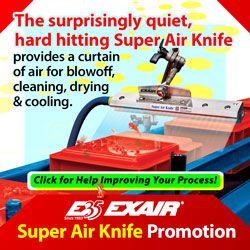 EXAIR Cabinet Cooler® Systems are a low cost, easy to install, maintenance free way to cool and purge electronic control panels. EXAIR Cabinet Coolers incorporate a vortex tube that produces cold air from ordinary compressed air - with no moving parts. The compact Cabinet Cooler can be installed in minutes through a standard electrical knockout. NEMA 12, 4, and 4X (IP54 and IP66) Cabinet Coolers that match the NEMA rating of the enclosure are available in many cooling capacities for large and small control panels. NEMA 12 Cabinet Coolers are ideal for general industrial environments where no liquids or corrosives are present. NEMA 4 Cabinet Coolers incorporate a low pressure relief valve for both the vortex tube and cabinet air exhaust. This valve closes and seals when the cooler is not operating to maintain the integrity of a NEMA 4 enclosure. NEMA 4X Cabinet Coolers offer the same protection as NEMA 4 but are constructed of stainless steel for food service and corrosive environments.