Manufacturing

Marketing Partner
---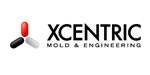 Xcentric Mold & Engineering
Xcentric provides consulting, prototyping, pre-production, and production services for a wide range of industries. We are a US Manufacturer - every mold is made and all production is run in one of our two Michigan-based facilities. Our core rapid manufacturing expertise: Injection Molding, CNC Machining, and Additive Manufacturing.
---
Mailing Address:
24541 Maplehurst
Clinton Twp, MI 48036
United States of America
Tel: 5865984636
Fax:
Website: https://www.xcentricmold.com/
Company Category: Additive & 3D Printing
Geographic Region: USA - North East
Company Sector: Manufacturing
Keywords: injection molding, prototyping, additive, mold, cnc, 3D Prin
Partner Status: Marketing Partner
---
Products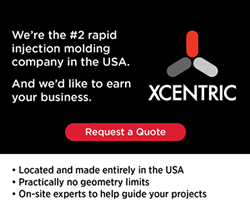 Xcentric plastic injection molding services focus on rapid delivery of prototype and low-volume production components. Our production processes are streamlined such that we typically deliver first articles in less than 15 business days, and for simple expedited projects in as little as five days. At the other end of the spectrum, we frequently produce components for customers needing a few hundred thousand components as a bridge to higher productivity molds. Over time, we have earned a reputation for being able to handle highly complex projects, overmolding, custom insert molding, and other complicated projects much faster than with traditional tooling, often helping our clients get to market weeks, if not months earlier. At Xcentric, every mold is designed and fabricated and all production is run in one of our two Michigan-based facilities.
---
Articles
In a world waiting to take its next move after the COVID-19 pandemic, we'd like to offer you and your team design resources for injection molded parts to help keep skills sharp during this uncertain time.
Xcentric will be exhibiting a range of example additive manufacturing, CNC machining, and rapid delivery injection molding projects that highlight how we are able to help shorten our clients' product launch cycles.
---
White Papers
DESIGN FOR MANUFACTURABILITY EBOOK - DESIGN RESOURCES TO SUPPORT YOUR PLASTIC INJECTION MOLDING PROJECTS
Xcentric has been a leader in rapid plastic injection molding for over 23 years. We have leveraged our experience and expertise to create several design resources to support designers and engineers working on plastic injection molding projects. Complete the form to access: Design for Manufacturability eBook, Injection Molding Design Best Practices, Mold Flow Analysis Guide, Material Selection Guide,Injection Molding Part Design Guide.
---
Press Releases
New 13-Day Standard Delivery for Injection Molding
---