Software

Marketing Partner
---

Robotmaster (Hypertherm Inc.)
Robotmaster seamlessly integrates robot programming, simulation and program generation using industry proven CAD/CAM tools typical of CNC Manufacturing. Optimized and error-free programming for such tasks as trimming, 3D machining, de-burring, polishing, welding, dispensing, grinding and painting.
---
Mailing Address:
5929 Rte Transcanadienne, suite 330
St. Laurent, QC H4T 1Z6
Canada
Tel: +514 225 2206
Fax: 514 221 3661
Email: info@robotmaster.com
Website: http://www.robotmaster.com
Company Category: Automation & Networking
Geographic Region: Canada - East
Company Sector: Software
Keywords:
Partner Status: Marketing Partner
---
Products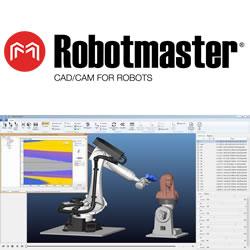 Robotmaster V6 provides a unique integration of user control, speed and flexibility to Robotmaster's renowned automation and optimization tools. The new and intuitive V6 interface elevates Robotmaster to an unprecedented standard of user experience by giving robot programmers a coherent and dynamic tool that radically saves time and money.
---
Articles
Total programming time for one workpiece, including the time to import a CAD file and create a toolpath, was reduced from 12 hours to only 3.5 hours.
We have a new suite of specialized tools for cutting and welding which we will be demoing at Fabtech.
This is an example of high speed milling of a soft foam statue into a sculpture using Robotmaster and a KUKA Robot. The 7-axis robot allows accurate cutting from all angles.
---
White Papers
This Company does not currently have any White Papers
---
---