Manufacturing

Marketing Partner
---

EXAIR
EXAIR intelligent compressed air® products solve problems in industrial plants while reducing compressed air consumption and increasing safety for personnel. We have the largest variety of sizes, materials and performance characteristics in order to provide the best solution for your processes and problems. Our products are commonly used to conserve air, cool processes or parts, convey material, clean surfaces or coat surfaces. EXAIR's 15 extensive product lines include air knives, air wipes, air nozzles and jets, atomizing nozzles, static eliminators, cold gun air coolant systems, air amplifiers, safety air guns, air operated conveyors, industrial housekeeping products, vortex tubes and spot cooling products, cabinet cooler systems, vacuum generators, compressed air optimization products, and associated accessories. Products meet OSHA standards and are CE and RoHS compliant. Five-year warranty on compressed air products and one-year warranty on accessories and electrically powered products.
---
Mailing Address:
11510 Goldcoast Drive
Cincinnati, OH 45249
United States of America
Tel: 513-671-3322
Fax: 513-671-3363
Email: techelp@exair.com
Website: https://exair.co/184_home
Company Category: Supply Chain
Geographic Region: USA - South East
Company Sector: Manufacturing
Keywords: compressed air, air knifes, air nozzles
Partner Status: Marketing Partner
---
Products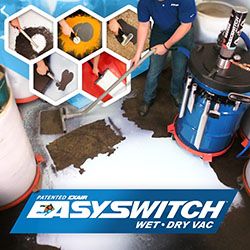 EasySwitch Wet-Dry Vacuum simplifies the filter change process when switching from vacuuming a dry material to a liquid or vice versa. The EasySwitch is a powerful pneumatic vacuum that is ideal for any application - wet, dry, light and heavy. https://exair.co/184_5175 Learn more about our special on our vacuums at https://exair.co/184-vacpromo
---
Articles
The contractor used a cleaning solution to break down the contamination prior to rinsing and drying. They had to be careful with the electrostatic filters as the ionizing wires that are used to charge the particles are very thin and prone to breaking.
A manufacturer of enclosure cooling systems prevented the loss of future production and eliminated downtime. Could this type of cooling be suited to your environment?
---
White Papers
This Company does not currently have any White Papers
---
---