Manufacturing

Marketing Partner
---

EXAIR Corporation
EXAIR intelligent compressed air® products solve problems in industrial plants while reducing compressed air consumption and increasing safety for personnel. We have the largest variety of sizes, materials and performance characteristics in order to provide the best solution for your processes and problems. Our products are commonly used to conserve air, cool processes or parts, convey material, clean surfaces or coat surfaces. EXAIR's 15 extensive product lines include air knives, air wipes, air nozzles and jets, atomizing nozzles, static eliminators, cold gun air coolant systems, air amplifiers, safety air guns, air operated conveyors, industrial housekeeping products, vortex tubes and spot cooling products, cabinet cooler systems, vacuum generators, compressed air optimization products, and associated accessories. Products meet OSHA standards and are CE and RoHS compliant. Five-year warranty on compressed air products and one-year warranty on accessories and electrically powered products.
---
Mailing Address:
11510 Goldcoast Drive
Cincinnati, OH 45249
United States of America
Tel: 513-671-3322
Fax: 513-671-3363
Email: techelp@exair.com
Website: https://exair.co/184_home
Company Category: Processing & Handling
Geographic Region: USA - South East
Company Sector: Manufacturing
Keywords: compressed air, air knifes, air nozzles
Partner Status: Marketing Partner
---
Products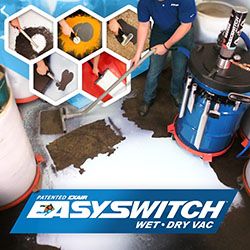 Be sure to attend the latest of EXAIR's webinars. Get educated on pneumatic industrial vacuums so you can break the cycle of replacing electric shop vacuums. Industrial environments often present a continual battle to keep them clean and safe. Unavoidable by-products of manufacturing processes include liquid and solids which often present hazards to personnel, products and processes. Solids may be trim, dusts, or chips from a manufacturing line; liquids may be coolant spills, coating overspray, or even burst packages. Cleaning up these materials often falls on the operators of the equipment who need reliable, adaptable, safe and effective tools for cleanup. Supplying them with tools which fail frequently or do not meet the requirements of the safety team is a recipe for disaster. Attend this webinar to gain an understanding of how pneumatic vacuums can reduce the maintenance, increase reliability, and improve flexibility for your facility. Attend live on May 24th at 2 p.m.
---
Articles
The contractor used a cleaning solution to break down the contamination prior to rinsing and drying. They had to be careful with the electrostatic filters as the ionizing wires that are used to charge the particles are very thin and prone to breaking.
A manufacturer of enclosure cooling systems prevented the loss of future production and eliminated downtime. Could this type of cooling be suited to your environment?
---
White Papers
THE BASICS OF STATIC ELECTRICITY
Because static electricity can cause so many problems on the production line, EXAIR has produced a more in-depth examination of it. This White Paper, is designed to help readers learn about the causes of static electricity, the steps that can be taken to eliminate static, and how to control it.
---
---