Manufacturing

Marketing Partner
---

EXAIR Corporation
EXAIR intelligent compressed air® products solve problems in industrial plants while reducing compressed air consumption and increasing safety for personnel. We have the largest variety of sizes, materials and performance characteristics in order to provide the best solution for your processes and problems. Our products are commonly used to conserve air, cool processes or parts, convey material, clean surfaces or coat surfaces. EXAIR's 15 extensive product lines include air knives, air wipes, air nozzles and jets, atomizing nozzles, static eliminators, cold gun air coolant systems, air amplifiers, safety air guns, air operated conveyors, industrial housekeeping products, vortex tubes and spot cooling products, cabinet cooler systems, vacuum generators, compressed air optimization products, and associated accessories. Products meet OSHA standards and are CE and RoHS compliant. Five-year warranty on compressed air products and one-year warranty on accessories and electrically powered products.
---
Mailing Address:
11510 Goldcoast Drive
Cincinnati, OH 45249
United States of America
Tel: 513-671-3322
Fax: 513-671-3363
Email: techelp@exair.com
Website: https://exair.co/184_home
Company Category: Processing & Handling
Geographic Region: USA - South East
Company Sector: Manufacturing
Keywords: compressed air, air knifes, air nozzles
Partner Status: Marketing Partner
---
Products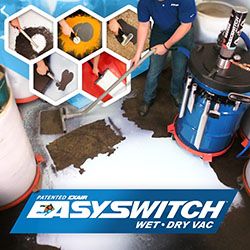 EXAIR offers many cooling products. Cabinet Coolers keep enclosures cool. Super Air Knives produce a quiet, hard-hitting curtain of air for cleaning, cooling and more. Cold Guns are an excellent alternative to messy mist systems. Learn more now. https://exair.co/184_cclp
---
Articles
A manufacturer of enclosure cooling systems prevented the loss of future production and eliminated downtime. Could this type of cooling be suited to your environment?
---
White Papers
UNDERSTANDING COMPRESSED AIR SAFETY AND SAVINGS WHITE PAPER
Compressed air safety is a concern for all. Compressed air is commonly referred to as the "fourth utility" because it is very common as a resource within manufacturing, mining and processing environments. Employees or contractors in every industrial company or setting are exposed to compressed air's effects regularly and it should be handled with responsibility and care. The primary dangers from compressed air come from high pressure and noise exposure. Personnel being exposed to compressed air which exits an open line or non-safety nozzle at a higher pressure than 30 PSI risk the air entering the bloodstream and causing air embolism, a serious health risk. Improper use of compressed air commonly exceeds OSHA's noise exposure standards and causes noise induced hearing loss (NIHL). The CDC reports NIHL is one of the most common occupational diseases and the second most self-reported occupational illness or injury. And because compressed air can be loud and result in hearing loss when it is used through poor nozzles, open tubes and pipe, or home-made blowoffs, their noise exposure standard is important. Limiting pressure and noise is effectively done by using products which are purposefully designed to meet these strict OSHA safety standards. EXAIR's White Paper "Understanding Compressed Air Safety and Savings" is designed to help readers learn more about compressed air, how to be sure you are OSHA compliant and how EXAIR's Intelligent Compressed Air products can help.
---
---