Our software brings a fundamental impact from three perspectives: process and product quality control, production optimization, and the agility required for quick responses to market opportunities and contingencies.
Industry 4.0: Embracing a Smarter Future
Q&A with | Critical Manufacturing
Manufacturing Execution System (MES) plays a crucial role in driving the digital transformation in the industry. At the forefront of this segment stands Critical Manufacturing, leading the way in high-tech industrial markets, directly from Maia, Portugal. They are set to bring together industry giants at the first-ever MES & Industry 4.0 International Summit in Portugal.
As the industry becomes increasingly global, companies operating in highly competitive and dynamic markets face mounting pressure to deliver higher quality products while becoming more agile and efficient. Hence, digitalization emerges as a key pathway to achieve optimization, elevating the importance of digital transformation for businesses. But how does this concept apply to the more traditional manufacturing industry? To demystify the complexities of technology implementation in industrial settings, Manufacturing Tomorrow sat down with Francisco Almada Lobo, the CEO of Critical Manufacturing. The company currently exports 100% of its software to high-tech markets like the United States and China.

Why is Critical Manufacturing a frontrunner in Industry 4.0? How do you guide your customers on their digital transformation journey?
Critical Manufacturing, a Portuguese company, is on a mission to make the world's largest industrial companies "Industry 4.0 ready" through innovative technological solutions for production management, automation, data analysis, and artificial intelligence.
We assist our customers through a fundamental strategy and solution in any digital transformation process. While many Industry 4.0 initiatives exist across sectors, most result in specific solutions, with only a few structured to create the foundation for a progressive, cumulative gain-based approach. Industry 4.0 is not an attain-and-forget label. At Critical Manufacturing, our product not only drives immediate gains but also supports our customers in an ongoing journey of continuous improvement.
How does your software impact your customers' businesses?
Our software brings a fundamental impact from three perspectives: process and product quality control, production optimization, and the agility required for quick responses to market opportunities and contingencies. These perspectives lead to quantifiable gains and act as levers for genuine digital transformation by enabling changes in business processes themselves.
Which industries do you primarily serve? And what other sectors can benefit from digitalization?
Our focus industries include semiconductors, electronics, medical devices, and industrial equipment manufacturing, reflecting our expertise in sophisticated and complex areas. However, digitalization transcends all sectors, and today, nearly every industrial strategy, regardless of size or sector, relies heavily on digital technology. For industries yet to fully embrace digitalization, learning from companies that have traversed the initial stages of this process becomes crucial to accelerate their progress.
Are there any hesitations when it comes to implementing digitalization processes in industrial environments? What contributes to this reluctance?
In the past, IT functioned primarily as a support department, with investments kept at a minimum, often limited to funded projects. Intangible assets, compared to equipment and manufacturing facility investments, held lesser value. Nevertheless, times are changing, especially with new generations leading companies, creating digitalization and digital transformation functions that carry greater strategic importance for organizations.
Absolutely, it is one of our primary objectives. The summit aims to emphasize the inevitability of investing in these areas while conveying the message that technology is not an end in itself. Technology serves as an essential enabler, allowing measurement, supervision, control, and optimization of industrial operations. However, like many other domains, a strategic long-term perspective with cumulative gains is crucial. At the summit, we will showcase how larger companies are tackling the challenges of digital transformation.
What can participants expect from this event?
The two-day event, to be held at Alfândega Congress Center in Porto, Portugal, will feature esteemed speakers such as Jeff Winter, a Keynote Speaker renowned for digital transformation expertise. Participating companies like Micron and B. Braun will add depth to the event. Engaging interactive sessions on Industry 4.0 Maturity Evaluation will be among the highlights, enabling participants to devise tailored strategies for their respective realities. Additionally, the summit will offer solution demonstrations, technology service exhibitions, and opportunities for networking and sharing experiences.
The content & opinions in this article are the author's and do not necessarily represent the views of ManufacturingTomorrow
---
Comments (0)
This post does not have any comments. Be the first to leave a comment below.
---
Post A Comment
You must be logged in before you can post a comment. Login now.
Featured Product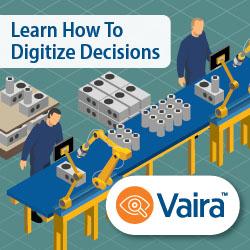 Vaira™ helps manufacturers digitize, automate, and upgrade error-prone manual processes and decisions to boost productivity and increase profits by helping humans make decisions consistent, reliable, and traceable. The camera-based solution is powered by a scalable suite of shop floor-ready apps built on proven machine vision and AI expertise for frontline manufacturing operations, with two-way integration to resource planning tools to help drive continuous analysis, insight, and improvements. Start digitizing immediately, streamlining processes customized to your unique requirements and reduce errors that lead to costs, delays, and quality concerns.