Most digital transformation projects must be implemented quickly and efficiently to maximize returns. Projects tend to have short deadlines with expectations for immediate returns while laying the foundation for long-term results.
6 Steps to Industrial Digital Transformation
Kevin Jones, Director Sales & Marketing | dataPARC
Digital transformation has become an increasingly popular strategy as businesses harness more data to drive greater efficiencies and reduce costs. The same is accurate for industrial processes. To improve efficiencies and cut costs, manufacturers need to be able to extract more data from their current operations and processes to identify areas for improvement. For industrial applications, this means accumulating more sensor data and information about the physical properties of the plant. Drilling down to that additional detail for data-driven decision-making isn't always easy.
Most digital transformation projects must be implemented quickly and efficiently to maximize returns. Projects tend to have short deadlines with expectations for immediate returns while laying the foundation for long-term results. What's more, digital transformation requires cultural changes as well as process changes.
The Value of Digital Transformation
The primary goal of digital transformation is to increase revenue. Gaining the correct operational data can provide new insights to optimize processes, reduce costs, increase production output, and realize other benefits.
In addition to saving or making more money, organizations can use operational data to solve other problems. For example, the company may need to change production processes to reduce environmental impact.
Cultural transformation is essential to make operational changes sustainable. Decision-making needs to be guided by data. Stakeholders, from operators to senior management, must be brought into the decision-making process. Employees must be engaged and focused on meeting improving needs. Part of digital transformation is promoting a learning culture, using new data and analytics to close the competency gap and move decision-making to lower levels within the organization. Everyone should use the same integrated toolset to achieve common goals.
Here we offer a six-step strategy for data transformation success that can be effective for virtually any industrial environment.
Step One: Identify the Project Team
Once you have common goals, sharing those objectives with stakeholders will organically produce a project team.
The team should be cross-functional, spanning different disciplines with multiple subject-matter experts (SMEs). Some of the most skilled and competent stakeholders may resist change, which can be extremely valuable. Often, naysayers speak from a greater level of expertise, having experimented with new processes and identified the problems. Once armed with new data from process analysis, they can become strong allies.
Success also hinges on having an executive sponsor and empowering team members. SMEs and the operational team need to collaborate to promote success.
Step Two: Linking the Data Systems
The next step is to gather the necessary data sources. Data links must be established with data historians to collect time-series data from across the plant. Data from laboratory information management systems, manufacturing execution systems, enterprise resource planning, shift logs, and other sources also must be integrated.
Integrating internal data sources is usually not a challenge. However, much of the data from external vendors and suppliers also must be captured. Processes must be in place so vendors either enter trial data and other information into the system or the data is captured in another way to inform analytics.
Step Three: Data Optimization
Linking the data is the first step. Data retrieval needs to be optimized, including fast access to high-density data. When data compression is on, you have increased speed access but lose data resolution. There is a tradeoff between quicker data access with data compression or greater data fidelity with higher density (i.e., uncompressed data) and slower performance.
Using data compression makes assessing a larger block of historical data easier, which informs long-term process optimization. Using higher-density data provides greater detail to assess short-term problems. The challenge is accommodating both high-speed access and greater data resolution.
Step Four: Self-Service Analytics
To achieve faster ROI, you must leverage the existing data and empower users to make ad hoc decisions based on that data. With the right approach to self-service analytics, you can solve immediate problems and uncover long-term issues by looking for consistent patterns.
Solving problems efficiently relies on having sufficient data to think through the problem quickly. By leveraging big data processing and training SMEs, you can interpret the data quickly and identify trends using graphic modeling and dashboards. The result is faster, more accurate decision-making and faster ROI.
Step Five: Creating a Single Source of Truth
The next step is to create a common data language and an operational representation that provides a single source of truth.
It's not unusual for a manufacturing plant to have thousands of displays, each representing various aspects of operations. Every operation has its own display showing a graphic and a trend. These data points must be consolidated into a cohesive view of end-to-end operations.
A primary goal of data transformation is creating a centralized overview or report card – a single display index representing a standard reference for plant performance.
Step Six: Continuous Improvement
Finally, you need to maintain a sustainable improvement process. Managers are most interested in achieving short-term goals and want to know if a specific project is on target. However, for sustainable improvements, you need good administrative controls. In addition to monitoring processes, stakeholders must be able to drill down into the data to identify the root cause of issues.
To promote continuous improvement, you must alert the right people at the right time with the right information. There also must be a notification mechanism to highlight problems as they occur. Smart alarms can be configured to send alerts when a deviation. You can use this deviation tracking to control factors - such as energy costs or environmental issues.
No matter the industrial environment, the steps to sustainable digital transformation remain the same. Success hinges on training and empowering operators to become process engineers and collaborating to identify and solve problems. With the correct data, meetings are transformed into work sessions that find solutions rather than reviewing a list of what must be done. Data provides the fuel for continuous process improvement if you take the time to mine it, analyze it, and present it effectively.
About Kevin Jones
Kevin Jones serves as the Director of Sales and Marketing for dataPARC. Kevin has been with the company since 2001 and has over 22 years of experience in process industries and using data to drive decisions. Kevin holds an undergraduate degree in Chemical Engineering from University of Idaho.
The content & opinions in this article are the author's and do not necessarily represent the views of ManufacturingTomorrow
---
Comments (0)
This post does not have any comments. Be the first to leave a comment below.
---
Post A Comment
You must be logged in before you can post a comment. Login now.
Featured Product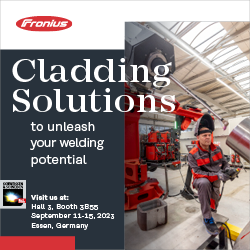 Ever since the invention of our "cold" MAG welding process Cold Metal Transfer (CMT), if not earlier, we have continuously achieved a technological edge in many welding-related areas, resulting in cutting-edge mechanized and automated welding systems. Advanced power source technology stabilizes the arc and ensures perfect welding results. Modern monitoring sensors optimize guidance of the welding torch and compensate for component tolerances. Last but not least, smart data documentation systems assist in perfecting the welding process. Collaborative systems, smart sensor technology, software solutions for data management, and offline programming including welding simulation open up profitable welding opportunities for metal processing companies starting with a single batch. That is why our robotic welding cells prove profitable not only for large companies, but also for small and medium-sized enterprises.