Wastewater treatment is serious business. Gearboxes from NORD DRIVESYSTEMS help this small community process up to 15 million gallons of it daily, without fail, with no surprises.

Case Study from | NORD DRIVESYSTEMS
Few of us give much thought to the water we use to flush our toilets and wash our dishes, especially once it goes down the drain. Fortunately for the City of Newport and its 10,000 or so citizens, Andrew Grant does. He and his team at the Vance Avery Wastewater Treatment Plant in South Beach, Oregon, are committed to keeping effluent safe, their facility dependable, and operating costs under control. Equipment from NORD DRIVESYSTEMS helps.
It's not an easy job. Processing requirements can vary dramatically from one day to the next, and without the right equipment, serious problems can result. "The story of Newport is one of tourism and growth," says Grant, who supervises the facility. "Not only has the population increased significantly since Vance Avery was constructed in 2002, but we get many visitors on the weekends and holidays. We're in coastal Oregon, so if there's a heat dome in the valley or it's the 4th of July weekend, people come out here on short notice, which creates unexpected demand on the facility. Because of this, we began to see some deficits in our ability to treat wastes."

Welcome to the Farm
Grant noted that there are many ways to skin the wastewater cat; his facility utilizes a biological treatment method, which relies on microorganisms to "eat" dissolved solids in the waste stream. One of his many tasks is to keep those microbes happy and healthy, which requires a delicate balance of nutrients and oxygen. This is supplied by huge wheels that turn continuously, drawing fresh air into an aeration basin and helping the inhabitants thrive.
"A treatment plant is much like a farm," he adds. "The amount of air we provide determines how quickly the bugs grow and can therefore metabolize the waste. In our case, the basin is 1.44 million gallons, and we're keeping all that water moving in a circle to keep the solids in suspension. The problem is the peaking factor—where our town's base population is 10,000, we often need to accommodate four times that number for several days or even a week. That's why it's important to have plenty of capacity, not to mention redundancy in our equipment."
As the city's population increased and its tourism business expanded, Grant determined it was time to perform a condition and criticality assessment. The results were less than favorable. "We found that the condition of our aeration basin was poor. It's a highly critical piece of infrastructure, so we began plans to expand it and, simultaneously, replace a few pieces of broken equipment."
A Successful Test Case
That was in 2019. Grant contacted to Jake Simpson, Account Representative for industrial supplier and NORD DRIVESYSTEMS distributor Motion in nearby Albany. Simpson contacted NORD District Sales Manager, Brent McNeill, and the two visited the facility for an assessment.
Because the most immediate need was to get the aerators running at full capacity, they recommended a temporary solution—a pair of the company's 25 HP CLINCHER parallel shaft gear units with UNICASE design and variable frequency drives. The test units utilized NORD's direct drive concept with hollow bore mount and NEMA C-face input for direct mounted motors. They were delivered fully assembled from the factory and are designed to run reliably without belts, sheaves, or pulleys, eliminating the need to maintain these wear parts or cover them with guards to protect operators. "It was a proof of concept," says Grant. "We like to try before we buy, and seeing that there's no bypass for the aeration tank, I needed to make sure they would work as promised. As it turned out, we tested those units for two years and were quite happy with their performance."
He and his team decided it was time to go ahead with an upgrade of the entire facility. They were running into serious capacity limitations, and new gear motors would allow them to speed up the aerators when needed, thereby increasing microbe growth. But seeing as the funding would come from taxpayer dollars, Grant did his due diligence and put the project up for competitive bid.
"Even though we had documented success with the NORD product, it's my responsibility to be a judicious steward of the city's resources," he explains. "So not only did we invite others to bid on the job, but we also got quotes on repairing the old gear motors. NORD came in with a better price than all of them."
Increased Growth
Grant's team had installed the first pair of gear motors. For the project's second phase, they looked to Motion for the next six. They also replaced "every rotating component except for the shafts." Again, there was no chance for a facility shutdown, so they used a phased approach, completing half of the installation before moving on to the rest. "It was a pretty sizable project," says Motion's Simpson. "But we found early on that since the NORD gearboxes can be turned on their side, it was easy to fit them into the available space."
There was more to the project than installation. Grant notes that the Pacific Northwest environment is extreme. Between the salt air, frequent rain, and wind gusts of 90 mph, he's learned to drill "weep holes" anywhere water might collect. Doing so helps to reduce the rust that might otherwise form and keeps maintenance to a minimum. So do the "huge oil reservoirs" in the NORD gearboxes, which were another selling feature. "By loading them with synthetic oil, we can keep the maintenance down to one-year intervals," he says. "That's a big deal for us."
So are energy costs. As indicated earlier, the budget was a key project metric and played a large role in Grant's decision to go with NORD. Since then, however, he's discovered an additional bonus—the new gear motors with the variable frequency drive are 12% more energy-efficient than the legacy units. This might not sound like much, but it's enough to save the facility over $30,000 on its electric bill annually, never mind the fact that its aeration capability has increased by more than 50%.
"Our previous capacity was 600 pounds of oxygen per hour," says Grant. "We upgraded that to 930 with this project, so it's a significant expansion. That gives us redundancy and the ability to keep up with peak demand. It also reduces our maintenance costs; since the old units had sheave drives, we always drove into town for replacement belts and then took the units down for service. Not anymore. Our job here is very important. We're a fishing community, and when the water leaves here, it gets discharged offshore. Yes, it's 98% pure, but it goes into our ocean, our crabbing grounds, and our beaches, and we treat that responsibility very seriously. So I'm quite pleased with the outcome, and glad that NORD and Motion were able to provide us with such a robust solution. It's been a great project."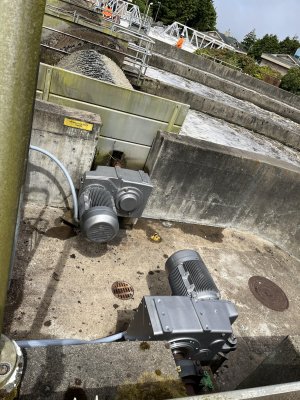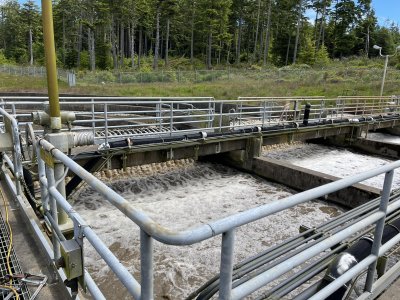 About NORD DRIVESYSTEMS®
With more than 4,000 employees, NORD DRIVESYSTEMS has been developing, producing and selling drive technology for more than 50 years, and is one of the global leaders of full-service providers in the industry. In addition to standard drives, NORD delivers application-specific concepts and solutions for special requirements such as energy-saving drives or explosion-protected systems. In financial year 2017, annual sales amounted to $781 million. NORD now has subsidiaries and sales partners in 98 countries worldwide. The dense sales and service network guarantees optimal availability, enabling short delivery times and customer-oriented service. NORD produces a very diverse range of drives for torques from 88 to more than 2.2 million lb-in, provides electric motors in the power range of 0.16 to 1,341 HP, and manufactures frequency inverters with the required power electronics of up to 215 HP. Inverter solutions are available for conventional control cabinet installations as well as for decentralized, fully-integrated drive units.
The content & opinions in this article are the author's and do not necessarily represent the views of ManufacturingTomorrow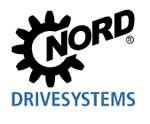 NORD DRIVESYSTEMS
With production facilities in the Midwest and on both coasts, NORD is prepared to serve you with some of the shortest lead times in the industry. We house extensive component inventory, allowing us to assemble and ship 25% of all orders same or next day!
Other Articles
From candy to coffee beans, AD Process Equipment's confectionery equipment applies coatings that make food taste better. NORD DRIVESYSTEMS helps them do so more efficiently.
Faced with tight quarters on a gearbox application, Texas-based machine builder turns to NORD DRIVESYSTEMS for help.
Rugged, reliable, and thermally optimized, NORD's industrial gear units are ready to take on the most demanding industrial drive technology requirements.
---
Comments (0)
This post does not have any comments. Be the first to leave a comment below.
---
Post A Comment
You must be logged in before you can post a comment. Login now.
Featured Product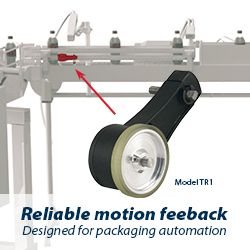 The Model TR1 Tru-Trac® linear measurement solution is a versatile option for tracking velocity, position, or distance over a wide variety of surfaces. An integrated encoder, measuring wheel, and spring-loaded torsion arm in one, compact unit, the Model TR1 is easy to install. The spring-loaded torsion arm offers adjustable torsion load, allowing the Model TR1 to be mounted in almost any orientation - even upside-down. The threaded shaft on the pivot axis is field reversible, providing mounting access from either side. With operating speeds up to 3000 feet per minute, a wide variety of configuration options - including multiple wheel material options - and a housing made from a durable, conductive composite material that minimizes static buildup, the Model TR1 Tru-Trac® is the ideal solution for countless applications.