We're breaking down how you can best implement condition monitoring in your facility and what approach may be right for you.
What are the Differences Between Preventive and Predictive Maintenance?
Article from | SICK USA
When it comes to optimizing the performance of machinery used in manufacturing processes, maintenance managers have some tough calls to make on how to best keep production moving. This has evolved into a requirement for effective condition monitoring of all moving parts in a facility.
A major question is on whether preventive or predictive maintenance is the most beneficial approach. Even though they sound incredibly similar, many don't realize that these are two completely different concepts. While both provide distinct advantages to keeping your operations running smoothly, there are some key differences between preventive and predictive maintenance.

What is Reactive Maintenance?
Before we jump into the differences between those two maintenance strategies, let's discuss one more: corrective maintenance. Of all strategies, this is the beginning of the journey into condition monitoring. Corrective maintenance, or sometimes called reactive maintenance, is done only in response to a breakdown in equipment efficiency or a breakdown. It is typically carried out only after performance issues have been detected.
For obvious reasons, this is not a very efficient form of maintenance. Since there are no efforts made to predict a need for maintenance, when a breakdown happens, that results in unwanted plant downtime and a loss of time and money. Therefore, this is not a recommended strategy. Instead, we'll break down two of our recommendations for condition monitoring and maintenance strategies.
What is Preventive Maintenance?
Preventive maintenance is the next step toward condition monitoring. The goal is to provide routine maintenance to prevent problems before they occur. It is planned at regular intervals where machine downtime can be planned during optimal times.
Manufacturers assess and inventory their machinery. From that, they create a punch list of what needs to be worked on when and schedules those out at regular intervals. Often many pieces of equipment are inspected, repaired, calibrated, cleaned, or replaced at one time to optimize the planned plant downtime.
This approach is used by many manufacturers currently. And although it does make operations more efficient, it does have some downsides. It is designed to keep machinery and parts in good condition, but it doesn't necessarily consider the actual condition of a component or process. For example, with maintenance being scheduled at regular intervals, there may be times when issues are addressed when there isn't a problem to fix. This is an inefficiency that could be eliminated if another strategy was used.

What is Predictive Maintenance?
Predictive maintenance is an open-loop strategy that uses specific criteria to determine if a machine is operating safely and efficiently. It uses information like sensor data, historical use of the machine, and the current condition to determine when parts will wear out or degrade on a machine. Monitoring a system to predict when maintenance will be needed allows for scheduled maintenance to be performed before the system breaks down.
Not only does it take sensor data into account, but it also expands upon the data to determine patterns, identify risks, and predict the possibility of a failure on the machinery. It is essentially the first step into condition monitoring and provides a more affordable option to get started on this process.
Predictive maintenance can help reduce downtime and optimize the performance of the system. The key benefit to manufacturers is by providing advanced warning of potential issues that may arise in operations. By preventing downtime and other issues, manufacturers can increase productivity, reduce costs, and improve customer satisfaction. Additionally, predictive maintenance can help manufacturers optimize their resources, as they can plan for maintenance and repairs in advance.

Which one is right for you?
So, to summarize, the main difference between preventive and predictive maintenance is that the former occurs on the same schedule every cycle, regardless of if upkeep is needed. Whereas predictive maintenance occurs as needed and takes into account real-time sensor data analysis of the machine.
Now that you understand the differences between the two maintenance strategies, which one is right for you? Well, that depends on your operations and the level of maintenance required. There is no one-size-fits-all solution, so it entirely depends on your organization's structure and maintenance goals.
If planned downtime works for your facility, preventive maintenance may suffice. It is highly preferable the unplanned downtime that comes with reactive maintenance, so it is a step above that. However, if you are a running a larger facility with numerous types of machinery, predictive maintenance may be better. It helps reduce downtime and can even be performed as machines are running normal production modes. Predictive maintenance is also more proactive as it often catches failures way before they could ever occur.
The content & opinions in this article are the author's and do not necessarily represent the views of ManufacturingTomorrow
---
Comments (0)
This post does not have any comments. Be the first to leave a comment below.
---
Post A Comment
You must be logged in before you can post a comment. Login now.
Featured Product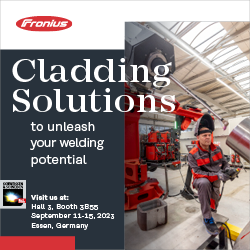 Ever since the invention of our "cold" MAG welding process Cold Metal Transfer (CMT), if not earlier, we have continuously achieved a technological edge in many welding-related areas, resulting in cutting-edge mechanized and automated welding systems. Advanced power source technology stabilizes the arc and ensures perfect welding results. Modern monitoring sensors optimize guidance of the welding torch and compensate for component tolerances. Last but not least, smart data documentation systems assist in perfecting the welding process. Collaborative systems, smart sensor technology, software solutions for data management, and offline programming including welding simulation open up profitable welding opportunities for metal processing companies starting with a single batch. That is why our robotic welding cells prove profitable not only for large companies, but also for small and medium-sized enterprises.