After extensive research and analysis with leading industry manufacturers, machine builders and end users, we have compiled the Top 5 Questions to Ask When Evaluating an IIOT Solution.
Top 5 Questions to Ask When Evaluating IIOT Technology Solutions
Article from | Automation Intellect
Manufacturers transitioning to Industry 4.0 have a lot of decisions to make. One of them is choosing an IIOT technology solution that best fits their needs and business goals.
Since it's new and unknown territory for most which leaves many leaders unsure of the critical questions to ask of a solution provider during the investigative phase.
The most important questions that impact success have less to do with features and functionality, and more to do with deployment, engaging end users and future-proofing your investment.
After extensive research and analysis with leading industry manufacturers, machine builders and end users, we have compiled the Top 5 Questions to Ask When Evaluating an IIOT Solution.
1. What does your deployment roadmap look like?
This is a big one. Many manufacturers don't realize, until it's too late, that the process of implementing a new technology solution is lengthy, complicated and demands a great amount of internal resources.
In the months or years it takes to realize value, the organization has incurred additional unknown costs, disruption to the plant floor and a significant amount of time and resources from IT.
During your investigative phase, ask vendors the following questions:
Can you provide an implementation timeline with key milestones and deliverables?
How long before connectivity and data visualization is achieved?
2. How do you support implementation and onboarding?
This is often an overlooked question as manufacturers focus on the software's features and functionality. However, if implementation depends on internal resources that do not have the time or expertise needed, it becomes a time consuming and expensive problem.
Questions to ask vendors:
How many internal resources will be needed to support implementation?
Who will handle connecting the machines, configuring and validating the data?
Do you provide training and is it included in the implementation price?
3. How long before we will see value from your software?
Manufacturers are choosing IIOT solutions in order to increase efficiencies and revenue. For most, this is achieved by improving machine performance, reducing downtime and eliminating scrap. The question to ask software vendors is how long before these benefits can be achieved?
If you are choosing an end-to-end solution that is going to be customized and implemented across the entire organization, chances are the time to value could take years. Many pre-built, SaaS solutions on the other hand, can be implemented in a matter of days.
If you consider a modest 1% increase in machine performance can equal hundreds of thousands of dollars, there is a high cost of waiting to get visibility into actionable data.
Ask your software vendor:
Can you provide case studies of existing customers with examples of how long it took to get visibility into actionable data in order to make production improvements?
Do you provide training and guidance as to how to identify improvement insights?
4. How easy will it be to make additional updates and future-proof the solution?
No matter the industry, software and IoT technologies are evolving and innovating at a rapid pace.
If you choose a customizable software solution that is configured to meet your specific, organization-wide initiatives, it will be much more time consuming and expensive to make additional updates or add new features.
The initial innovation cycle of a customizable or on-premise solution generally takes years. By the time functionality is achieved, it's possible the original goals of the initiative need further refinement.
The innovation cycles of SaaS solutions are much faster, with new releases and updates available to all users at no additional costs.
Questions to ask IIOT vendor:
How do you roll up your data from plant to plant? Does it follow the same standards from the beginning?
How does your software ensure that we do not get locked into capabilities that are difficult to upgrade?
5. What level of expertise does your staff have in manufacturing?
Do you want to purchase technology from a software company that builds multiple solutions for dozens of industries? Or would you prefer a company that has expertise in manufacturing and leading edge technologies.
Software vendors that have experience in manufacturing know first hand the challenges facing the industry, and how best to use technology solutions to uncover opportunities.
Ask IIOT software vendors:
Does your team have experience in the manufacturing sector and can you provide me with case studies specific to the industry?
Do you have experience in my specific segment of manufacturing? (i.e. discrete, automotive, etc.
Automation Intellect compiled these questions based on our two decades of experience with manufacturers and technology providers.
That experience sets us apart in the field of IIOT software. Automation Intellect provides immediate, enterprise wide, visibility into machine performance that will help drive immediate improvements in output, downtime and quality.
Implementation is a simple, low disruption process that takes just hours
We handle all of the tag and configuration files for you
Agnostic technology can connect to all devices, machines, ERP and MES systems
Scale fast within a plant or organization
Built by experts in manufacturing
Implementation includes full training and customer support
The content & opinions in this article are the author's and do not necessarily represent the views of ManufacturingTomorrow
---
Comments (0)
This post does not have any comments. Be the first to leave a comment below.
---
Post A Comment
You must be logged in before you can post a comment. Login now.
Featured Product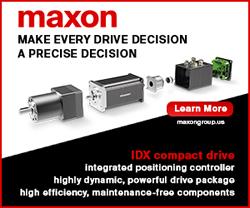 The compact brushless EC-i motor combined with an EPOS4 positioning controller delivers a highly dynamic, powerful drive package with field-oriented control (FOC), high efficiency, and maintenance-free components in a high-quality industrial housing. The maxon IDX drives are suitable for use across the entire speed range (from standstill to maximum speed) and have an extremely high overload capability. Together with a positioning controller, the integrated sensor (single turn) enables absolute positioning.