In an age when black swan event-induced disruption has become more commonplace, having complete visibility into your suppliers and collaborating with them have never been more critical.
Managing through Procurement and Supply Chain Challenges
Q&A with Sundar Kamak, Global Head of Industry Solutions and Presales, | Ivalua
Tell us a little bit about Ivalua and your role at the company.
Ivalua is a leading provider of cloud-based Spend Management solutions. Our complete, unified platform empowers organizations to effectively manage all categories of spend and all suppliers, increasing profitability, lowering risk and improving employee productivity. We are trusted by hundreds of the world's most admired brands and public sector leaders and recognized as a leader by Gartner and other analysts.
I serve as the Global Head of Industry Solutions where I work with customers around the world to improve their procurement practices.
What are some of the most significant procurement and supply chain challenges in your industry today?
Manufacturing supply chains are typically much longer and more complex than in other industries and, as a result, have been hit the hardest by recent disruptive events. Ivalua research found that 84 percent of procurement leaders in manufacturing say dealing with supply chain disruptions has been the most significant challenge of their career to date.
In an age when black swan event-induced disruption has become more commonplace, having complete visibility into your suppliers and collaborating with them have never been more critical. However, a lack of visibility coupled with limited collaboration has become a running theme for organizations.
This is not only impeding them from realizing greater value from suppliers — whether it's driving innovation, achieving sustainability goals, or improving supply chain resilience — but also making it harder to identify and mitigate potential risks
What are some best practices for managing through these challenges?
A smarter, more holistic approach to procurement and supplier management is needed. By digitalizing procurement processes, organizations can effectively discover, assess, engage, and monitor suppliers, enabling them to measure progress against key business priorities such as supply continuity, Environmental, Social and Governance (ESG) performance, and innovation.
In particular, in light of the challenges faced, it's vital that manufacturers have full visibility into the supply chain to be able to assess their suppliers effectively and fully understand the risks.
This enables manufacturers to carry out robust supply chain planning, increase proactive risk monitoring capabilities, and create contingency plans in the event of supplier failure. Manufacturers can also benefit from smart collaboration tools, which will allow them to work more closely with suppliers.
For instance, global automotive parts supplier Meritor turned to Ivalua to digitise its complete product and supplier lifecycle. Historically, Meritor's procurement function had relied heavily on inefficient processes like email, shared drives, and hard drives – meaning that it wasn't operating in ways to support supplier collaboration or launch new products quickly. By leveraging Ivalua's platform to support its digital transformation, Meritor was able to drive improved collaboration and efficiency across the entire source-to-pay (S2P) process, helping to accelerate product innovation and growth."
How are today's supply chain challenges being experienced by companies different from what they encountered pre-pandemic? Do you see those supply chain challenges continuing to evolve as we look into next year?
Beginning with the onset of the pandemic and stretching into 2021, organizations experienced both widespread and pervasive supply chain challenges, which at times seemed to impact almost every product and material category. This caused ripple effects throughout the supply chain, some of which markets are still feeling today (e.g., shortages, delays, price inflation, etc.). As a result, procurement and supply chain organizations had to scramble to source available supply to maintain production and business operations.
As opposed to the global and pervasive supply chain issues in 2020-21, current supply chain challenges, in general, appear to be more accurately described as regional, acute, and even periodic in some cases. Although we still see a scarcity of certain materials today, in general products and materials are more readily available than they were. Not all industries, regions, and markets are equally impacted though.
Supply chain strategies almost immediately evolved, sometimes dramatically, as organizations worked to find available and reliable supply in 2020. Implementing a change in supply chain strategies can be challenging due to resources, skills, capital investments, and more. Many organizations made rapid changes (e.g., multi-source, etc.), where possible, while other changes (reshoring, etc.) may take more time. We believe that many organizations will continue to see supply chain disruptions through the remainder of 2022, and into 2023.
What would you say is driving the advancement of ESG initiatives—is it more to do with compliance or is it being pushed by consumers or other factors?
ESG initiatives are often driven by the industry and region where organizations operate. For example, some organizations create initiatives in response to government regulations, while other organizations have proactively made ESG / decarbonization commitments. Regardless of the ultimate reason driving the ESG initiative, organizations don't just have to be seen to be doing the right thing, they also must substantiate it by putting processes and solutions in place to execute and measure results and ensure compliance.
Yet again, transparency and visibility are crucial here. With an estimated 70% of scope 3 emissions generated in supply chains, organizations must gain visibility into the practices and CSR performance of not just their tier one suppliers, but also sub-tier suppliers if they are to meet their ESG goals and ensure compliance.
What specific tech strategies are companies focusing on or considering adopting to address their supply chain challenges?
Many organizations are executing technology strategies based on lessons learned over the last two years to improve supply chain resilience and agility. Many of those plans focus on:
Supplier Management solutions to improve visibility into supplier risk,
Digitize and harmonize source-to-pay processes into a single source-to-pay solution to improve automation and transparency across the end-to-end process,
Leverage dashboards and analytics in these source-to-pay solutions to improve access to spend reporting and make sure the procurement organization is making the optimal decision possible at every stage of the source-to-pay process, and,
Undergoing a direct materials transformation (e.g., Direct Sourcing, Supply Chain Collaboration), where organizations are embracing technology standardization and automation to increase transparency, collaboration, and automation into their processes and build more resilient and agile supply chains.
The content & opinions in this article are the author's and do not necessarily represent the views of ManufacturingTomorrow
---
Comments (0)
This post does not have any comments. Be the first to leave a comment below.
---
Post A Comment
You must be logged in before you can post a comment. Login now.
Featured Product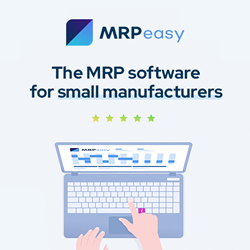 Always know what you have in stock and what you'll need to fulfill orders. Never forget to order parts on time or fail to notice a late delivery from your vendor. Easily create manufacturing orders and schedule them automatically according to resource availability or delivery deadline. Generate accurate cost and lead time estimates and provide customers with quick quotes. Receive notifications when orders are late or inventory levels reach a critical point. Ensure seamless communication between sales, production, warehousing, procurement, administration, and finance. Integrate with popular accounting, CRM, and e-commerce apps. MRPeasy is an ERP software for small manufacturers that gives you all that and more. Our users report a 54% average improvement in the overall performance of their business and a 42% increase in on-time deliveries. Try for free, no credit card needed.