With growing energy demand and increasing focus on energy security and supply resiliency, governments and businesses alike have turned to digital strategies to shape the new energy landscape.
Digitizing the Energy Transition: How Are Digital Technologies Accelerating Decarbonization?
Article from | AVEVA
Digital technologies can help achieve up to 75% of the United Nations Sustainable Development Goals, including significant reductions in greenhouse gas emissions. By some estimates, digital technologies can cut emissions by up to 50% by 2030. That's more than the carbon footprint of the US and the EU combined. In the past two years, more than 25% of the world's largest industrial companies have pledged to cut emissions to net zero. But how do innovations like industrial AI, cloud, and big data move the carbon needle? How are industry leaders adapting technologies to accelerate change? And how can industries collaborate to ensure a consistent supply of low-carbon energy, even in underdeveloped regions? AVEVA EVP Engineering, Amish Sabharwal, gives his view as a leader in industrial software.
The energy transition and decarbonization are the biggest challenges that this generation will face. With growing energy demand and increasing focus on energy security and supply resiliency, governments and businesses alike have turned to digital strategies to shape the new energy landscape. From where we sit at AVEVA, we see three big opportunity areas:
Integrated data management. Integrating operations and engineering data enables engineers do their jobs more efficiently, while data scientists and modelers use this integrated data to predict the future. Yet data scientists spend 45% of their time analyzing data and 15-20% visualizing it. Imagine if you could automate that effort using live data and analytics that span your entire industrial lifecycle. This process is happening now for the leading companies that are using insights to unlock new opportunities to decarbonize.
Industrial artificial intelligence. AI can change how industries operate, and the pace of its adoption is speeding up. Gartner predicts that industrial AI adoption will increase by 21.3% in 2022, as companies use AI to streamline operations, reduce costs, boost efficiencies, drive resiliency, and improve safety and sustainability.
Cloud. Cloud technology can transform how teams collaborate and share data, enabling new agile working models that provide scope, scale, and computing power to drive decarbonization.
Early adopters are already pivoting their businesses to develop a digital thread. Using unified data from throughout an organization's engineering and operations, enriching it with sector-specific AI and simulation, gives that business the ability to predict probable failures and suggest a set of actions to mitigate losses, problems, or underperformance. From a sustainability perspective, this digital thread can help to eliminate fugitive emissions, decarbonize supply chains, and vastly reduce the carbon generated as a result of operations─all while increasing revenue.
An example of this kind of innovative thinking is happening at Repsol. Repsol's team worked with us to build an artificial intelligence "brain" that optimizes complex asset performance. So far, the brain has cut carbon emissions throughout Repsol's operations and reduced the time needed to execute a process switchover by 40%. This is just the beginning. Because the simulation runs in the cloud, it can bring together multiple cause-and-effect scenarios and estimate how each one will play out, ranking them in a matrix that sends advice to the human operator.
This approach represents huge potential – Repsol is on the cusp of driving deeper, broader innovations that will create new paradigms for the energy industry as a whole. During meetings with industry leaders at CERAWeek, it was inspiring to witness the governmental, industrial, and technological collaboration that is driving the rapid pace of global decarbonization.
The carbon transition requires a new way of thinking
Realizing the energy transition is going to demand that we rebuild value chains and switch to decarbonized operating models. And, as the world is rocked by energy shocks, we need to ensure that agility and resiliency are not sacrificed in the rush to decarbonize.
The transition is also driving innovation. Dominion Energy in the USA is using AVEVA software to share energy network data with its customers, enabling them to achieve their net-zero goals. Riley Moore, IT Process Systems Manager at Dominion, says, "The intelligence of the AVEVA tools means that we can achieve speed-to-market and realize benefit more quickly, for ourselves and our customers."
Another customer, TotalEnergies, has adopted AVEVA operator training in the cloud to drive resilient operations during lockdown. Meriam Chebre, Operator Training Manager at TotalEnergies, says, "It was key to combine AVEVA's proven leadership in digital with the secure operational agility of a cloud-based platform. This has never been more important than today when many teams operate remotely."
These are just two companies that are using digital thinking to drive operational agility and growth.
AVEVA is working with companies across the world that blend a digital mindset with a passion for sustainability innovation, helping to make the energy transition a reality.
About Amish Sabharwal
Amish Sabharwal has 24 years of experience in North America and Internationally within the Oil and Gas, Power and Petrochemical industries. His first 4 years was spent as a Plant Operations Engineer with Japan Energy Corporation in Tokyo implementing technologies such as simulation, operator training systems, and advanced process control. Over the past 20 years, Amish has become a strategist helping Owner Operators, EPC and suppliers to leverage technology to drive change to their business models. Prior to AVEVA Amish served as the Canadian Sales Manager for Aspen Technologies and Director of Sales for Honeywell Automation and Control.
The content & opinions in this article are the author's and do not necessarily represent the views of ManufacturingTomorrow
---
Comments (0)
This post does not have any comments. Be the first to leave a comment below.
---
Post A Comment
You must be logged in before you can post a comment. Login now.
Featured Product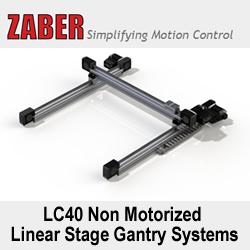 A Zaber gantry kit comes with everything you need to build a customized XY gantry system or XYZ gantry system. These gantry systems feature coordinated multi-axis motion, plug-and-play operation, easy integration with end-effector options, and built-in IO and E-Stop capabilities. An intuitive ASCII interface allows the user to easily communicate with the gantry systems using our free software, either Zaber Motion Library with APIs for several popular languages or Zaber Console. Third party terminal programs that can communicate over a serial port can also be used.