For manufacturers, now is the time to build on their competitive advantages to accelerate economic recovery and build long-lasting relationships. However, this needs to be balanced with a robust risk mitigation strategy.
Mitigating Vendor & Supplier Risks in the Manufacturing Industry
Article from | Reciprocity Inc
Throughout the pandemic, the manufacturing sector has faced many challenges, from supply chain constraints and worker shortages to cybersecurity issues. These incidents have highlighted the importance of risk management, particularly why manufacturers should manage their commitments and relationships with internal stakeholders, vendors, suppliers, and other third parties.
For manufacturers, now is the time to build on their competitive advantages to accelerate economic recovery and build long-lasting relationships. However, this needs to be balanced with a robust risk mitigation strategy, especially now that digital transformation is taking shape and companies are seeing an uptick in business partnerships.
Vendor & Supplier Risks Management in Manufacturing
Several manufacturers are always looking to partner with competent third parties to minimize cost, ensure quality, and save time. However, these manufacturers are always at constant risk of being let down by different vendors and suppliers. So to avoid such issues, they need to devise strategies that will help them choose the best suppliers and vendors who are more likely to deliver their best and stick with their promises.
Similarly, manufacturers need the best vendor & supplier risks management strategies to help identify potential risks and mitigate them before they wreak havoc. When working with these third party companies, manufacturers are exposed to several risks, some of which include:
Delay or supply failure risk – with this risk, the manufacturer cannot produce specific products in time. This also translates to unfulfilled orders, missed revenues, and disappointed customers.

Quality risk – this occurs when poor-quality products or services from a third-party supplier pose a threat to the manufacturer's overall processes and operations.

Cost or price risk – this is often the case when the current production or operation cost exceeds the anticipated cost. Such risks could lead to reduced profits margins or losses for the company.

Reputational damage – brand damage occurs when certain practices or events are contrary to the manufacturer's values and principles or expectations of the stakeholders, customers, community, etc.

Loss of competitive advantage – this type of risk occurs when the manufacturer suffers theft of IP (Intellectual property) or counterfeits, for example, after working with a rogue partner.

Cybersecurity risk – manufacturers, may lose sensitive employee data or customer data, financial records, and other useful information if a data breach occurs. Some of these data breaches may occur due to a non-compliant supplier or a careless third-party working with your vendor.
Surviving all these risks can be pretty challenging, especially when working with several suppliers and vendors, who may have also partnered with other third parties. This may lead to a cascaded list of risks that are hard to predict and mitigate. A solution is to conduct comprehensive risk management across all the supplier and vendor nodes.
Conducting Vendor &Supplier Risk Management
Now that you know the kind of risks that exists in the vendor and supplier ecosystem, let's look at the ways you can mitigate these potential risks. To begin with, you always want to evaluate the vendor & supplier processes, security controls, policies, values, and objectives to help identify any potential risks.
Form here; you want to identify all the risk factors, from financial, legal, security, compliance to operational concerns. Analyze these risks and decide whether working with any of these companies could expose you to more risks. If you are already in partnership with some vendors and suppliers, you want to collect and manage the risk data from different sources.
For instance, you can check the third party's reputations by scanning the customer reviews or social media comments. Another way is to check if the company has regular audits or any issues with regulatory authorities.
Automate Your Supplier & Vendor Risk Management
Keeping up with suppliers & vendor risk management can be a lot of work. You need to be up to date with the market trends and whatever is happening with your entire network of vendors and suppliers. If you were to track all these processes manually, the whole process would become hectic and inefficient.
An alternative solution is to automate the risk management process and implement the critical practices as part of the governance, risk, and compliance (GRC) initiative. By using intelligent risk mitigation software, you can automatically flag risks and even take specific action to mitigate them. For instance, triggering reassessment to an identified risk or safeguarding sensitive documents and data in the event of a security alert.
When you automate the vendor risk management process, you streamline the workflows, improve efficiency and save your employees a lot of time and effort. That said, not all the vendor risk management solutions in the market offer the same features and benefits. So you should do your own research before choosing to invest in one.
Additionally, look for a flexible risk management software that can integrate easily with your business platform. That way, you can manage all the vendor and supplier risks from one place.
The content & opinions in this article are the author's and do not necessarily represent the views of ManufacturingTomorrow
---
Comments (0)
This post does not have any comments. Be the first to leave a comment below.
---
Post A Comment
You must be logged in before you can post a comment. Login now.
Featured Product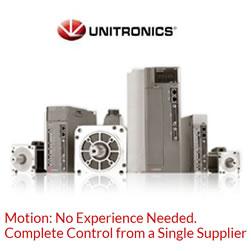 Unitronics' line of AC Servo Drives & Motors changes the traditional approach to motion control. They are simple to set up and painless to program. Unitronics Servos simplify implementation of motion applications while minimizing complexity and reducing development time. Some of the easy-to-use features in this new line include implementing motion control easily with ready-made motion code, embedded diagnostic tools, and automatic communication setup.