KINEXON CRO Mehdi Bentanfous sheds light on why location-based process automation might just be the answer to common IT/OT tensions when it comes to digital transformation in complex industrial environments.
Beyond IT/OT Convergence: Enabling Flexible Process Automation from the Shop Floor
Q&A with Mehdi Bentanfous, CRO | KINEXON
Mehdi, tell us about how and why you developed KINEXON OS.
Our team developed KINEXON OS with the most pressing current and future needs of today's complex production companies in mind. In our day-to-day work with some of the world's largest companies, we see the following three major challenges that prevent them from successfully implementing their digitalization initiatives:
A shortage of IT resources and technology skills outside of IT
Data silos and large numbers of proprietary middleware that only cater to individual use cases
A lack of data on moving assets and dynamic processes
The latter is especially striking if we think about the vast amount of moving assets in any production process. The sheer number of products, boxes, AGVs/​AMRs, tools/​equipment, forklifts and so on that move around the shop floor is a true treasure trove of data that can be used to optimize and automate processes. Location data is a key tool for a successful industrial automation strategy – and one that has been underleveraged for far too long now. With our location-based process automation (LPA) software KINEXON OS, we address all the above challenges in one central solution.
What sets KINEXON OS apart as a software solution for process automation?
One challenges that commonly holds back digitalization initiatives is that IT and OT have different needs and prefer different solutions. So instead of creating a highly complex proprietary solution, we decided to build a central software that caters to the needs of both IT and OT departments. KINEXON OS was developed as a solution that addresses the major challenges in today's production while circumventing existing bottlenecks. One of those is often a lack of IT skills or the plain lack of IT resources within a company. This comes as no surprise when you think about the numerous complex IoT systems that have transformed previously manual environments into highly automated smart factories. At the same time, this means OT teams incur long waiting periods when implementing new digital solutions, and could not automate quite as effectively as they wanted to.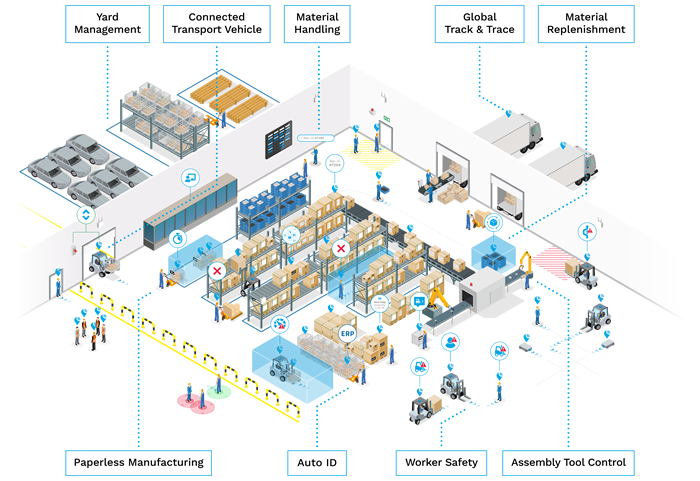 So how did KINEXON address this challenge at the nexus of IT/OT convergence?
KINEXON followed a binary approach towards two main goals.
1) KINEXON OS provides relief for IT teams and infrastructures:
KINEXON OS is designed with standard interfaces and open architecture to seamlessly integrate into companies' existing tech stacks to ease the strain on IT departments. At the same time, KINEXON OS integrates all indoor and outdoor location technologies, from BLE to GPS, and consequently eliminates the need for multiple middleware systems that IT previously had to set up, monitor, and manage. We wanted to make it as fast and as easy as possible for IT teams to get KINEXON OS up and running — without spending excessive amounts of resources on it. The quick deployment into the field is a prerequisite for fast RoI through location-based process automation and immediate effective results.
2) KINEXON OS enables OT teams to customize and scale automation:
Our LPA software follows a no code / low code approach, which means that no extensive IT skills are needed to operate or customize it. Think drag and drop and simple drop-down menus to set up event triggers, place geofences, and so on. KINEXON OS can be used for a single use case, such as search and find, or to automate an entire assembly line or shop floor. With its technology-agnostic data integration, meaning that it seamlessly connects BLE, UWB, RFID, GPS, and other location technologies, it provides unprecedented data transparency for OT. By centralizing all location data, it provides unprecedented insights. At the same time, this allows OT to create and execute an unlimited number of potential use cases for location-based process automation. This agile scalability makes KINEXON OS the perfect software for any industrial automation initiative, in any company, at any point of digitalization.
How does such a user-friendly software solution KINEXON OS create such a vast impact on the corporate bottom line?
Don't get me wrong here: When I say KINEXON OS is easy to implement and easy to use and customize, I don't mean it is a simple software. To the contrary, it is quite powerful in its impact: It was a priority for us to make KINEXON OS an indispensable asset in a company's technology stack. We did this by making sure the software integrates seamlessly, functions as a data catalyst for other enterprise software, and closes previous IoT blind spots. With its advanced process automation, monitoring, and mining capabilities, the software's digital twin becomes a true experimental canvas for real-time optimization. This allows companies to detect causes for downtimes early, trace sources of errors, improve process quality, and proactively optimize production steps, paths, and processes in real time – a huge cost saving factor. KINEXON OS delivers results starting on Day 1, potentially even from a single use case. At the same time, location-based use cases can flexibly be added as they arise or gain importance. Given its openness, KINEXON OS allows companies to leverage any location technology – and any vendor – for their hardware needs. This means a company is no longer tied to costly sensor- & software combinations and can save millions this way. As KINEXON's CRO, I know that ultimately any technology investment is made based on the potential of its RoI. With our location-based process automation software KINEXON OS, this potential can be scaled alongside the company. DOWNLOAD THE LPA WHITE PAPER
The content & opinions in this article are the author's and do not necessarily represent the views of ManufacturingTomorrow
---
Comments (0)
This post does not have any comments. Be the first to leave a comment below.
---
Post A Comment
You must be logged in before you can post a comment. Login now.
Featured Product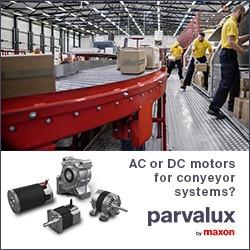 An effective, reliable and efficient drive system is essential to any material handling equipment, whether it's a motor-assisted tow truck, a barrel lifter, a robotic vehicle or a complete high-capacity parcel sorting hub; Parvalux designs and manufactures an exciting range of AC, DC brushless and brushed motors and our drives are valued for their performance and reliability.