While COVID-19 may have many legacies, one of them will definitely be an explosion in the amount of network capacity required. Most enterprises are experiencing the need for increased network capacity.
Increase Security and Control Costs During Network Upgrades
Keith Bromley, SR. SOLUTIONS MARKETING MANAGER | KEYSIGHT Technologies
Companies are seeing increased network capacity and security requirements for various reasons including:
use of external video conferencing with customers in lieu of site visits
shift to remote training activities
massive increase to support remote teleworkers
increased internal video conferencing for team alignment
expansion of remote troubleshooting of network links and equipment
increased employee and customer video clip usage
Visibility Solutions Enable Successful Network Upgrades
Network visibility solutions from Keysight Technologies offer you the help you need to make network upgrades successful. For instance, taps allow you access to data across the network. Data can be aggregated from multiple locations across the network. In addition, taps can be both physical or virtual, which means you can access every piece of data you need.
Network packet brokers (NPBs) are another crucial element for network upgrades. These devices allow you to aggregate data from both taps and SPAN ports as well as deduplicate, filter, and distribute that data to analysis tools. This includes tools running at speeds up to 100 Gbps. Features like deduplication become critically important when network speeds reach or exceed or 40 Gbps. Duplicate data can become excessive at these data rates, especially if a leaf and spine architecture and Bi-Di taps are used. Deduplication within the NPB eliminates unnecessary copies of data, thereby minimizing the amount of traffic a tool must process.
Visibility equipment like NPBs and bypass switches are also critically important to network security. Inline security tool farm complexity can be managed far more easily with an NPB (for load balancing, high availability, TLS decryption) and bypass switches (with heartbeat messaging that improves network continuity). In addition, NPBs are vital to any out-of-band security solutions like IDSs and DLPs by giving those tools access to the packet data they need to see security threats.
Controlling Cost and Maxiizing the ROI From Your Upgrade
Key factors for any deployment are to reduce costs, control spending, and gain additional benefit from your network.
When deployed correctly, Keysight's visibility solutions enable you to experience the following benefits:
Reduce your monitoring tool upgrade costs by using an NPB to load balance data across multiple (lower rate) tools. This capability allows you to spread high-speed data across existing lower rate tools thereby delaying new tool purchases to a future budget cycle.
Deploy enhanced survivability options, such as the ability of the Keysight NPB, to load balance data across multiple monitoring tools to create an n+1 (up to n+n) option that strengthens business continuity.
Derive additional insight from your metadata. This includes the ability to analyze network flow data information as well as capture device type, user browser type, and geolocation of devices on the network.
Reach out to me (Keith Bromley) and I, along with my team, can show you how to optimize your data collection and monitoring solutions so that you can clearly achieve your goals while controlling costs. Alternatively, you can see for yourself how Keysight's solutions can significantly enhance your company's security architecture!
The content & opinions in this article are the author's and do not necessarily represent the views of ManufacturingTomorrow
---
Comments (0)
This post does not have any comments. Be the first to leave a comment below.
---
Post A Comment
You must be logged in before you can post a comment. Login now.
Featured Product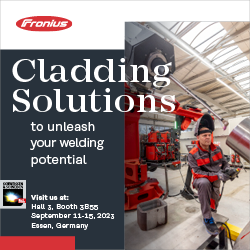 Ever since the invention of our "cold" MAG welding process Cold Metal Transfer (CMT), if not earlier, we have continuously achieved a technological edge in many welding-related areas, resulting in cutting-edge mechanized and automated welding systems. Advanced power source technology stabilizes the arc and ensures perfect welding results. Modern monitoring sensors optimize guidance of the welding torch and compensate for component tolerances. Last but not least, smart data documentation systems assist in perfecting the welding process. Collaborative systems, smart sensor technology, software solutions for data management, and offline programming including welding simulation open up profitable welding opportunities for metal processing companies starting with a single batch. That is why our robotic welding cells prove profitable not only for large companies, but also for small and medium-sized enterprises.