Cloud-native supply chain solutions for wholesale distributors, specialty retailers, and discrete manufacturers are critical because each is stuck in the financial quicksand of inventory decisions. Refining pricing strategies are required to achieve financial goals.
Supply Chain Overlap: Manufacturers, Distributors, and Retailers
Cliff Isaacson, Executive Vice President, Product Strategy | Blue Ridge
Cloud-native supply chain solutions for wholesale distributors, specialty retailers, and discrete manufacturers are critical because each is stuck in the financial quicksand of inventory decisions. Refining pricing strategies are required to achieve financial goals.
Every CFO, purchasing manager, and data scientist has a seminal mission: continuously improve profits and revenues. The best-of-breed systems identify lower-risk profit opportunities and pricing gaps to continually improve financial results. Running "what-if" simulations, reviewing daily recommendations, refining prices, and locking in the best strategies to operationalize are never-ending and ongoing. Accuracy improves over time, as the science learns from price changes and sales impacts, to steadily improve price recommendations, married with forecasting data.
Purpose-built for discrete manufacturers, retailers, and distributors, a robust workflow permits leading organizations to upload data, run optimization processes, simulate pricing strategy for current/future price lists, review recommendations, and drill into details to lock in results year after year.
Science-driven results
With 10,000+ SKUs, distributors must access science-driven results determining what drives rapid, optimized financial outcomes by highlighting which items, at which locations, or on what channels, are best. The analysis must be done in real-time and results are not static. Using machine learning (ML), distributors quickly identify underpriced and overpriced items while setting prices that both maximize profitability and beat the competition.
© 2021 Blue Ridge
Only with the machine learning algorithms are distributors, manufacturers, and retailers able to simulate different pricing strategies and changes prior to implementation. Pricing hypotheses can be tested comparing forecasted outcomes.
Distributors, in particular, have a unique challenge in that manual or "cost-plus" approaches to pricing lack the flexibility required to compete and are disconnected from customer willingness-to-pay. New pricing optimization platforms leverage advanced science to quickly identify opportunities and simulate pricing strategies for peak margin, profits, revenues, and sales.
Price-setting variables
Whether market fluctuation, customer willingness, or geographic pricing tolerance, these science-driven results are dynamic by setting multiple price points, including wholesale, retail, volume, and customer segment prices. Other factors in price-setting may be influenced by the need to maintain supplier requirements, product, location, and channel relationships. There are psychological price points and other business constraints unique to individual distribution and retail businesses. Pricing should also account for inventory levels – dropping price on a critically short product is rarely a good idea.
Forecasting and simulating price changes
Simulating strategic and tactical pricing scenarios inclusive of business constraints allows distribution data analysts to consider the impact of each constraint. Some of the most common constraints include price-type relationships, differing cost models, price groupings, competitive positioning, supplier requirements, and prioritized rules.
Segmenting prices across product assortment requires unique calculations which examine both fast-selling key items and infrequently sold SKUs. To quickly choose the best pricing approach, infer models use an attribute matrix where needed, calculating price sensitivity by product location, and forecasting the results of recommended and adjusted price changes. These flexible designs support annual, quarterly, monthly, weekly, and daily pricing processes.
Managing customer segment prices
From warehouses, distribution centers, 3PLs, manufacturing, and global distribution, managing customer-segment prices is vital. This can only be analyzed by examining customer performance, customer discounting, and identification of customer pricing opportunities based on willingness to pay and past performance. This is then implemented using sales guidance in price quotations, setting up contract prices and authorized price lists, and creating customer-level price lists fed into a CRM or ERP.
Improved supplier negotiations require data knowledge to improve compliance with vendor price requirements – like Minimum Advertised Price (MAP), New Product Introductory Price (NPIP) – and negotiate better margins and costs with suppliers based on data and measured willingness to pay.
Price optimization configured to unique environments can drive immediate value. When price optimization is integrated with supply chain planning (best-of-breed forecasting and replenishment solutions), discrete manufacturers, distributors, and retailers can reduce inventory 10-20% with increased service levels and achieve an immediate profit uplift, typically in less than 90 days.
About Cliff Isaacson, Executive Vice President, Product Strategy, Blue Ridge

EVP Product Strategy is an experienced entrepreneur, strategist, product manager and CTO, including over 20 years of experience in various leadership roles at software growth companies. He joined Blue Ridge with the acquisition of the price optimization company he founded. Cliff has engineering degrees from Northwestern University and Carnegie Mellon University, and started his career as a nuclear submarine officer.
The content & opinions in this article are the author's and do not necessarily represent the views of ManufacturingTomorrow
---
Comments (0)
This post does not have any comments. Be the first to leave a comment below.
---
Post A Comment
You must be logged in before you can post a comment. Login now.
Featured Product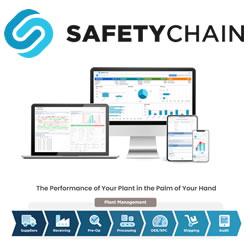 SafetyChain is the #1 Plant Management Platform purpose-built to improve yield, maximize productivity, and ensure compliance standards for process manufacturers. With fully integrated tools for production, safety and quality, and supplier management, our configurable cloud-based software drives real-time visibility and control to optimize performance across all of your manufacturing locations. From receiving to loadout, SafetyChain is trusted by over 1,500 facilities as their complete solution to capture, manage and analyze critical operations and continuous improvement data from anywhere, at any time, on any device.