The auto industry is undergoing a major transformation. A wave of new technologies from outside the industry — especially Industry 4.0 technology — is starting to influence industry workflows significantly.
Which Technologies Are Revolutionizing Auto Manufacturing?
Megan Ray Nichols | Schooled by Science
Simultaneously, new developments from within the industry, like the trends toward electrification and autonomous vehicles, are pushing manufacturers to adapt and put even more resources into vehicle research and development.
These design and manufacturing technologies are the most likely to transform the auto industry over the next decade.
Autonomous and Semi-Autonomous Vehicles
Autonomous cars, which use AI technology and special onboard sensors to drive themselves, are often thought of as the next major development in automaking history. However, there are major challenges for the technology that may make fully autonomous vehicles impractical for the near-term.
Testing in the field has revealed that the technology still has a long way to go. Several high-profile accidents have encouraged some manufacturers to slow down or stop work on autonomous vehicles. Uber, for example, spun-off its self-driving car division to a startup in late 2020.
As a result, some manufacturers are instead focusing on semi-autonomous vehicles. These use AI to support a human driver rather than maintain full control of the vehicle. BMW, for example, is set to launch a car with conditional autonomous driving features in 2021.
These applications of the technology are less ambitious — but they could be more realistic as a selling point.
3D Printing
Manufacturers are experimenting with new parts fabricated using industrial 3D printers — additive manufacturing tools that can create novel designs subtractive manufacturing methods struggle with.
In the auto industry, 3D printing has enabled more complex, organic designs that can be lighter or stronger than conventional components.
Some manufacturers are also using 3D printing to offer on-demand part fabrication. This approach may make it easier to manufacture replacement parts and support legacy vehicles for longer — possibly long after the original model has gone out of production.
Electrification
Growing consumer demand for electric vehicles and hybrids — coupled with increasing government investment in EV infrastructure — means major automakers are starting to take vehicle electrification very seriously.
One survey from manufacturing services company Jabil found that 48% of automakers are "aiming to be market leaders in fully electric vehicles." Expected launches from major automakers seem to line up with this expectation. In 2021, we'll see a range of new electric vehicles from major industry names, like the Audi Q4 e-tron and BMW's i4.
We'll also see EVs from a growing number of startups attempting to break into the industry — with the Bollinger B1, Byton M-Byte and Rivian RT1 all set to launch in 2021.
For the moment, the costly technology behind electric vehicles means they will remain something of a luxury item. However, major manufacturers are taking an aggressive approach to electric research and development. Advances in EV technology may soon drive costs downward.
In any case, electrification is likely to become increasingly important for the future of the industry as consumers continue to demand more sustainable alternatives to gas-powered cars.
Industry 4.0 Technology
It's hard to discuss any industrial sector without mentioning the ongoing impact of Industry 4.0.
The digitization of business files, the use of AI-powered tools and growing fleets of Internet of Things (IoT) sensors all mean that automotive manufacturers are collecting, storing and analyzing more data than ever before.
The ongoing digitization of the automaking industry and the increasing amount of data collected have enabled new, data-driven design tools.
For example, manufacturers have started to use digital twin technology — one-to-one digital replicas of components, cars or even entire factory lines — to improve business workflows. These digital twins have allowed manufacturers and designers to run advanced simulations on product performance before they even have a physical prototype.
Sufficiently advanced digital twin technology can take into account a massive number of variables — like component shape, material and weight. For example, most automakers use aluminum or similar materials for powertrains, typically due to the low weight and energy-absorbing properties of the metal.
Not all aluminum alloys are made the same, however. A designer wanting to experiment with multiple prototypes using different alloys can take advantage of digital twin technology to quickly run experiments — without needing to order and wait for several slightly different prototype designs.
With digital twins of factory lines, you can even simulate the impact a new product will have, how much retooling will be necessary and the kinds of disruptions you can expect. This information gives factory managers a better chance of identifying the steps they can take to minimizing the impact of a new product on factory workflows.
Intelligent Design Tools
Newer, more intelligent design tools are also playing more direct roles in the design process.
Generative design tools, for example, use AI and similar algorithm-driven tech to generate design possibilities for manufacturers to consider. With generative design, a designer might start with a problem they need to solve — like the weight of a particular component — and use a combination of pre-existing designs and design algorithms to generate an entirely new prototype.
Generative design technology is still highly experimental, but several major automakers have already begun creating prototype components with the tools.
General Motors' partnership with AutoDesk, for example, has resulted in several early prototype components created with the use of generative design tools. The prototypes are notable for their unique and lightweight designs that are almost organic in appearance.
The use of generative design technology has been, in part, enabled by the increased use of 3D-printing in the industry. It's easiest to manufacture those organic forms with additive manufacturing technology rather than conventional approaches to parts fabrication.
How Technology Is Transforming Automotive Manufacturing
Industry 4.0 technology, changing consumer preferences and new manufacturing tools are all likely to have a major impact on the industry.
As automakers collect more and more data, intelligent approaches to manufacturing will become even more practical. In the future, it may be typical for designers to lean heavily on generative design tools, digital twins and 3D printing to create designs for new vehicles.
The content & opinions in this article are the author's and do not necessarily represent the views of ManufacturingTomorrow
---
Comments (0)
This post does not have any comments. Be the first to leave a comment below.
---
Post A Comment
You must be logged in before you can post a comment. Login now.
Featured Product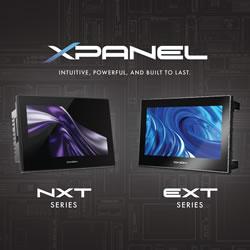 Introducing the Xpanel eXT and nXT series, advanced industrial HMI solutions that set a new standard for performance and usability. Utilizing our brand new Canvas HMI software for project creation, the Xpanel eXT and nXT series deliver a seamless and efficient user experience. They combine industrial-grade touch technology, powerful embedded OS hardware with a quad-core CPU, and an easy-to-use runtime platform. The Xpanel eXT and nXT series are specifically designed to optimize and streamline industrial operations, enhancing your HMI experience.