It's a common misconception that manufacturers must purchase entirely new and expensive equipment to build the factory of the future. Instead, manufacturers should consider how they can modernize legacy equipment to make it Industry 4.0 ready and compatible with new tech.
Retrofitting Legacy Equipment to Work Alongside New Technologies
Claudia Jarrett, US Country Manager | EU Automation
Argentinian football superstar Lionel Messi recently notified his club, Barcelona, of his desire to leave his €700m contract using a 'burofax.' While this is not quite the fax system many of us remember, Messi's chosen method of communication has sparked conversation about the role of aged technology. Here, Claudia Jarrett, US country manager at automation parts supplier EU Automation, explains why manufacturers should retrofit their legacy equipment to make it compatible with the latest Industry 4.0 technologies.
According to the sports news website AS, Messi used a burofax to inform Barcelona of his decision. Despite the incredible technologies that are available today, burofax machines are still widely used when the sender needs to urgently send a document that requires proof to third parties.
That said, it is estimated that around 43 million fax machines are still in use around the world today. Many thousands of brand-new machines are manufactured and purchased each year. Despite their quirks compared with modern touchscreen devices, many people still prefer to use older technologies like fax machines. And, in these instances, the notion of tearing out complete older systems in favour of a newer technologies can be a tricky argument to make.
Building on legacy
Stepping away from the office, the exact same reasoning applies in factories and industrial plants. Many industries find continual uses for legacy equipment, simply because they work and are trusted by engineers.
In fact, most facilities rely on older equipment to run their production processes. Legacy equipment is built to last, so manufacturers may find they are using machines that are 20 to 30 years old, even though they are no longer manufactured by the original equipment manufacturer (OEM).
It's a common misconception that manufacturers must purchase entirely new and expensive equipment to build the factory of the future. Instead, manufacturers should consider how they can modernize legacy equipment to make it Industry 4.0 ready and compatible with new technologies.
Machine to machine (M2M) communication is one way in which manufacturers can realize this. With M2M processes, newer and older pieces of equipment connect via the Industrial Internet of Things (IIoT). This helps to streamline production, as machines can direct and coordinate data with other machines based on status and measurements. Specific instructions and specifications can then be passed to the controllers, which eliminates the opportunity for errors and decreasing costs.
However, in some instances, manufacturers may find that their legacy equipment cannot communicate with newer machines. This, of course, makes it difficult for manufacturers to update their processes.
To solve this, Red Lion, a US automation software provider, has released Data Station Plus that enables communication and helps manufactures collect and manage all of their data. It joins the gaps between disparate serial, Ethernet and fieldbus devices to unlock information from programmable logic controller (PLCs), drives, motion controllers and more.
With this software, manufacturers can even invest in any machine from any OEM — whether it's new, reconditioned or obsolete. This gives manufacturers the freedom to choose the suitable components for any given application, so manufacturers needn't worry about whether it will integrate with the rest of the facility. With the transition to Industry 4.0 now in full-swing, companies should aim to capture data at every step of a manufacturing process and use it for better overall monitoring.
The next update
"Out with the old, in with the new," is a catchy phrase, but it can be costly when taken as advice. In many cases, manufacturers are reluctant to adopt Industry 4.0. Some companies perceive it as expensive, while others are unsure of how the latest digitalisation technologies can fit into their established way of doing things.
While it's true that replacing older equipment with newer systems, outright, can cost up-to millions of dollars, digitalization doesn't have to be so expensive. Instead, manufacturers should consider retrofitting, which refers to the process of adding new technologies or features to older legacy systems.
For example, Tulip's Manufacturing App Platform is software that lets manufacturers update their machines. With the platform, an end-user builds an app for each production process without having to write a single line of code. These apps are then integrated with hardware throughout the factory and connected to Tulip's input/output (I/O) Gateway for access to the cloud.
Platform analytics allow end-users to visualize their shop floor data and create real-time reports, even on equipment that has been in operation for over 30 years. As industrial machinery is designed to be robust and long-lasting, this allows manufacturers to bring their equipment up-to-date and reap the benefits of Industry 4.0.
Start with sensors
When adding IIoT capability to legacy equipment in a factory, the first stage is typically to install sensors. Smart sensors are the best way to support with machine monitoring and predictive maintenance. The allow a combination of techniques, such as condition-based monitoring (CbM), machine learning and analytics, all of which can be valuable in predicting — and preventing — upcoming machine or asset failures.
For instance, CbM involves monitoring machines with sensors to measure their current state of health. When monitoring the health of a machine, it is critically important to select the most suitable sensors for the equipment to ensure that faults are detected, diagnosed and predicted to avoid unplanned downtime.
With smart sensors, and advanced tools like Red Lion's Data Station Plus and Tulip's Manufacturing App Platform, older machines can be fully-integrated into Industry 4.0. But it's also vital that plant managers seek the best advice and support.
One way of doing this is by visiting EU Automation's Knowledge Hub, which offers expert tips on managing legacy equipment. With the online hub, plant managers can browse an extensive library of published resources on the subject of obsolescence. A variety of materials are available, both for those who are new to Industry 4.0, or experts seeking to refresh their knowledge.
Lionel Messi's decision to leave Barcelona by burofax may have raised eyebrows in some quarters. But it has also ignited a valuable discussion about the crucial role legacy systems can play in modern situations. To achieve this, all manufacturers should consider retrofitting as way to quickly bring older systems up-to-speed with the newest Industry 4.0 technologies, without making a huge dent their budget.
The content & opinions in this article are the author's and do not necessarily represent the views of ManufacturingTomorrow
---
Comments (0)
This post does not have any comments. Be the first to leave a comment below.
---
Post A Comment
You must be logged in before you can post a comment. Login now.
Featured Product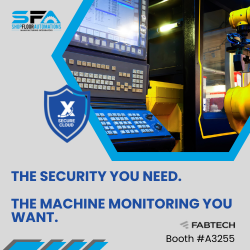 For manufacturers adhering to regulations like International Traffic in Arms (ITAR), Defense Federal Acquisition Regulation Supplement (DFARS) and other security and compliance requirements, the ability to monitor disparate machines, each with a unique control system and communication protocol with varying ages, can make continuous improvement initiatives challenging in the cloud. The Scytec DataXchange solution, available through Shop Floor Automations, resolves these issues by leveraging AWS GovCloud to capture real-time, Industrial Internet of Things (IIoT) data from a variety of equipment - from lasers and press brakes, to saws and robots - through universal machine connections to give teams full transparency on the shop floor through an architected secure cloud solution for a total smart factory transformation.