Due to the customer demand for customization one-of-a-kind manufacturing has never been stronger; there has been a 100% increase in ETO manufacturing over the past fifteen years.
The End of Repetitive Manufacturing in Favor of Engineer-to-Order
Article from | Thomas R. Cutler
The demise of repetitive manufacturing is inevitable. Currently more than half of all manufacturers produce non-standardized SKUs and finished goods. These are custom manufacturers rather than repetitive manufacturers. Due to the customer demand for customization one-of-a-kind manufacturing has never been stronger; there has been a 100% increase in ETO manufacturing over the past fifteen years. When counting manufacturers by process, there are grey areas including ATO (Assemble-to-Order) and BTO (Build-to-Order), however ETO manufacturers confront many unique challenges as illustrated by the unique ERP (Enterprise Resource Planning) features detailed below.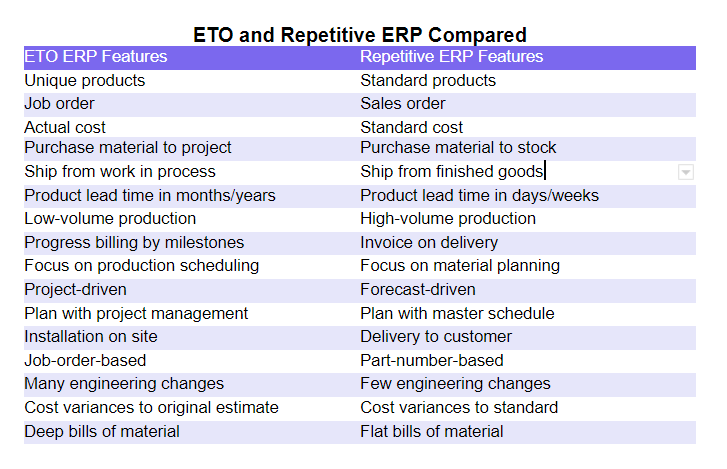 ETO has grown because of both customer customization demand as well as the fact that these projects produce significantly higher margins if managed correctly. What has not changed about these ETO manufacturers is that they build unique products designed to customer specifications. Each product requires an exclusive set of item numbers, bills of material, and routings.
Technology gains from efficient software systems, specifically ERP have improved for ETO manufacturers. The customer is heavily involved throughout the entire design and manufacturing process and only engineering-driven manufacturers can effectively navigate the inherent changes characteristic of the ETO environment.
Just as manufacturers have recognized the profitability and efficacy of ETO manufacturing, technology providers have advanced as well. Originally many ERP solutions providers took their off-the-shelf ERP solutions and made a few cosmetic changes claiming they could offer an ETO ERP solution. The result was significant buyers' remorse as those solutions had a back-office accounting orientation rather than an engineering-centric focus. Since ETO is all about engineering, few ERP providers understand the pain points of industrial engineers.
Industrial engineers identify needs of ETO ERP
According to Andrew Schutte (pictured left), General Manager of COUNTERPART, when running an engineer-to-order company it is critical to meet client expectations consistently. Schutte shared, "At the same time, you must take on as large a workload as possible to maintain throughput and revenue. This all starts with the engineers who must effectively manage job timelines; an expedient handoff and streamlining reliable dates to engineering, procurement, manufacturing, and assembly is a must have. This can only happen with bi-directional SOLIDWORKS® integration, eliminating all double entry without importing and exporting of BOMs (bill of materials). The result is saving valuable time and improving accuracy while effectively communicating partial or full BOMs to purchasing and manufacturing."


SOLIDWORKS Product Data Management
SOLIDWORKS Product Data Management (PDM) products manage and synchronize design data across the entire enterprise with a single, easily deployable solution tightly integrated with all SOLIDWORKS applications.
Engineering teams require visual inventory management to see the location, quantity, and allocation of components with SOLIDWORKS images. Engineers are able to effectively manage the transfer and cycle counts of components, providing up-to-date information for the assembly team. All have a clear real-time awareness of what was ordered, what is completed, and what is ready to be assembled.
Rather than clunky ETO ERP solutions with excessive, often unused features and needless functions, the new breed of best-in-class ETO ERP provides unparalleled engineering efficiency via industry leading SOLIDWORKS and PDM integration.
Uniquely, COUNTERPART provides SOLIDWORKS driven data throughout the company, enabling real-time tracking of components though design, purchasing, manufacturing, inventory, and assembly while seamlessly tracking components throughout the company.
The history and projections of ETO
Fifteen years ago (2005), approximately 25% of all North American manufacturers were ETO (Engineer-to-Order), yet very few knew it. They referred to themselves as custom manufacturers or manufacturers within a particular sector. The TRCutler marketing research division tracks ETO manufacturing annually since 2005. The research survey is conducted every July and funded by members of the 8000 members of the Manufacturing Media Consortium.
The report is a statistically significant sample size of 1600 manufacturers. The projected data (for 2025) was determined by asking each respondent what they anticipate in the next five years. That is the greatest growth trajectory in the ETO space since 2005.
Given the projected growth trajectory of engineer-to-order manufacturing over the next five years, rapid deployment of focused ERP technology solutions, like COUNTERPART will ensure the high profit margins which make manufacturers gravitate toward customization and meet the unique demands of customers.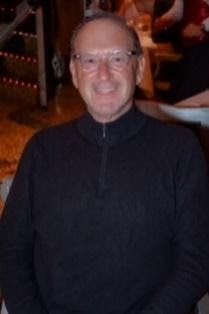 About Thomas R. Cutler
Thomas R. Cutler is the President and CEO of Fort Lauderdale, Florida-based, TR Cutler, Inc., celebrating its 21st year. Cutler is the founder of the Manufacturing Media Consortium including more than 8000 journalists, editors, and economists writing about trends in manufacturing, industry, material handling, and process improvement. Cutler authors more than 1000 feature articles annually regarding the manufacturing sector.
The content & opinions in this article are the author's and do not necessarily represent the views of ManufacturingTomorrow
---
Comments (0)
This post does not have any comments. Be the first to leave a comment below.
---
Post A Comment
You must be logged in before you can post a comment. Login now.
Featured Product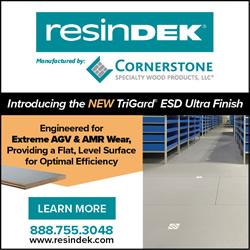 To maximize the productivity of an autonomous mobile robot (AMR) or automatic guided vehicle (AGV) deployment, it's critical to create the optimal environment that allows the vehicles to perform at their peak. For that reason, Cornerstone Specialty Wood Products, LLC® (www.resindek.com) created the TriGard® ESD Ultra finish for its ResinDek® engineered flooring panels. The TriGard ESD Ultra finish is ideal for high-traffic robotic applications characterized by highly repetitive movement patterns and defined travel paths.