The freeform aspect of 3D printing allows going beyond the rectangular builds that are so common in both modern and historical structures. That means people could eventually see building designs that fascinate and inspire them with their unusual shapes.
3D-Printed Concrete Could Drastically Change Construction Efficiency
Emily Folk | Conservation Folks
3D printing innovations have drastically shortened the timelines for creating everything from prosthetic limbs to jewelry. People are also interested in how using 3D printers to make concrete structures could shake up constructor sector norms in similar ways. Here are some exciting possibilities.
Capitalizing on Creativity Without Enduring Slowdowns
When clients request building projects that significantly stray from what's typical, they usually must agree to extended timelines. In other words, getting an extremely creative project done in a short time is out of the question. However, 3D printing possibilities mean that may not be the case for much longer.
Traditional concrete construction involves pouring the substance into a mold. This is a process called formwork. It serves its purpose but limits the options for clients who want buildings made in unconventional shapes.
The freeform aspect of 3D printing allows going beyond the rectangular builds that are so common in both modern and historical structures. That means people could eventually see building designs that fascinate and inspire them with their unusual shapes but don't take longer to finish than conventional options. In many cases, the overall construction process could be faster because 3D printing offers rapid, consistent results.
Tackling the Housing Crisis
The housing crisis in the United States is a bleak situation. Home prices rise faster than wages in most U.S. markets. Plus, the COVID-19 pandemic recently put renters in precarious situations. Many could not afford to buy a home before the health crisis occurred and certainly cannot now.
Tenants face becoming homeless due to financial emergencies that cause them to become late with rental payments. Sadly, some people have lived on the streets for years and feel bypassed by the available resources.
A Texas-based startup hopes to ease this situation in the U.S. and elsewhere. It can construct a 3D-printed concrete house in 12-24 hours for $10,000. The company also hopes to decrease the cost to $4,000.
Helping Communities Recover After Disasters
Concrete construction with 3D printers also has relevant applications for humanitarian aid, such as to help communities that experience natural disasters. It's an option for rebuilt houses in areas with an elevated wildfire risk, for example.
The material's fire-resistant properties make it a perpetually popular choice. Fire departments in the U.S. respond to more than 355,000 residential blazes annually. Many people choose concrete when having homes built, regardless of where they live, knowing that fireproofing a residence is a smart move.
A project associated with the U.S. Marine Corps involved four people building a concrete barracks hut with a 3D printer in less than two days. Taking a traditional approach to constructing one of these structures normally requires 10 people working for five days. Marines are among the first military groups on the scenes of disaster zones and find that concrete is easier to source than wood. Thus, a concrete 3D printer could become a valuable tool for rebuilding structures quickly.
Embracing Eco-Friendly Projects
Companies and households alike are getting more interested in the promise of renewable energy. People like the idea of doing something proactive to help the planet, but many have questions about whether renewable sources are as efficient as nonrenewable ones. Ongoing research in this area means experts regularly investigate new materials and designs that make renewable options more viable.
The possibility of printing 3D items made from concrete could accelerate renewable energy initiatives worldwide and give participants a faster option for getting the parts they need. In one example, a collaboration between multiple companies aimed to build wind turbine towers to record heights by constructing them with printed bases made from concrete.
The goal was to make the structures 200 meters tall — double the height of typical wind turbine towers. The extra height brings notable advantages. More specifically, the turbine should capture stronger winds, generating more energy at a lower price. The team behind the effort also appreciated how the option to use a concrete-compatible 3D printer simplified the logistical challenges of making such huge parts.
Construction Improvements Worth Watching
Time frames are typically some of the most crucial aspects of construction projects. Companies must make accurate estimates of completion times when engaging with local authorities to get permission to start building or speak to clients and set expectations.
Advancements in 3D printing with concrete could soon change many construction processes as we know them. If they do, people can look forward to projects happening more efficiently and with more reliability than before.
The content & opinions in this article are the author's and do not necessarily represent the views of ManufacturingTomorrow
---
Comments (0)
This post does not have any comments. Be the first to leave a comment below.
---
Post A Comment
You must be logged in before you can post a comment. Login now.
Featured Product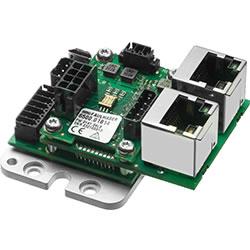 The FAULHABER Linear Actuator L series are designed to provide high performances in compact dimensions, these actuators can support large input speed, high output force and are suited for a wide range of applications like robotics, industrial machines and laboratory equipment.