A recent paper from SAP, The Future Customer Experience, states that, "Customers are no longer content to be merely recipients of goods and services; they have become embedded in the business model itself."
4 Benefits of Digital for Manufacturing SMEs
Article from | OptiProERP
Since the launch of the iPhone in 2007, mobile smart devices have become the new normal. The pervasive presence of these mini-computers in our collective pockets has unleashed consumer-facing services from the way we handle banking to how we book vacations.
Manufacturers, including small and midsize enterprises (SMEs), are no longer exempt from similar customer expectations. A recent paper from SAP, The Future Customer Experience, states that, "Customers are no longer content to be merely recipients of goods and services; they have become embedded in the business model itself."
Customers are Driving Digital Transformation for Manufacturers
Manufacturing customer behavior is changing as you read this. It shows up in requests for product personalization, faster response times, transparency into extended supply chains, and visibility into production processes from order to delivery.
Small and midsize manufacturers find themselves in a situation where their shop floor operations are now part of a customer-facing experience. What was once an internal production process, is now a service center and a communication hub with customers and suppliers around the globe.
Not every organization is ready to embrace the promise of more advanced digital capabilities like artificial intelligence (AI), the Internet of Things (IoT), or even machine learning. But more and more manufacturers are turning to cloud enterprise resource planning (ERP) as the preferred platform to launch digital processes like process standardization and optimization, automation, collaboration, real-time analytics and reporting, and business integrations.
Cloud ERP is the Enabler of Digital Processes
A 2018 Forrester Report shows that 95% of manufacturers believe moving business processes to the cloud would improve their ability to digitally transform their whole ecosystem.1
This sentiment is reflected in the year-over-year increase of cloud ERP adoption. But the most compelling case for cloud ERP is its inherent ability to enable the digital processes that customers now expect and that manufacturers must have in order to compete successfully in a connected and global marketplace.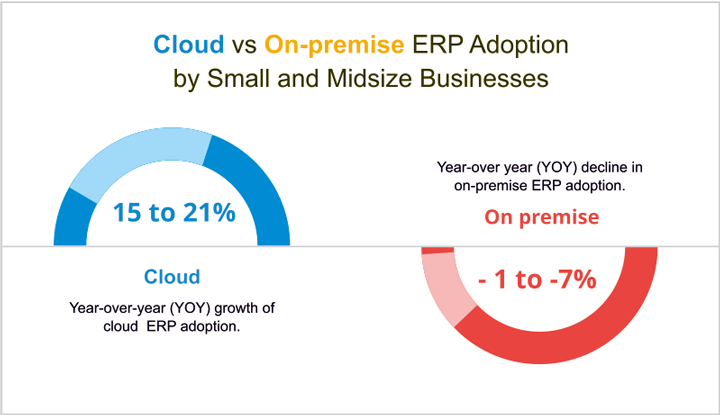 Digital Initiatives Lead to Enhanced Customer Satisfaction
With evolving consumer technologies, manufacturing customers expect access to information that informs them about purchase and transaction history. Today's customers also expect instantaneous responsiveness, consistent product availability, even recommendations for new products based on past purchases, fast shipping, and an omnichannel experience
Customers are willing to pay nearly five times as much for an excellent customer experience versus a poor one. - Source: Forrester | HuffPo, New Rules of Designing Customer Experiences2
4 Benefits of Digital Transformation
Cloud ERP, the home of digital processes, is being used by SME manufacturers as a force multiplier to drive transformation with benefits like these:
Real-time customer service
Organizations are less productive when data resides in multiple sources, across different software applications. With companywide access to a single source of data and real-time collaboration, inherent in complete cloud ERP, manufacturing SMEs can capitalize on immediate customer opportunities.
A cloud ERP platform gives the ability to engage with customers in real time for streamlined communication and customer service. It allows you to view part conversations and history of transactions to make better business decisions.
Customer experience (CX) innovators lead companies with poor experiences in growth by more than 500 percent.
Self-service KPIs for real-time insight
With cloud ERP, the system gathers all of the information relevant to a user's role and automatically populates the cockpit with job-related dashboards, key performances indicators and visually-driven tiles that track relevant analytics. Role-based dashboards make your work simpler, more focused, and more effective than ever.
Self-service KPIs and dashboards put customer information into the hands of those who need it without leaving their primary work screen. There's no need to search for data across differing software or saved in spreadsheets. Users have access to metrics so they can answer questions about capacity while on a call, or email a customer their payment history, without leaving their personalized screen.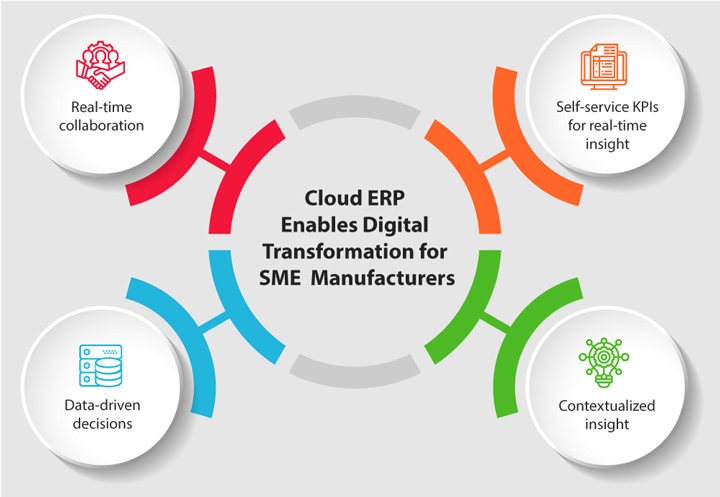 Data-driven decisions
Modern cloud ERP enables modeling and analysis of complex connected data and you don't need to be a genius to use it. With access to intuitive dashboard and visualization tools, it's easy to make informed business decisions, uncover patterns in fluctuating demand, identify new products and services to increase profitability and calculate the shortest path to go live.
Real-time access to analytics eliminates the time and effort spent on finding and making sense of business information information. With cloud ERP, it's easier to identify the relationships that can create new opportunities for your business and intuitive tools makes it easier to turn data into direct action.
Contextualized insight
Contextualized, or role-specific insight, enables users to practice exception management. Manufacturers can proactively anticipate and manage exceptions before they have a domino effect and snowball into bigger problems.
By providing end-to-end visibility, real-time data and reporting, dashboard and analytics, business process automation, and collaboration tools, cloud ERP enables proactive exception management.
Here's quick look at what manufacturing SMEs can do with contextualized exception management:
Standardize processes that define exception requirements

Automate pre-set exception criteria

Get real-time visibility with dashboards to anticipate and prevent the exception from occurring

Collaborate with appropriate employees using automated alerts and notification reports
Be on the Lookout for These Digital Characteristics When You're Selecting a Cloud ERP Solution
Begin your transition from legacy ERP or stand-alone software packages by selecting cloud ERP with the characteristics of a digital-ready solution already in place. Here's what to look for:
Standardized
Consistent workflows are followed on a single, cloud-based platform. Information is organized and presented in a consistent format.
Transparent
The status of business management and manufacturing operations is visible to all authorized users.
Collaborative
Businesses and their extended value chain (customers, suppliers, and business partners) can work together in real-time with shared access to a single source of accurate information.
Automated
Once data is uploaded or keyed in, the information is carried over and built upon with each successive action, minimizing human error and accelerating processes.
Secure
Access is restricted to authorized users, an audit trail of all activity is automatically created, and all documents, including invoices, are delivered and stored on an encrypted platform.
Analytical
Generate analytic insight from real-time data, selecting from hundreds of report templates aligned with role-specific responsibility.
Conclusion
New market forces are creating pressure for manufacturers to react with greater speed, effectiveness, and the ability to change on a dime. Customers expect greater levels of service, customization, and insight. Similarly, your employees need tools that make their working lives easier and more productive. Businesses need to see trends as they emerge and execute solutions ahead of, or at least not behind, the competition.
Cloud ERP delivers genuine value with its speed, scalability, and superior user experience for your employees and customers. At the heart of a competitive strategy in the digital age, cloud ERP is a relatively straightforward and sustainable way to inject insight and smarter practices into your manufacturing business.
About OptiProERP
OptiProERP empowers you to improve the efficiency of your manufacturing operations. Discover true value with predictability and transparency in your business. An affordable, reliable, complete Manufacturing ERP Software, OptiProERP, makes the complex simple.
The content & opinions in this article are the author's and do not necessarily represent the views of ManufacturingTomorrow
---
Comments (0)
This post does not have any comments. Be the first to leave a comment below.
---
Post A Comment
You must be logged in before you can post a comment. Login now.
Featured Product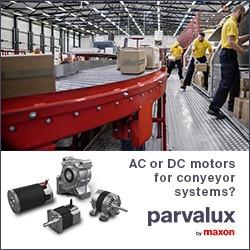 An effective, reliable and efficient drive system is essential to any material handling equipment, whether it's a motor-assisted tow truck, a barrel lifter, a robotic vehicle or a complete high-capacity parcel sorting hub; Parvalux designs and manufactures an exciting range of AC, DC brushless and brushed motors and our drives are valued for their performance and reliability.