During POC projects in the last few years, many organizations have confirmed the benefits that IIoT can bring to a wide variety of industries - and IoT spending is expected to reach $1.1 trillion by 2025, according to IDC.
What's in Store for Edge Computing Deployments in 2020
Article from | Foghorn
As the power and capabilities of the IIoT are proven, organizations are moving IIoT projects from proof-of-concept (POC) to commercial deployments. During POC projects in the last few years, many organizations have confirmed the benefits that IIoT can bring to a wide variety of industries - and IoT spending is expected to reach $1.1 trillion by 2025, according to IDC.
One of the main challenges that persists in the industry today is figuring out how to capture, organize, process and deploy large amounts of complex data more effectively. Despite organizations being able to implement solutions to gather data, significant skill gaps and cloud costs are preventing wide-spread adoption. In fact, only 26% of organizations felt their project was successful, leaving the question of where the value of their IoT investment laid unanswered.
In 2020 and beyond, organizations will move IIoT projects from POC to full deployments with the goal to increase overall operational efficiency. To move beyond initial POC benefits, organizations will focus on innovative new opportunities, such as edge computing, to drive significant ROI, deliver enhanced operational productivity and achieve the final proof-of-value phase across industries and use cases.
Powering a More Sustainable Future
The green tech industry is looking to leverage edge computing deployments in efforts to take environmental responsibility by minimizing their carbon footprint. For example, fleet transportation organizations are looking to begin deployment of driving green tech use cases to detect abnormal regen and idling events in real-time -- ultimately reducing billions of pounds of CO2 emissions per year.
Additionally, oil and gas organizations will be deploying edge technologies to monitor flare stack health and better understand emissions output. Through sensor fusion technology, edge solutions will help identify issues with compressor health and alert operators about potential regulatory violations. Steel manufacturers will also look to edge computing to save millions of tons of CO2 emissions by identifying defective parts produced in steel manufacturing as early as possible in the process to reduce scrap and increase yield.
For these organizations, edge-enabled solutions will deploy real-time measurement data and machine learning (ML) models to determine product quality and directly impact sustainability initiatives.
Driving the Automotive Industry into the Future
The automotive industry is also looking to leverage edge computing technology to process the significant amounts of data today's cars are generating via their sensors. It has become a great challenge to gather, merge, process and deploy all of the sensor data efficiently. This creates an industry roadblock, as the future of transportation with autonomous vehicles (AV) depends on the creation of the required intelligence and processing capabilities to build and operate sophisticated, autonomous systems.
On another note, many AVs are expected to be electric cars, which require more in-vehicle intelligence and system life cycle management. These are necessary in order to maximize the efficiency and lifespan of battery and charging systems, as well as other systems supporting braking, motor performance, safety, passenger environment and predictive maintenance.
While fully autonomous vehicle controls are not foreseeable for the immediate future, there are many existing edge computing applications now available to enhance the efficiency, reliability and safety of commercial and public transportation. These include vehicle control and safety systems, such as cameras, driver assistance and collision avoidance functions that are being added to new vehicles every year.
In the year ahead, rather than relying on remote data centers for critical command and control decisions, automotive manufacturers can eliminate safety concerns and fast-track the road to autonomous driving by deploying edge-enabled systems. Edge computing technology brings the data processing center directly within the vehicle itself, as opposed to relying on remote data centers. Processing data at the source also allows for more accurate, real-time insights and reduces network latency. Edge computing also addresses automotive challenges such as increasing road safety, increasing traffic efficiency, leveraging additional data to make connected cars "smarter" and maintaining consistent connectivity in high traffic areas.
Porsche recently blogged about this topic on Medium, "Seven Edge Computing Use Cases for Vehicles."
Proving the Value of an Edge-enabled Industry
Edge computing will play a critical role in increasing operational efficiency and reducing cloud costs as IoT and IIoT POV deployments begin to rollout in various industries. Organizations have recognized the unmatched value of edge computing, making them eager to adopt and reap the benefits as their industries evolve. It will be an exciting year for edge technology and we look forward to being a part of the movement and its successful POV deployments in 2020 and beyond.
The content & opinions in this article are the author's and do not necessarily represent the views of ManufacturingTomorrow
---
Comments (0)
This post does not have any comments. Be the first to leave a comment below.
---
Post A Comment
You must be logged in before you can post a comment. Login now.
Featured Product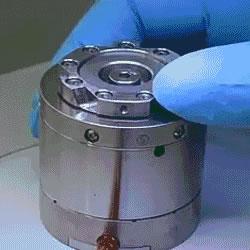 A traditional gantry system employs X-Y or X-Y-Z range of motion. Mounted on a base plate, usually granite, 2 parallel rails constitute the synchronized Y axis motion while the cross axis (bridge axis) provides the X motion. A vertical axis can be added on the bridge for the Z motion. A Split Bridge system can be less complex than a traditional gantry system because synchronization of the two parallel linear motors is not required. Both systems are used in industrial production, testing, and additive manufacturing.