Customer service relationships apply to the supply chain in many ways. A manufacturer is in the middle of the chain and develops the products or services that then go on to the distributor, retailer and consumers.
How Technology Can Create Stronger Relationships Between Manufacturers and Customers
Emily Folk | Conservation Folks
Customer service relationships apply to the supply chain in many ways. A manufacturer is in the middle of the chain and develops the products or services that then go on to the distributor, retailer and consumers. With the rapid progression of digital technology, these relationships are improving in newfound ways.
Automation and artificial intelligence (AI) are the overarching themes that improve relationships between manufacturers and customers.
Marketing
New forms of technology use automation and AI to adjust to customers' personal preferences. Manufacturers can connect with customers in new ways as these tech innovations predict customer and supply chain needs.
Digital marketing also provides a platform for updating customers on new services, materials or products. That way, anyone along the supply chain can stay in tune with the latest developments from their manufacturer.
The automated processes automatically fulfill marketing responsibilities by contacting clients and customers. The AI handles the personalization aspect as it caters to the needs of stakeholders. The two together allow instant data collection and analysis, which the systems compile for use by the manufacturer.
Manufacturers can then take the information and convert it into actionable steps for marketing and connecting with customers in a relevant and personal way.
Customer Service
Customer service entails a wide variety of responsibilities. With the advancement of technology, customer service is slowly departing from traditional methods of communication such as emails or live phone calls. Instead, the sector is implementing AI chatbots or phone agents that can handle many customers' questions and queries.
For instance, manufacturer troubleshooting and maintenance tips for valuable equipment take on new forms and delivery methods to appropriately address consumer needs and issues. The feedback and assistance processes become easier with new technology, leading to improved customer satisfaction and better business results.
Real-time communication provides better interactions between manufacturers and customers. It improves production transparency and solidifies the connection between both parties.
Customer service requires knowing and understanding the customer base. The AI within the system will ultimately learn from and adapt to its interactions with customers.
Payment
Forms of payment are evolving along with technology, optimizing transactions between manufacturers and customers. As new systems come into play, invoices, payment information, pricing and receipts all become more accessible and actionable.
A company knowledge database system can consolidate all data and store it in one place, for all to access from any location. Payment information will inevitably be part of that data, which is crucial for taxes, recordkeeping and profit tracking.
Technology allows for more payment platforms, too. Cryptocurrencies are on the rise, as are various apps for business transactions. As these platforms grow in popularity, the efficiency of transactions will grow as well. The result is improved communication between manufacturers and customers, helping them build optimal relationships within the industry.
Delivery
The supply chain involves several forms of delivery throughout each step. From supplier to manufacturer to customer, new methods of delivery keep the product progressing through the chain. Aspects of new technology will help the delivery process.
Innovations now allow for improved tracking of deliveries and assets as well as processes. From the initial stages to the supplier, manufacturers can monitor where the materials are and how the supplier is processing them. Afterward, the manufacturer is able to monitor the product as it reaches the customer.
The customer can track their deliveries in real-time with a high degree of accuracy. If any issues arise with the delivery, the consumer can open up one of the numerous communication channels and get the ball rolling on a fix long before it impacts the bottom line.
The Benefits of a Technological Customer Relationship
These aspects have individual benefits within their sectors, but overall, technology provides several general improvements for a customer-manufacturer relationship.
First, technology raises the quality of service. Throughout each step of the supply and demand process, innovations improve the quality of materials and the overall product.
The timeline, too, affects a manufacturer's relationship with customers. When supply is part of a manufacturer's strategic plan, it improves turnaround time and therefore efficiency.
Lastly, new innovations drive competition. With new knowledge, devices and abilities, manufacturers have an edge over their competitors and can ultimately provide better service.
Each of these three benefits improves customer satisfaction and retention. With the technological dynamic between manufacturers and customers, the two parties foster a communicative and mutually beneficial relationship.
The content & opinions in this article are the author's and do not necessarily represent the views of ManufacturingTomorrow
---
Comments (0)
This post does not have any comments. Be the first to leave a comment below.
---
Post A Comment
You must be logged in before you can post a comment. Login now.
Featured Product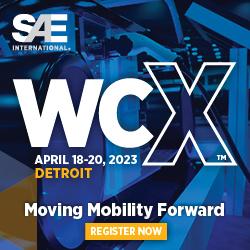 The largest technical mobility event in North America returns to Detroit from April 18-20, 2023. Join thousands of engineers, executives, suppliers, academics and R&D professionals for WCX™ World Congress Experience to exchange ideas, discuss today's challenges, and build powerful relationships to move your career and the mobility industry forward. Register today at sae.org/wcx.