Iota has developed a framework called the Sustainability Process Blueprint that allows businesses to easily monitor, measure, and curate data pertaining to their sustainability performance.
A Sustainability Process That Drives Business Value
Michael S. Davies CFA, CMVP | Iota Communications
There's no question that corporate environmental responsibility is a necessity going forward. But is it about more than just necessity? Is sustainability important to business success?
Today, business and environmental sustainability go hand-in-hand. Implementing a sustainability framework does more than just improve the environment; it also drives business value across several dimensions and performance metrics, including enhancing customer loyalty, better engaging healthier and happier employees, and rewarding shareholders and stakeholders with higher business valuations.
To help companies better integrate sustainability into their business strategies, Iota has developed a framework called the Sustainability Process Blueprint that allows businesses to easily monitor, measure, and curate data pertaining to their sustainability performance.
What is the Sustainability Process Blueprint approach?
The Sustainability Process Blueprint approach is a data-driven monitoring and analytics platform that evaluates conditions and performance of elements related to sustainability, such as energy, air, and water resources. Our model is quantitative, metric-specific, and dynamic, where Internet of Things (IoT) data and analytics are used to benchmark, enable feedback, and offer actionable insight to optimize sustainability performance. The use of the sustainability process framework itself engenders a competitive advantage by its ability to employ analytics to optimize efficiency and productivity.
The Sustainability Process Blueprint focuses on key metrics from which remotely monitored data is continuously measured and cataloged. It provides granular detail into processes where IoT devices monitor energy, air quality, water consumption, and waste. Sensor data, together with the ability to remotely monitor, measure and curate data, enables the development of an analytics platform capable of offering alerts, visual insight, context, and perspective as well as progress towards sustainability objectives. The analytics platform supports the sustainability process framework in that it also provides feedback to evaluate the impact of sustainability policy changes.
Why focus on environmental sustainability?
Environmental sustainability is one aspect of sustainability—a concept that also applies to social and economic practices. In part because the environment is the foundation of life on Earth—and because it is currently an area of prime concern to much of the world's population—environmental sustainability often garners the most attention. It encourages the responsible use of ecological resources and minimizing the impact of humans' actions on the environment.
One of the key investment themes in the last decade is the growth of Environmental and Social Governance (ESG) funds, where the environment is the dominant focus. Larry Fink, CEO of BlackRock (a global investment management firm that manages more assets than any other investment manager worldwide), recently wrote a letter to CEOs addressing the risk associated with climate change, saying:
"Climate change has become a defining factor in companies' long-term prospects…[it] is almost invariably the top issue that clients around the world raise with BlackRock."
The recent fires in Australia and California demonstrate the high cost climate change is having on our environment—it could result in rising sea levels and disruptions to food supply. If climate change has become such a major risk factor for investors, how can your organization better prepare for it? The answer is to develop a comprehensive sustainability program.
The Link Between Energy Consumption & Environmental Sustainability
Energy is perhaps the most important portion of sustainability because of its connection to fossil fuels, the main source of generating electric power and powering vehicles. The burning of fossil fuels releases carbon dioxide (CO2), contributing significantly to increasing levels of greenhouse gas (GHG) emissions. GHG, in turn, is a significant driver of climate change. (Climate data from the National Oceanic and Atmospheric Administration and NASA show that the decade ending in 2019 was the warmest in recorded history.) By reducing energy consumption there is a proportionate reduction in GHG emissions. Therefore, efforts to reduce energy use play a significant role in lowering GHG emissions and improving air quality.
The relative output of GHG is proportional to the ratio of carbon to hydrogen in the composition of fossil fuels. In the combustion of fossil fuels the amount of CO2 released is in direct relationship to the composition of carbon mix in the fuel. The following graph shows the methane of natural gas has significantly less carbon to hydrogen than oil or coal. The implication is that sourcing electric energy from coal is nearly five times more destructive to the atmosphere in terms of CO2 emissions than gas. Therefore, policies that substitute gas for oil or coal tend to reduce GHG emissions.

While it is important to source power from clean fuels, other strategies—such as utilizing renewable energy and energy storage technologies, and using energy more efficiently—can also play a crucial role in reducing GHG emissions. That's why energy efficiency initiatives feature prominently in most companies' sustainability goals.
Evaluating Sustainability Performance
A number of approaches to sustainability performance have focused on scorecards that provide a qualitative evaluation of performance where corporate vision, culture, risks, and strategy play a substantial role. In addition, many legacy sustainability scorecards are often static in nature, measuring progress only at specific points in time.
A leading ESG rating company, Sustainalytics, uses factors like management skills and exposure to risks in the global supply chain to construct performance scorecards. While Sustainalytics has done an impressive job in developing a renewed global ESG rating system, even more can be done to quantify metrics, and allow businesses themselves to become more proactive in meeting sustainability goals. In addition, the increasing interest in business sustainability has made it clear that a more objective way to measure performance is needed.
With regard to energy use specifically—the most important portion of sustainability—some progress has been made to establish a better understanding of energy consumption and ways to design programs to improve efficiency. The Efficiency Valuation Organization (EVO) is a nonprofit organization dedicated to helping companies become more energy efficient. To that end, it sponsors the International Performance Measurement and Verification Protocol (IPMVP), a framework that helps quantify results of energy efficiency projects. The framework centers around measurement and verification (M&V)—the process of "planning, measuring, collecting and analyzing data for the purpose of verifying and reporting energy savings within an individual facility resulting from the implementation of energy conservation measures (ECMs)."
Statistical sampling and analytics play a crucial role in managing M&V projects. The whole process of measurement and verification provides an understanding of energy consumption and efficiency initiatives.
The Sustainability Process Blueprint: IoT & Analytics
At Iota, our focus is on providing a framework to improve sustainability initiatives and energy efficiency with the use of the IoT. The architecture of the Sustainability Process Blueprint falls in line with the IPMVP, enabling companies to collect energy-related data for the building environment and building assets. Knowing when, where, and how energy is consumed is an effective approach to energy efficiency, because procedural changes alone may impact energy consumption and operating costs.
Initiatives to improve sustainability can provide substantial value to your business. The business values are based on operating cost reductions, reductions in your risk profile, and the higher market multiple achieved in market valuation that also lends itself to providing value to private companies. In addition, the data-driven process optimization framework creates analytics capabilities that could give your organization a competitive advantage.
Business Value Derived From The Sustainability Process Blueprint
Integrating granular visibility of environmental conditions and performance with analytics gives companies a powerful new way to approach their business. As stated in David Hamme's book, "Customer Focused Process Innovation," the exercise of building better processes creates business value. Below are five levels of business value derived from the use of IoT devices and analytics, which are linked and increase in importance:
1. Monitoring
The ability to remotely monitor sustainability metrics provides value by reducing transaction costs. The hidden costs associated with monitoring and measuring building systems manually is high—it may include travel and extensive time. An IoT remote monitoring system captures data about your facility whether you're there or not. Therefore it reduces the transaction costs associated with knowing where, when, and how your energy and resources are consumed.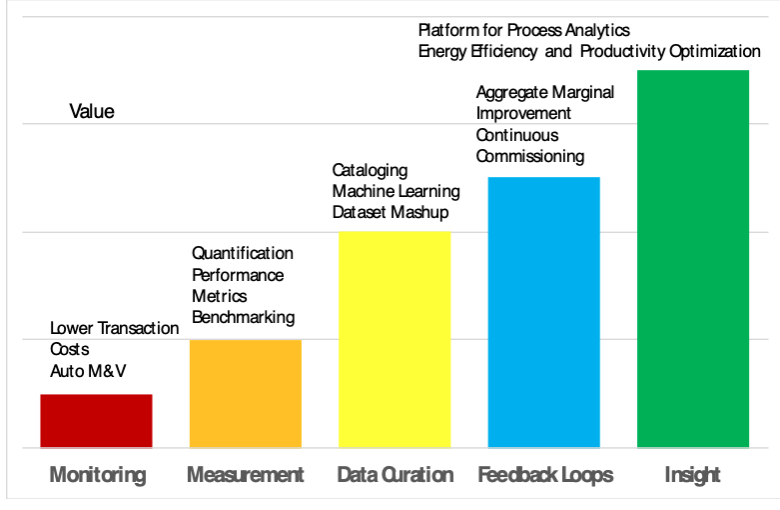 2. Measurement
Measurement capabilities enable performance benchmarking to compare how well your facility is performing in comparison with industry peers and your own expectations. Accuracy and precision are important to reduce variance and bias, as is identifying the correct metrics to use for performance benchmarking. Measurement also serves as the basis for providing threshold alerts to mitigate environmental risks you hope to avoid.
3. Data Curation
Your building's intricate operations depend on multiple parallel processes happening both inside and outside your building, all of which must be examined in relation to one another before significant insights can be gleaned. Data curation makes it possible to blend different data types—for example, weather data, occupancy data, and energy consumption data—to understand the relationship among variables and identify root cause assessment. Cataloging the data in a quantifiable format enables faster time to insight, an essential aspect of value creation.
4. Feedback Loops
An IoT-based remote monitoring system provides instantaneous feedback on your efficiency performance; it also helps identify instances of efficiency drift on your equipment. Having feedback about your facility's efficiency performance provides the framework for continuous commissioning of HVAC equipment, and a roadmap to drive process performance.
5. Insight
The Sustainability Process Framework itself engenders a competitive advantage simply because it gives you the ability to employ analytics to optimize efficiency and productivity—not just as it relates to sustainability but to other business process activities as well. Measuring, monitoring, analyzing, and improving—all of these capabilities provide a platform for continuous process improvement.
Collectively, these drivers of business value provide direct and measurable benefits to the companies that employ the Sustainability Process Framework; they also create value for the rest of society as well.
What is business sustainability in relation to environmental sustainability?
Business sustainability (or organizational/corporate sustainability) brings together all aspects of sustainability, including environmental, in a business context. It recognizes a company's need to be profitable while also encouraging the incorporation of every aspect of sustainability into a company's core business activities. Organizational sustainability includes:
Environmental sustainability—Reducing the impact of business activities on the environment
Social sustainability—Operating in a way that maintains and improves societal relations
Economic sustainability—Growing in a sustainable manner that protects both social and environmental elements
More businesses are becoming proactive about sustainability in recent years, particularly as the benefits of being a good corporate citizen come to light. (Read about several sustainability in business examples here.)
Employ The Sustainability Process Framework At Your Organization
What is your business sustainability goal? Are you looking for a partner who can help you get started? Iota offers a simplified way of using IoT devices that will help you achieve your sustainability goals. Our line of IoT sensors enables us to remotely monitor your building's energy and environmental conditions, and provides visual insight into operations and conditions. And our advanced analytics and machine learning service helps you understand the data and derive actionable insights from it. We'll work with you every step of the way.
The content & opinions in this article are the author's and do not necessarily represent the views of ManufacturingTomorrow
---
Comments (0)
This post does not have any comments. Be the first to leave a comment below.
---
Post A Comment
You must be logged in before you can post a comment. Login now.
Featured Product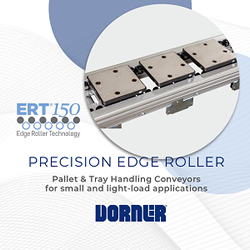 The next evolution in Dorner's Edge Roller Technology conveyor platform, the ERT®150, is ideal for small and light-load assembly automation, as well as medical and medical-device assembly application. The ERT platform is the only pallet conveyor of its kind available with an ISO Standard Class 4 rating for cleanroom applications. Earning the ISO Standard 14644-1 Class 4 rating means Dorner's ERT150 will conform and not contribute to the contamination of cleanrooms to those standards. As implied by its name, the ERT150 (Edge Roller Technology) uses rollers to move pallets through the conveyor smoothly with no friction (a byproduct often seen in belt-driven platforms). The conveyor's open design eliminates concerns of small parts or screws dropping into rollers and causing conveyor damage or jamming. The ERT150 is suited to operate in cleanroom environments requiring a pallet handling conveyor. It is capable of zoning for no or low-back pressure accumulation and is ideal for automation assembly applications within industries including medical devices, electronics, consumer goods among others.