BMW tooling engineers can use Xometry's CNC machining, 3D printing, and urethane casting for custom assembly fixtures, which allows the company to put the finishing touches on its vehicles quickly and cost-effectively.
Case Study: BMW Uses Xometry's Range of Technologies to Make Custom Assembly Tooling
Serena Ngoh | Xometry
The Challenge
At BMW's only U.S. manufacturing facility in South Carolina, the company boasts unsurpassed quality and a high level of reproducibility when it comes to manufacturing and assembling every component, from the engine down to aesthetic details like trim.
When it comes to trim, badges, emblems, and alignment, in particular, the company uses highly custom fixtures in the production assembly process. However, CNC machined tools that mate up to the complex curves of a car surface are very costly to produce, especially in lower volumes, and require long lead times.
To create conformal tools at a lower cost, BMW began incorporating 3D printing and urethane casting into their tooling assemblies in 2016. However, by creating tools that were a mix of multiple manufacturing processes, engineers began to spend almost a quarter of their work time, or 10 hours a week, sourcing parts and managing vendors. Tooling Design Engineer Ryan Lambert began searching for a multi-process manufacturer who could create short-run or one-off parts for their custom fixtures and win back time wasted on sourcing administration.
Creating Custom Fixtures with Xometry
Lambert soon found the Xometry Instant Quoting Engine℠ and uploaded and quoted his custom parts in multiple manufacturing processes. Xometry's vast network of manufacturing partners provided a single-source platform where BMW could quote and order a specialized automotive assembly fixture in minutes.
For the parts of the fixture that hold and apply trim or decals directly, Lambert used Xometry's 3D printing service. Manufacturing the fixture with additive processes like SLA, SLS, and FDM allows for the creation of specific geometries to securely clamp, plunge, and depress the trim by holding it flush against the curves of the vehicle. Previously, a nonconformal CNC machined part was held at a distance, which could cause imprecise applications. Using 3D printing also helps make the tool lighter by replacing formerly machined parts with an ultralight infill plastic.
To build alignment tools, Lambert designed tools that combined 3D printed, CNC machined, and carbon fiber parts. These tools align various sections of the vehicle during assembly processes up to hundreds of times a day. By using 3D printing and carbon fiber, the part is reduced in weight by 25-50% and decreases worker fatigue from lifting heavy tools hundreds of times a day.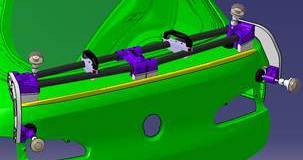 A Xometry-manufactured fixture used for alignment of the vehicle back end during assembly processes. This collection of parts is traditionally machined, but with Xometry, it can be quickly and cost-effectively produced with carbon fiber tubing, CNC machined plastic and metal parts, and 3D printed Ultem components.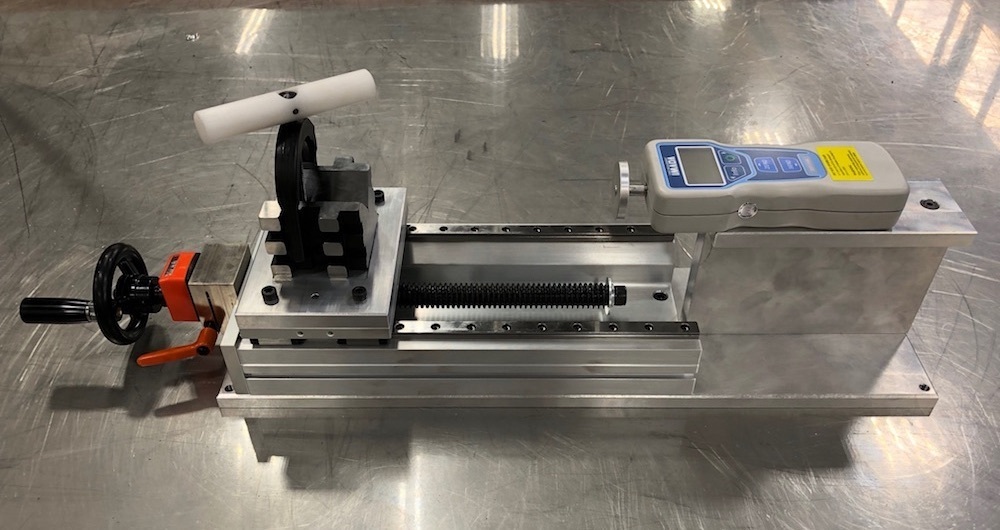 A Xometry-manufactured assembly used to measure the displacement of car parts. The assembly comprises machined parts as well as stock hardware.
The BMW team also used Xometry's urethane casting capability to create fixture body housing. Manufacturing low-volume tool housing in molded urethane offers a more durable and cheaper solution than CNC machining, and also allows the design and manufacture of a custom geometry that fits with other custom components.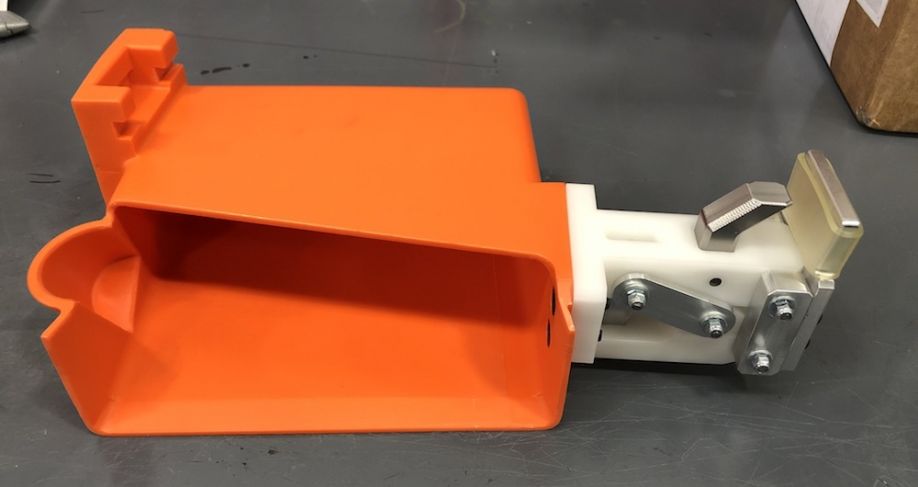 A Xometry-manufactured fixture used for the assembly of electrical components in hybrid electric vehicles. The assembly consists of a mix of urethane molded parts and CNC parts and is produced cost-effectively in one-off or with short runs.
"Xometry is so great for BMW because I can go and upload my full assembly for my custom tools in one upload and then configure the unique material and process for each part."
—Ryan Lambert, BMW Tooling Design Engineer
Another key benefit of Xometry to Lambert and his team was the ability to talk to Xometry engineers and ensure the parts were optimized for manufacturing. "There's a great team at Xometry that has supported me through all my projects, whether it's design or material suggestions or catching an issue before it goes to manufacturing," says Lambert.
Faster, Cheaper, More Reliable Custom Solutions with Xometry
The multi-material, multi-process fixture assemblies that Lambert designs and manufactures with Xometry have been successes since the company began working with Xometry in 2016. Since Xometry can source components to multiple manufacturing partners across its network—partners who specialize in 3D printing, CNC machining, and urethane casting, respectively—it can provide BMW competitive market rates that save the company up to 25% on custom fixtures. And through its vast range of manufacturing options, Xometry allows BMW to test new production solutions without being limited to the processes offered in-house at BMW.
With Xometry as a single-source supplier that manages each of its partners, BMW engineers can now return up to 10 hours per week lost to sourcing back to value-added activities like design and testing. Tool reliability has also increased, with the rate of application error decreasing from 10% to under 4%. This is the result of having tools that are now 25-50% lighter, meaning workers can now lift them hundreds of times a day with steady hands.
"Xometry delivers ease and professionalism. They take care of fulfillment so I don't need to juggle or manage suppliers. We buy the quote, and Xometry takes care of the rest."
—Ryan Lambert, BMW Tooling Design Engineer
As an automaker at the forefront of vehicle innovation and customization, BMW is pleased to work with Xometry for its various custom manufacturing needs. Xometry's manufacturing and sourcing services allow BMW to produce the high-performance and stylish product its customers have come to know and love. Continuous work with Xometry has led to efficient tooling production to scale up other BMW facilities globally and for retrofitted tools for new car derivatives.
The content & opinions in this article are the author's and do not necessarily represent the views of ManufacturingTomorrow

Xometry
Our instant quoting platform and nationwide network of machine shops is transforming American manufacturing. We make it easy for all customers - from startups to Fortune 500 companies - to access manufacturing on demand by providing the most efficient way to source high-quality parts.
Other Articles
Discover why this innovator in the micromobility powersport space chose Xometry to produce 50% of parts found in its flagship electric motorcycle, the Ryvid Anthem.
Machinist shortage is a tricky problem that shop owners constantly face. Here are some ways to solve it and help you attract and retain them.
A team of engineers and medical experts joined forces during the first wave of COVID-19 to rapidly prototype a medical device. Xometry manufactured 9 prototypes in under 3 weeks, providing advice and rapid production for critical decision making.
---
Comments (0)
This post does not have any comments. Be the first to leave a comment below.
---
Post A Comment
You must be logged in before you can post a comment. Login now.
Featured Product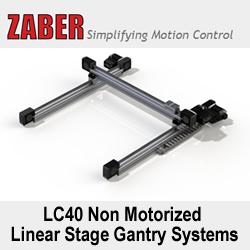 A Zaber gantry kit comes with everything you need to build a customized XY gantry system or XYZ gantry system. These gantry systems feature coordinated multi-axis motion, plug-and-play operation, easy integration with end-effector options, and built-in IO and E-Stop capabilities. An intuitive ASCII interface allows the user to easily communicate with the gantry systems using our free software, either Zaber Motion Library with APIs for several popular languages or Zaber Console. Third party terminal programs that can communicate over a serial port can also be used.