It's been proven that email marketing is a great way for manufacturing companies to display their products and services to their customers, distributors, and potential clients.
7 Suggestions for Manufacturers' Email Marketing Strategies
Aimee Laurence | Academized
Even though we all know that email marketing is a very useful tool for marketers in various industries, many companies surprisingly don't have a good email marketing strategy. However, it's been proven that email marketing is a great way for manufacturing companies to display their products and services to their customers, distributors, and potential clients. Here are 7 tips for manufacturers to develop effective email marketing strategies for the industrial and manufacturing industry.
Personalize the message
Your target audience will be receiving dozens of emails daily, so to make sure that yours stands out from the others, personalize your emails for your readers. It's been proven that people are more likely to open an email if their name is in the subject line. Your email list should be segmented based on your audience's location, interests, work, and lifestyle and write targeted content for each group within your target audience.
Use storytelling
If you tell a story with your content, you're much more likely to get a positive sales response because your audience will connect with other people's stories on an emotional level. By applying storytelling to your emails, you're increasing the likelihood that your audience will click through and turn into a successful lead. It's important that your story is well-written and appropriate, so consult these tools to help with this aspect:
Direct traffic to your site
Use your email marketing to send traffic to your website by sharing links for useful blog content and other marketing resources that you're created and published online. In manufacturing marketing, it's especially important to establish a thought-leader space. Create content and updates about safety standards, important trends in the industry, and any other relevant topics that will help drive new sales.
Don't up-sell
If you want to have a successful marketing campaign, you should be aiming to add value to your clients instead of focusing on making sales. Instead of pushing products on them, share information about your services, and show that you're really trying to help them solve a need. Your buyers will want to educate themselves as much as possible before they choose to commit to a product or service.
Time your emails well
According to Matthew Greer, an email marketer at OXEssays, "there is a lot of research that has gone into figuring out the right timing for sending emails. People are more likely to read your email on a Wednesday than any other day, but look at trends in your particular industry for the right time of day. Don't send too many emails so you're not harassing your readers, but be consistent."
Build a subscriber list
Don't cold email people from a purchased list without first having made contact. By doing this you risk your email getting marked as spam and you're unlikely to be very successful. Instead, build your own subscriber list and understand who your audience is and their needs.
Adopt automation for email marketing
Marketing automation is helpful because it increases your efficiency and also helps you analyze and measure how your email campaigns are doing. The software will show you how your readers are interacting with your emails and you can learn from that to optimize your strategy. Look into the different options for tools and find the one that works best for your business.
Businesses in the manufacturing industry are usually using outdated tools and strategies for marketing. By following these suggestions for building a successful email marketing strategy, you're improving your chances at building a loyal client base and convert your leads into purchasing customers.
About Aimee Laurence
Aimee Laurence, a marketer with Academized and Best Essay Writer, writes about different email marketing and social media marketing strategies. Her focus is on the manufacturing and industrial industries because they are often lagging behind and underrepresented. She is also a freelance editor at the Finance Assignment Writer Help service.
The content & opinions in this article are the author's and do not necessarily represent the views of ManufacturingTomorrow
---
Comments (0)
This post does not have any comments. Be the first to leave a comment below.
---
Post A Comment
You must be logged in before you can post a comment. Login now.
Featured Product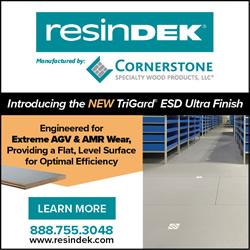 ResinDek flooring panels are designed for elevated platforms such as mezzanines, pick modules, and work platforms. They have the proven structural integrity to support dynamic and static rolling limits from 2,000 to 8,000 lbs. ResinDek flooring panels are available in a multitude of options that are customized for load capacities, required finish type, volume and type of traffic including heavy rolling pallet jack loads and robotic traffic with AGVs and AMRs.