Sixty-five percent of supplier companies said they received more work in 2018 than in the previous year—a huge jump from the MFGWatch 2016 results of 40 percent (the last time an MFGWatch report was published).

Andy Richardson | MFGWatch
Who participated in MFGWatch 2019 and what is it about?
Providing insight into the state of manufacturing today, MFGWatch 2019 analyzed responses from the most recent MFGWatch survey sent to both sourcing professionals and custom manufacturers who have used the MFG.com Global Custom Manufacturing Marketplace. The report highlights trends and issues that emerged in 2018 and forecasts challenges facing the industry in 2019. In all, over 300 companies participated in the survey.
While respondents came from a fairly even mix of industries, on the supplier side, consumer products and machinery tools & equipment were the largest represented groups, each at 31 percent. It was a similar situation on the buyer side, with 30 percent of respondents identifying themselves as being in the consumer products industry. Machinery tools & equipment came in third at 24 percent, just behind the general "other" industry category at 26 percent.
The vast majority of respondents are also considered small businesses, employing between two and 50 employees. Just under 6 percent of suppliers and 14 percent of buyers employ more than 500 people.
The U.S. economy is still strong. What indicators of this prosperity did the survey reveal?
Our current strong economy was reflected in an increase in work for manufacturers in 2018, and in their intentions to invest in and grow their business in 2019.
Sixty-five percent of supplier companies said they received more work in 2018 than in the previous year—a huge jump from the MFGWatch 2016 results of 40 percent (the last time an MFGWatch report was published). Similarly, 61 percent of suppliers said they experienced an increase in RFQs in 2018. Only 12 percent of suppliers surveyed saw a decrease in RFQs.
Sourcing professionals also indicated that their companies experienced growth in 2018 (57.6 percent), a jump from 47 percent in the previous MFGWatch 2016 report.
Further, more than 44 percent of suppliers indicated they will invest in their workforce and acquire new technology in 2019. While 34 percent of buyers will focus more on technology infrastructure and not the workforce, an almost equal number (33 percent) plans to increase both this year.
How are U.S. custom manufacturers marketing themselves in order to gain business?
While most are utilizing the Internet to find new leads and business opportunities, the use of web-based marketing didn't make a big jump since the last MFGWatch report in 2016. The direct sales approach is still king with 59 percent relying most heavily on it to secure leads. Search engine optimization, email marketing and pay-per-click strategies stayed the same, with about 66 percent of suppliers using all or one of those methods.
While the marketing methods may be staying the same, suppliers seem to be allocating more money to marketing than in the past. Companies spending 10 percent of their revenue on marketing doubled since our MFGWatch 2016 report (five percent vs. 10 percent).
Additionally, 43 percent of suppliers surveyed said they plan to increase their marketing spend again in 2019, while 40 percent will leave it the same as last year.
Which factors do manufacturers think most negatively impacted their business in 2018?
Fifty percent of suppliers agreed that the availability of materials was an issue, with 44 percent citing tariffs. Natural disasters and currency exchange rate fluctuations were least concerning.
On the buyer side, tariffs and shipping costs were neck and neck as key factors affecting last year's supply chain strategies (both coming in around 42 percent). Disappointingly, "availability of competent suppliers" came in third with 34 percent of respondents citing it as an issue. Product quality compliance was close behind with 32 percent of buyers surveyed identifying it as a challenge last year.
What are the biggest challenges facing the manufacturing industry in 2019?
The challenge of finding and retaining skilled workers is definitely the number one issue that is keeping manufacturers up at night. Other issues cited include material costs, international trade/tariffs and material availability.
Comparatively, four key issues were pretty much equal in the minds of sourcing professionals. These challenges include operating costs, shipping costs, availability of qualified labor and logistics. Trade policy reform under the current federal administration is also a concern, coming in just behind these four.
Are some sectors doing better than others?
MFGWatch 2019 did not do a sector-by-sector comparison of the U.S. manufacturing industry. However, it is something we will consider for inclusion in our next MFGWatch report.
Where are U.S. manufacturers sourcing their products?
Almost 90 percent of buyers and sourcing professionals surveyed cited the United States as their company's primary sourcing destination for manufacturing their products. Unsurprisingly, China and Mexico come in second and third, respectively.
However, of those that are sourcing overseas, 79 percent made no change to bring production back to North America from lower-cost countries in 2018. It appears that these manufacturers are still turning to these countries to produce products quickly and economically.
You can read the entire MFGWatch 2019 report here.
About Andy Richardson
As vice president of sales, Andy is responsible for driving global sales for MFG.com with a focus on growing the company's manufacturing marketplace. Andy specializes in driving sales excellence and building strong customer relationships. Andy brings over 15 years of experience in manufacturing and buyer sales, international business, CRM, and systems processing and training to MFG.com.
The content & opinions in this article are the author's and do not necessarily represent the views of ManufacturingTomorrow
---
Comments (0)
This post does not have any comments. Be the first to leave a comment below.
---
Post A Comment
You must be logged in before you can post a comment. Login now.
Featured Product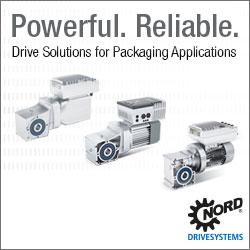 NORD's redesigned line of small CLINCHER parallel gear units showcase increased power and torque capacity for a variety of applications. These re-engineered versions will be replacing the existing SK0182NB, 0282NB, and 1382NB units. They are lightweight, have improved heat dissipation, are more cost-effective, and are available with NORD nsd tupHTM sealed surface conversion for wash-down and extreme environments.