With the arrival of 5G technology, the manufacturing industry faces its biggest transformation yet. Safer, flexible and more efficient manufacturing systems will be possible thanks to the ultra-low-latency and reliability of 5G connectivity.
5 Questions on 5G In The Factory
Andrea Jacobsen | HMS Networks
With the arrival of 5G technology, the manufacturing industry faces its biggest transformation yet. Safer, flexible and more efficient manufacturing systems will be possible thanks to the ultra-low-latency and reliability of 5G connectivity. This enables continued automation of robots and warehouse transportation as well as cutting cables for true flexibility. We have talked to Dr. Jens Jakobsen, HMS Labs Development Manager at HMS Networks, about the benefits of 5G in the factory and what it will mean for the future of smart manufacturing.
What are some benefits of 5G in the factory?
Full automation – During the last 30 years, we have automated everything which can be automated in the factory using wired technology. With 5G, we can automate the remaining 10% which has so far not been automated. Industrie 4.0 and smart manufacturing is all about the integration of logistics, material handling and factory automation. 5G is a key enabler of this integration.
Flexibility – 5G will create smarter, more flexible factories by taking full advantage of automation, artificial intelligence, the Internet of Things (IoT) and more. 5G will also give you a wireless alternative to wired systems often required to keep machines connected to central computing systems, making the factory floor much more flexible and adaptable. This makes it easier to reconfigure your production systems to cope with changing product lines.
High availability – Using 5G will allow you to monitor everything in real-time, improving your efficiency. 5G offers availability and reliability superior to WiFi, Bluetooth, RFID and other competing wireless technologies.
Safe and secure – Over 5G, machinery can perform predictive and preventive maintenance, minimizing delays from shutdowns and safeguarding employees.
Sustainable – Battery life of up to ten years make 5G very suitable from a sustainability standpoint as the standard solution for communication in networked factories and production facilities.
Public or private network – With 5G, you can operate, control and monitor your systems through a local private 5G network. This gives you total control over all aspects of your factory 5G network. You also have the option of using a public network with base stations installed inside the factory. With this option, the factory owner does not need to invest in education, frequency licenses and other aspects of running a private 5G network.
Finally a technology called network slicing allows the creation of semi-private networks inside the factory. Network slicing is a technology already used by police, fire and ambulance for creating extremely reliable semi-private public safety networks by utilizing the physical infrastructure of public networks.
How is HMS connecting devices using the latest 5G technology?
At HMS Networks, we have always been on the cutting edge in making industrial equipment communicate and always work with the latest innovative technology.
The demo in the Sweden Co-Lab Pavillion at the Hannover Fair, together with other Swedish companies such as Ericsson and ABB, includes several products from HMS Networks, all of which are designed to meet the requirements of demanding applications in the automation industry. In the demo, HMS industrial routers with Cellular, Ethernet and WLAN connectivity work alongside a custom version of the HMS Anybus Wireless Bolt™. Together, they enable seamless communication over cellular networks between industrial devices from various manufacturers, enabling smart and flexible control.
All in all, HMS wireless products are designed to meet the requirements of 5G, when this technology is introduced into factories and automation systems. 5G enables you to future-proof your production line, as you can add new machines without needing to make significant changes to your network.
What are the challenges when it comes to 5G?
Frequency Spectrum – It is possible to operate private 5G factory networks using unlicensed frequencies. One good candidate for this is the 5GHz band also used for WLAN. The unlicensed spectrum, however, have limitations in transmit power. This translates into a need for more 5G base stations as compared to using licensed frequencies. With unlicensed spectrum there is also a possibility of disturbance from other users of the same band. Therefore, it is far better to use licensed spectrum. At the moment, it is unclear how licensed spectrum will be made available for factory automation.
Ecosystem – There is already a substantial ecosystem of suppliers within factory automation: Factory owners order factories from system integrators, system integrators order machines from machine builders and machine builders order devices from device manufacturers. In order for this ecosystem to adopt 5G technology, new standards need to be established and interoperability tests need to be performed.
When is 5G set to become the industry standard?
The standardization of 5G is ongoing within 3GPP. At the same time venders are trying out the technology in several factories around the world. The initial phase of 5G deployment is based on 3GPP release 15. This release is primarily focused on enhanced mobile broadband (eMBB) and is primarily intended for early deployment of residential wireless broadband service.
3GPP release 16 will be the release covering Ultra-Reliable Low Latency Communications (URLLC). This release will be ready at the end of 2019. 5G radio modules and network infrastructure supporting release 16 are expected early 2020. Deployment in factories will follow later in 2020 starting with AGVs and mobile workers.
How will the rollout of 5G technology effect the industrial Internet of Things (IIoT)?
The industrial world is undergoing its fourth revolution, and the goals are to increase flexibility, increase automation and improve productivity, while also maintaining a high degree of safety and sustainability. Therefore, using 5G is the perfect solution for enabling smart wireless connectivity in the factory, with key features such as massive machine type communications, real time control of machines, increased human/robot interactions and edge cloud analytics.
I believe that the fourth industrial revolution can only succeed by relying heavily on wireless communications in the factory, and at HMS, we are working with these innovative technologies every day. From a technical perspective, 5G is the technology which is best suited for the factory of the future!
The content & opinions in this article are the author's and do not necessarily represent the views of ManufacturingTomorrow
---
Comments (0)
This post does not have any comments. Be the first to leave a comment below.
---
Post A Comment
You must be logged in before you can post a comment. Login now.
Featured Product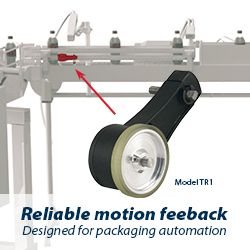 The Model TR1 Tru-Trac™ linear measurement solution is a versatile option for tracking velocity, position, or distance over a wide variety of surfaces. An integrated encoder, measuring wheel, and spring-loaded torsion arm in one, compact unit, the Model TR1 is easy to install. The spring-loaded torsion arm offers adjustable torsion load, allowing the Model TR1 to be mounted in almost any orientation - even upside-down. The threaded shaft on the pivot axis is field reversible, providing mounting access from either side. With operating speeds up to 3000 feet per minute, a wide variety of configuration options - including multiple wheel material options - and a housing made from a durable, conductive composite material that minimizes static buildup, the Model TR1 Tru-Trac™ is the ideal solution for countless applications.