3D printing has a bright future in the world of "Industry 4.0" and the advanced manufacturing sector of cyber-physical systems. Increasingly diverse raw materials, sophisticated modeling technologies, precise outputs, and more expands every year.
Emerging Trends in 3D Printing: 2019 and Beyond
Serena Ngoh | Xometry
3D printing is growing in both public recognition and overall added value, beyond prototyping and simple design. It is a revolutionary technology on the cusp of full-scale manufacturing capacity.
While in recent years the consumer knowledge of 3D printing may have been limited to fashionable uses, like school science projects or as a tinkering toy for hobbyists, 3D printing is evolving from top to bottom.
Seemingly every day, the raw materials become more diversified, the engineering more sophisticated, and the output more precise, consistent, and repeatable—not to mention the vast potential for heavier industrial use expands every year.
Manufacturing 4.0
Today's manufacturing sector is far more innovative than the classic manufacturing processes of prior generations. Advanced manufacturing is revolutionizing the Fourth Industrial Revolution up and down the supply chain.
3D printing is no exception. 3D printing utilizes robotics and sophisticated design software, as well as adaptive physical hardware and tooling.
Indeed, manufacturers of all disciplines and processes now rely much more on innovative tech. Manufacturing often requires a robust understanding of computer programs like AutoCAD, CAM, and even AI-based automations used in Computer Integrated Manufacturing (CIM). Workers use these tools to master new techniques for data storage and manipulation, algorithm calculation, and interpretation of real-time sensor data.
The Rise of Rapid Prototyping
3D printing has a bright future in the world of "Industry 4.0" and the advanced manufacturing sector of cyber-physical systems. It is invaluable for its ability to engineer real-life 3D models of 2-dimensional products and concepts. It is the preferred method for rapid prototyping and allows individual online customers to produce their own custom, end-use parts.
Rapid prototyping is a cost-effective and time-saving alternative to traditional prototype production methods. But just how fast is "rapid?"
While classic prototype fabrication can take weeks of preparation, tooling, and production, 3D printing offers rapid prototype fabrication in mere hours or days!
In fact, many 3D printed jobs can take a mere 4-18 hours to print, depending on the size, materials, and geometric complexity of the finished product.
Prototyping Vs. End-Use Production
The ever-evolving technology of 3D Printing offers benefits for both prototyping and end-use manufacturing. Below are a few advantages of each process:
Prototyping:
• Rapid design models
• Affordable, yet fully functional prototypes
• Effective design communication methods
End Use:
• Fewer design restrictions than traditional production
• On-demand, customizable production
• Mass distribution capacity
Sectors Utilizing Additive Manufacturing
In recent years, larger-scale additive manufacturing output has largely been confined to the automotive and aerospace industries, but shows potential for growth into multiple sectors. An estimated 75 percent of auto manufacturers already use 3D printing to supplement and enhance their manufacturing process, but the scope and application is still limited.
Demand is up for advancements in 3D printing, as industry leaders in multiple sectors—like medicine, energy, automotive, aerospace, and robotics—discover new ways to distribute additive manufacturing tools throughout their branches, integrating the full potential of the technology with Computer Aided Design (CAD) and other research and development (R&D) processes. For example, the global 3D printing healthcare market was valued at $579.0 million in 2014 but is expected to rise to $2.32 billion by 2020.
Increasing Printing Reliability
While international quality management organizations continue to fine-tune the technical standards for reliable 3D printing output, the best manufacturers have already earned ISO9001:2015 and ASD9100D certification—an important quality designation trusted by customers around the world. Many fabricators also have in-house standards like inspection reports and finishing certifications to help streamline production and consistency.
Innovations in 3D Printing Materials
At its earliest stages, 3D printing was limited in the raw materials it could use for fabrication. By contrast, today's 3D printers offer an array of materials, suitable for a host of new prototyping and end-use manufacturing.
The spectrum of metals available in additive manufacturing is growing year by year, with 3D printers now able to use aluminum, stainless steel, titanium and cobalt-chrome and other specialty metallics. The variety of plastics and polymers is even more expansive, including PLA, ABS, resins, nylon, PETG, TPU and ASA. In the near future, the industry may see a variety of new material chemistries that offer versatile raw materials yet undiscovered.
Plastics outpaced metal production 100-to-1 in overall numbers, likely due to the dollar value of end-use products made from metals averaging 35-50 times more.
At the 2019 Consumer Electronics Show, 3D printers showed off new abilities to print components of solid-state batteries, which will be increasingly important to the future of electric cars and other energy-saving innovations.
Regenerative medicine has also seen several innovations using 3D printed materials, which have long promised the ability to revolutionize organ transplants through biological engineering. Scientists and manufacturers have made great strides in replicating human tissue like skin and hair via 3D bio-printing, with the potential to eventually reproduce full organs like kidneys, lungs, and hearts.
AI-Powered Quoting Speeds
Thanks to advancements in artificial intelligence, customers can get instant quotes and fast delivery for all their 3D printing needs on demand. For example, the leading 3D printing manufacturers offer instant pricing and lead times in seconds, with delivery of parts in as fast as one day.
Online quoting is as simple as selecting a process and material, uploading a 3D CAD file, and inputting a few key details about your project. Xometry analyzes the geometry of 3D CAD models and provides an instant price, design feedback if relevant, and a delivery date.
The Future of 3D Printing
Each year, new case studies highlight the exciting growth potential and application success stories in 3D printing. Indeed, as more and more manufacturers and consumers become engaged with the evolving abilities of 3D printing, the curiosity, adoption, and demand will drive competition for newer and more optimized additive manufacturing options.
The high-speed outputs we see today may double or triple in years to come, and the ability to manufacture "smart" products with built-in tech like microchips, sensors, and antennae are on the horizon for vast waves of new growth.
Today's 3D printers still rely on a great deal of human labor, but the future may introduce increased dependency on robotic automation as AI grows more capable of self-service and autonomous learning.
The continued integration of 3D printing will help catalyze the potential for these "factories-in-a-box" to truly become industrial ecosystems that live up to their reputation as industry game-changers.
Arguably, the maturity of 3D printing is in its early developmental stages. Yet, the fact that this process is so young—but also so starkly innovative—bodes well for the next generation of modernization.
The future is pregnant with possibilities—everything from advanced cybernetics to bioprinting of human organs to help save lives. Although the full potential of 3D printing may be decades ahead, the limits will be only those of our imaginations.
The content & opinions in this article are the author's and do not necessarily represent the views of ManufacturingTomorrow

Xometry
Our instant quoting platform and nationwide network of machine shops is transforming American manufacturing. We make it easy for all customers - from startups to Fortune 500 companies - to access manufacturing on demand by providing the most efficient way to source high-quality parts.
Other Articles
Discover why this innovator in the micromobility powersport space chose Xometry to produce 50% of parts found in its flagship electric motorcycle, the Ryvid Anthem.
Machinist shortage is a tricky problem that shop owners constantly face. Here are some ways to solve it and help you attract and retain them.
A team of engineers and medical experts joined forces during the first wave of COVID-19 to rapidly prototype a medical device. Xometry manufactured 9 prototypes in under 3 weeks, providing advice and rapid production for critical decision making.
---
Comments (0)
This post does not have any comments. Be the first to leave a comment below.
---
Post A Comment
You must be logged in before you can post a comment. Login now.
Featured Product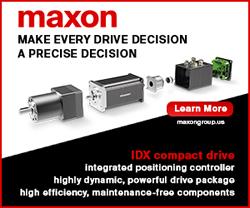 The compact brushless EC-i motor combined with an EPOS4 positioning controller delivers a highly dynamic, powerful drive package with field-oriented control (FOC), high efficiency, and maintenance-free components in a high-quality industrial housing. The maxon IDX drives are suitable for use across the entire speed range (from standstill to maximum speed) and have an extremely high overload capability. Together with a positioning controller, the integrated sensor (single turn) enables absolute positioning.