This new technology makes it possible to print five times faster – with greater precision and quality – than current extrusion speeds. MXT® establishes a clear separation between filament feeding and melting and molten extrusion...
Thermoplastic Extrusion 3D Printing
Frank Marangell | BigRep America Inc.
What's the history of BigRep?
Founded in 2014, BigRep quickly became a market and technology leader for large-scale FFF or Thermoplastic Extrusion 3D printing. We are aimed toward redefining additive for design, prototyping and industrial production from the core. The company's ever-growing team is passionately committed to working on the next industrial revolution.
What is MXT®? What sets it apart from existing 3D printing technologies?
Extrusion technology had been largely unchanged for a quarter-century. BigRep's MXT® (Metering Extruder Technology) delivers the breakthrough in thermoplastic extrusion (Fused Filament Fabrication (FFF)) that the industry has been demanding. This new technology makes it possible to print five times faster – with greater precision and quality – than current extrusion speeds. MXT® establishes a clear separation between filament feeding and melting and molten extrusion, which allows for full control over the amount and speed of material extruded at any given time. It utilizes a high-end control system developed by Bosch-Rexroth, which manages and synchronizes the highly controlled extrusion and printing operations such as XYZ motion, extruder and temperature controls, and others. The technology uses lightweight extruders that are very close in size and weight to traditional FFF extruders (in contrary to high throughput pallet extruder which are heavy, hence slow moving).
What will be its impact on additive manufacturing?
BigRep is going to redefine the industry with its new MXT® - while making the printing of end-use parts a reality. They will firmly establish 3D printing as an innovative, added value production technology in industries such as automotive, aerospace, consumer goods, manufacturing and more. Printers embedded with MXT®, as well as Bosch-Rexroth controllers, will offer unprecedented speed, precision and quality and IoT connectivity that fully integrates with Industry 4.0. MXT® allows for full control on the amount of material extruded at any given time. It allows faster control over the extrusion process, which translates into a dramatic increase in printing speed (five times on the first release and 20 times on future platforms).
Please tell us about BigRep's new printers - the EDGE and the PRO? What materials are/will be available?
Both printers represent significant breakthroughs in large-scale 3D printing.
The BigRep PRO is expertly engineered to equip companies with advanced technology to print large objects with engineering-grade materials. It is currently being shipped to its first batch of customers, officially bringing the MXT® technology to market. The PRO can handle large-scale industrial parts with a build envelope of one cubic meter and a large, temperature-controlled spool chamber for continuous printing with high-performance materials, like nylon with ASA/ABS and more planned for a later release. The insulated, enclosed metal frame ensures an optimal even temperature control. The heated print bed is mounted with polyimide foil for better adhesion during the printing process, and an integrated inductive sensor semi-automatically levels the bed.
The BigRep EDGE is designed and manufactured to print large industrial objects with high end engineering-grade materials in a temperature-controlled environment. Its enormous build and advanced industrial features ensure big results and transformative value for businesses across industries. The EDGE has a print bed measuring 1500 x 800 x 600 mm, uses high-end, high performance materials for end-use parts, functional prototypes and composite tooling, particularly for the aerospace and automotive market Its heated build chamber controls the environment to 200° C in the chamber and 220° C in the print bed. The EDGE also features automatic, upward-moving doors and an easy-to-use graphical interface on a large screen for control over all print settings.
We read in your press release about the EDGE and PRO that BigRep plans to redefine additive manufacturing. What do you mean by that?
When you walk around the factory floor right now, you see all of these machines and technologies connected together - working seamlessly and efficiently. Except for the 3D printer(s) - which isn't connected and often sits off to the side.
Our new printers, with their embedded technologies, are going to fundamentally change this. They will offer three main features that will reshape additive manufacturing: high throughput and repeatability, engineering-grade materials and connectivity through the Internet of Things (IoT). The feature that is most advantageous depends on the industry and application. For example, in manufacturing connectivity is key, as it allows for adaptive manufacturing and learning. These refinements will put additive manufacturing on an entirely different level, opening up the possibility for fast, precise, large-scale printing that with time will become a mainstay in the factory of the future.
You have partnerships with some major companies, including Bosch-Rexroth and Etihad Airways. What does this tell us about where 3D printing is and is headed?
That some of the world's major companies understand the potential for 3D printing - and that they want to invest in the technology to realize the possibilities.
Our partnership with Etihad is just the tip of the iceberg in demonstrating the evolution of 3D printing into production of end-use parts - in this case for the aerospace industry.
As a result of the Bosch Rexroth partnership, 3D printers by BigRep will be equipped with state-of-art CNC control systems and drives by Bosch-Rexroth, firmly establishing Additive Manufacturing as a key industry 4.0 application in industrial production technology while also making 3D printing a truly IoT-ready "made in Germany" machine with full connectivity and data.
Boyce Technologies is a customer that seems to be using additive manufacturing for end-use parts, not just prototyping. How big will that be in BigRep's future?
Boyce Technologies is a perfect example of the role of 3D printing in creating end-use parts. It's not going to replace an assembly line - but it will create more efficiency for those low-run parts. Boyce develops security and communication equipment in the mass transit market like alarm systems, security systems, emergency response systems, etc. All of these components require minor modifications to fit with each transit station and market - making it challenging to produce them on an assembly line. BigRep's technologies allows them to customize a standard template to fit each of these unique circumstances.

We see that you produce a lot of materials and content showing the capabilities of 3D printing - from the first airless bike tire to the Nera e-bike. Why such a focus and what does this demonstrate about BigRep?
Both the airless tire and the NERA e-motorbike illustrate the massive benefits that 3D printing offers for the production of functional parts, particularly for unique to small series production, by reducing lead times and costs, optimizing supply chains and limiting dependency on supplier networks.
By also producing these innovation applications, it demonstrates the endless possibilities that 3D printing can provide.
What's next for BigRep?
To redefine additive manufacturing, we're going to continue to deliver breakthrough technology that opens the door to more uses. BigRep is going to continue to partner with like-minded companies to bring this state-of-the-art technology to market. This is going to help us continue to evolve 3D printing from a prototyping-only solution into one that supports end-use production.
About Frank Marangell
Frank Marangell is the President of BigRep America Inc. and CBO for BigRep GmbH, a global leader of large-scale 3D printers. Marangell manages all U.S. operations for the German-based company, in addition to his role on the executive team where he leads global sales in North America, Europe and Asia. Marangell has extensive experience in additive manufacturing - from startups to industry leaders. Prior to joining BigRep in 2017, Marangell was president and CEO of Rize Inc. Previously, he was president of Objet USA, where he helped to grow the Israeli company into a 3D printing leader and prepare for a successful merger, where he served as Vice President of Global Field Operations. Marangell was responsible for both the worldwide materials business as well as the organization's expansion into dental and medical 3D printing.
The content & opinions in this article are the author's and do not necessarily represent the views of ManufacturingTomorrow
---
Comments (0)
This post does not have any comments. Be the first to leave a comment below.
---
Post A Comment
You must be logged in before you can post a comment. Login now.
Featured Product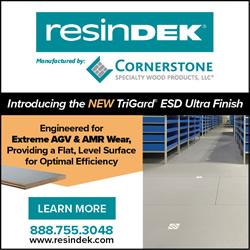 To maximize the productivity of an autonomous mobile robot (AMR) or automatic guided vehicle (AGV) deployment, it's critical to create the optimal environment that allows the vehicles to perform at their peak. For that reason, Cornerstone Specialty Wood Products, LLC® (www.resindek.com) created the TriGard® ESD Ultra finish for its ResinDek® engineered flooring panels. The TriGard ESD Ultra finish is ideal for high-traffic robotic applications characterized by highly repetitive movement patterns and defined travel paths.