Booth #8744 - Showcased at the AUTOMATE show will be a number of nanometer-precise solutions, including the Hybrid Hexapod®. ALIO's Hybrid Hexapod® takes a different approach to traditional 6 Degree of Freedom (6-DOF) positioning devices.

Contributed by | ALIO Industries, Inc.
Tell us about your company.
ALIO puts the emotion in motion control.We provides optimal motion control solutions for our customers by constantly focussing on nano precision and repeatability. Through partnership and collaboration with our customers, we consistently provide cost-effective and timely ultra-precise motion control solutions for the most exacting applications. ALIO is synonymous with accuracy and innovation in ultra-precision motion control solutions. The company is driven by a peerless team of exceptional engineers that have an obsessive focus on nanometer-level motion control, customer success, and pushing the boundaries of what is perceived as possible. ALIO has built its reputation by taking on and succeeding with projects and applications that other motion control suppliers decline. We project a compelling image — and one that our competitors struggle to equal — which is built upon a solid foundation of honesty, integrity, and passion. It is all about heritage and focus. ALIO has a 18-year history working at the vanguard of nano precision motion control, something that no other motion control supplier can get close to claiming. In 2001, we started life building the piezo hexapod, a product with unrivalled precision that the industry told us was impossible to build. From that day to this we have consistently pushed the boundaries in the achievement of precision in motion control. We offer a high-end boutique-like service, with a strong emphasis on responsiveness to our customers. As a company we have always been focussed on nano precision, and as such we have a reputation, a knowledge base, and a level of stability that cannot be matched when ultra precise and reliable motion control is demanded.
Your company will be exhibiting at AUTOMATE, what is it that makes this an important event for your company?
ALIO is a blue ocean company, new ways to manufacture are requiring higher precision than what has previously been available. We are the company in the higher precision realm watching the market outgrow our competition and catch up to our capabilities. The AUTOMATE show is about Robotic Automation, Machine Vision, Vision Systems, etc. Any time a machine has optics that are looking at things, ALIO's motion systems come into play.
What makes your booth a must visit for AUTOMATE Attendees?
ALIO is the only motion control solutions supplier that provides true nanometer-precision and repeatability. Showcased at the AUTOMATE show will be a number of nanometer-precise solutions, including the Hybrid Hexapod®. ALIO's Hybrid Hexapod® takes a different approach to traditional 6 Degree of Freedom (6-DOF) positioning devices, and exhibits much higher performance at extremely competitive prices. Rather than 6 independent legs (and 12 connection joints) ALIO's approach combines a precision XY monolithic stage, tripod, and continuous rotation theta-Z axis to provide superior overall performance. The combination of serial and parallel kinematics at the heart of ALIO's 6-D Nano Precision® stages renders traditional hexapod kinematics obsolete, with orders-of-magnitude improvements in precision, path performance, speed, stiffness and a larger work envelope with virtually unlimited XY travel, and fully programmable tool center point locations. ALIO's Hybrid Hexapod® has less than 100 nm 3-Dimensional 6 axis Point Precision® repeatability, making it an essential technology for mission critical applications in the laser processing, optical inspection, photonics, semiconductor, metrology, and medical device sectors, and indeed all micro-machining projects.
AUTOMATE has many educational sessions, forums & Demo's, is your company involved in any of them this year?
None, ALIO will have our own demos in the booth. Here is what you may be able to expect.
When you get a chance to walk the exhibit hall floor yourself, what is it you will be most interested to see? Any educational sessions, pavilions etc. you plan on attending?
We will be searching for potential customers that haven't yet had been introduced to ALIO. Also, any new developments or innovative ideas in motion or material processing.
Give us your thoughts on what the future holds for manufacturers and automation technology.
It is all about greater and greater precision. Typically the industry can supply micron repeatability in motion control, but industry demands nanometer precision. ALIO continues to be the only company that can provide nanometer repeatable precision, and so as a company, we alone are positioned where industry requires technology providers to be.
If you would like please provide contact information for a reader to setup a booth demo.
To setup an appointment for a booth demo or visit please contact…. Walter M. Silvesky, VP Sales, ALIO Industries, t. +1 303 339 7500 (ext 107), e. Walter.silvesky@alioindustries.com
The content & opinions in this article are the author's and do not necessarily represent the views of ManufacturingTomorrow
---
Comments (0)
This post does not have any comments. Be the first to leave a comment below.
---
Post A Comment
You must be logged in before you can post a comment. Login now.
Featured Product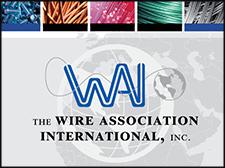 The Wire Association International (WAI), Inc., founded in 1930, is a worldwide technical society for wire and cable industry professionals. Based in Madison, Connecticut, USA, WAI collects and shares technical, manufacturing, and general business information to the ferrous, nonferrous, electrical, fiber optic, and fastener segments of the wire and cable industry. WAI hosts trade expositions, technical conferences, and educational programs.