Advanced Manufacturing improves with one of a kind Barcode Reader and Handheld Printer technology. The Sojet V1H Handheld Printer Prints on Virtually any Surface. Scan and Print Barcode and Human-Readable Text.
Advanced Manufacturing Handheld Printer with Barcode Reader
Contributed by | Inkjet Coding and Marking
Advanced Manufacturing can realize drastic improvements with one of a kind Barcode
Reader and Handheld Printer technology.
A Handheld Printer with Built-In Barcode Reader, performs Scan-n-Print functionality.
Deploy this Handheld Printer with Handheld Barcode Scanner for specialized coding and
marking in the Manufacturing Process.
Direct to Substrate Handheld Printing eliminates adhesive labeling
Manufacturing Companies now have an affordable inkjet printing solution, omitting the need
for Adhesive Labels that can impede or damage the manufacturing automation equipment.
One of a kind Barcode Reader and Inkjet Printer technology...Print on Virtually any Surface.
Metals
Plastics and Composites
Glass
EPS Foams
…virtually any substrate
Quality Control in Manufacturing
The Sojet V1H is a Handheld Inkjet Printer for all manufacturing industries, from the factory
floor or warehouse and anywhere Parts and Industrial Products require Marking for
Traceability, inventory control and Identification Coding and Marking during stages of
manufacturing.
Handheld Barcode Readers with built in printers are also widely used in most manufacturing
companies today, for Track and Trace and Quality Control procedures.
Scanner Plug-Ins enhances data integration for Barcode Reader
Powerful manufacturing workflow integrations are now possible with the built-in Barcode
Reader...The Sojet V1H Handheld Printer can:
1. Scan Barcode – Print Text -- Scan any 1D or 2D Barcode - Print the scanned Text directly
onto virtually any surface.
2. Scan Barcode – Print Barcode -- Scan any 1D or 2D Barcode - Print out as another Barcode,
encoded with the same data that was scanned.
3. Scan and Lookup Data in CSV – Plug-in for Barcode Reader, that performs Lookup within a
connected CSV Data File, allowing specific data field(s) are to be printed.
4. Scan Interpreter for 2D Barcodes – Plug-in for Barcode Reader, that will perform
automatic Parsing (using an embedded Line Feed) within a 2D DataMatrix or QR Code. Easily
detect multiple line(s) of data that needs to be printed.
**The Sojet V1H Handheld Printer is offered with the built-in Barcode Reader, as an option.
The Handheld Printer can print anything, without a PC Computer
Touchscreen Control allows users during any stage of the manufacturing process, to easily
configure the Handheld Printer to print...
1D Barcode Printer
Barcode Printer for 2D DataMatrix and 2D QR Codes
Date and Time Stamps
Text and Numbers
Counters (Alpha-Numeric - Incrementing/Decrementing)
Logo Images
Partner with Us for Handheld Barcode Scanner and Printer equipment that will improve any
Coding and Marking workflow during the Manufacturing Process.
---
Learn more and shop this product at:
http://www.inkjetcodingandmarking.com/store/product/sojet-v1h-coding-printers/
Contact Us by Phone: 409.838.5391
Toll-Free 888.838.5391
The content & opinions in this article are the author's and do not necessarily represent the views of ManufacturingTomorrow
---
Comments (0)
This post does not have any comments. Be the first to leave a comment below.
---
Post A Comment
You must be logged in before you can post a comment. Login now.
Featured Product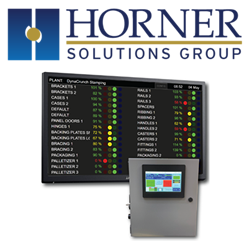 Horner Solutions Group offers a pre-programmed solution that is fast and easy to implement. No development on the user end, just a simple setup on the touchscreen and you can start monitoring and collecting data in minutes. With the ever-growing need for production data in the industry, we wanted to help bridge the gap for many production companies to be able to start collecting accurate and functional OEE (Overall Equipment Effectiveness) data within just a few minutes of setup, as opposed to the weeks/months many companies spend developing their own solution from scratch. For any customers that may have a need outside of the typical product mold, we also offer engineering services for custom hardware and software solutions of various types.