Designing sensors that offer the capacity to communicate wirelessly and synthesize data with a cloud-based interface are one of the most important factors to consider when designing sensors for factories.
The Role of Sensors in Industry 4.0
Pete Smith, Sr Manager, Sensor Product Knowledge and Training | TE Connectivity
Tell us a bit about TE Connectivity and your role in the advanced manufacturing industry.
TE Connectivity (NYSE: TEL) is a $13 billion global technology and manufacturing leader in highly engineered connectivity and sensor solutions that create a safer, sustainable, productive and connected future. For more than 75 years, TE's diverse range of connectivity and sensor solutions have been proven in the harshest environments and have enabled advancements in transportation, such as cars and planes, in addition to industrial applications, medical technology, energy, data communications and the home. In modern factories, TE products are used to support machine condition monitoring which helps reduce down time and prevent costly equipment failures. In addition, our sensors are the primary data collection tools in IIoT systems. We provide the raw data used in analytics designed to enhance factory efficiency, productivity, and optimize facility utilization.
What role do sensors play in harsh environments, and how does TE design solutions to withstand these type of environments? Are you seeing any trends in this space?
Most of TE's sensor solutions are designed for use in harsh environments by use of our highly engineered sensor packaging. The basic sensing elements are small fragile devices which require innovative enclosures and housings to provide protection from harsh environments. Our portfolio has been proven to operate in high temperatures, corrosive atmospheres, high humidity, moisture, salt water, shock, vibration and physical abuse. We're starting to see factory operators adding more and more sensors to their operations where they place them in very harsh locations to collect needed data. Unique approaches to sensor design, such as the use of exotic metals and innovative materials, allow our sensors to operate in these difficult conditions.
What are some of the most important factors to consider when designing sensors for factories? How will the role of sensors evolve in Industry 4.0 as the number of connected devices increase?
Designing sensors that offer the capacity to communicate wirelessly and synthesize data with a cloud-based interface are one of the most important factors to consider when designing sensors for factories. However, we are seeing the need for sensors with the below capabilities:
Robust designs able to withstand the challenging conditions that exist in many industrial applications
High accuracy that provides the correct data and information to the factory systems and analytics
High-resolution capability that can detect the slightest changes in any parameter being measured
Long term stability where the sensors performance remains the same over years of service. This eliminates the need for costly recalibration cycles and periodic maintenance.
How does TE optimize sensors for various uses within the supply chain and address new design challenges, like miniaturization, power consumption and multimodal sensors? What are the most common use cases?
We partner with our customers and listen to their needs to best incorporate features and functions into new sensor designs that provide the desired performance. For miniaturization, TE will incorporate the latest electronic chips that are available in very small SMD form factors. Significant power reduction is the result of moving from analog sensors to digital sensor products. We also offer multi-sensor modules that combine several sensing capabilities into a single package. This approach makes sensing devices more compact, more power efficient and eases communication. One example of this is our pressure/temperature/humidity sensor module that combines an altimeter, humidity, and temperature sensor into a single package. It's a perfect plug & play solution for environmental monitoring stations and generates ultra-low power consumption.
How do sensors enable condition-based monitoring? What should engineers consider when implementing predictive maintenance applications?
For condition monitoring, the sensor provides the raw data to the system. This data is analyzed and results are immediately reported to the factory operator. If repairs or maintenance are required, appropriate down time can be scheduled before the machine fails. This prevents unexpected shutdowns which can be extremely costly. Factory engineers should be careful to select the proper sensing technology that can best detect early problems with a machine. One example is the use of an accelerometer to monitor the acoustic signature of an electric motor. When the signature quality begins to change, it could be the sign of an impending failure. In this case, the accelerometer chosen must have adequate frequency response and sensitivity to pick up all the subtle sounds that a motor makes. Better quality data from the accelerometer means earlier prediction of the failure.
What kind of facilities are you most involved with currently with respect to new sensor implementations?
We design and manufacture the connectivity and sensor solutions that make the internet-enabled smart factory possible. These include the below IIoT application areas:
Inventory management in gas & air tanks
Oil/gas wellhead monitoring
Fuel and water storage tanks liquid level monitoring
Factory gas flow and metering applications
Machine condition monitoring
What are the most popular sensors being installed at these facilities and how are they being used in general?
The facilities where we are most involved are equipped with our pressure sensor products. Their sophisticated design provides reliable data that represents critical system parameters. We are also seeing growth in machine condition monitoring where accelerometers are the best approach because they measure the acceleration, vibration, and acoustic signatures of system equipment.
About Peter Smith
Pete Smith is the Sr Manager, Sensor Product Knowledge and Training at TE Connectivity (TE) Sensor Solutions. With 47 years of experience in the design, manufacturing, and sales of high-tech consumer and industrial products, Pete has wide-ranging expertise in all aspects of product development, training and engineering. For the last 32 years at TE, Pete has worked exclusively in the sensor technology space. His professional expertise in sensor product applications includes an in-depth understanding of how various sensors enable successful customer designs. In his current role as TE's Sr. Manager of Sensor Product Knowledge and Training, Pete serves as a TE subject matter expert, sharing his in-depth sensor knowledge with colleagues, customers, and various external groups.
The content & opinions in this article are the author's and do not necessarily represent the views of ManufacturingTomorrow
---
Comments (0)
This post does not have any comments. Be the first to leave a comment below.
---
Post A Comment
You must be logged in before you can post a comment. Login now.
Featured Product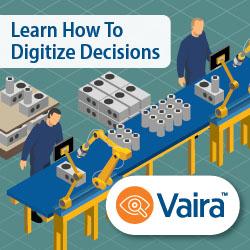 Vaira™ helps manufacturers digitize, automate, and upgrade error-prone manual processes and decisions to boost productivity and increase profits by helping humans make decisions consistent, reliable, and traceable. The camera-based solution is powered by a scalable suite of shop floor-ready apps built on proven machine vision and AI expertise for frontline manufacturing operations, with two-way integration to resource planning tools to help drive continuous analysis, insight, and improvements. Start digitizing immediately, streamlining processes customized to your unique requirements and reduce errors that lead to costs, delays, and quality concerns.