In a recent PWC survey on Industry 4.0,which involved over 2,000 participants from nine major industrial sectors, data analytics emerged as one of the biggest challenges in the transformation from analog to digital operations on the production floor and beyond.
Industry 4.0: How Data Analytics Will Drive Organic Growth for Industrial Manufacturers
Vivek Joshi | Entytle
OEMs (original equipment manufacturers) and their distributors are focusing on growing their aftermarket and services revenues now more than ever. This should not come as a surprise since selling to existing customers is wildly profitable, and can bring more top-line revenues than original equipment sales. The thing is, manufacturers have known this forever. So what is causing this shift to happen now?
Industry 4.0 and the digitization of industrial manufacturing
In a recent PWC survey on Industry 4.0,which involved over 2,000 participants from nine major industrial sectors and 26 countries, data analytics emerged as one of the biggest challenges in the transformation from analog to digital operations on the production floor and beyond. Here some of the main issues which organizations face in regard to data:
Digital Infrastructure: old, cumbersome legacy systems, many with proprietary applications, as well as multiple ERPs and home-grown CRMs.
Data Volume: large volumes of data generated by existing equipment that flow into applications where they're rarely looked at.
People: limited resources dedicated to deriving insights from data and the inability to attract (or retain) the right talent.
For many system engineers and manufacturing execs, one other thing that comes to mind when discussing the digitization of industrial manufacturing is IIoT (Industrial IoT). In a perfect world, all machines on the factory floor are connected and constantly streaming data into systems capable of generating insights and react to any anomaly or predetermined trigger. The reality is very different. Few machines are connected, and even fewer are streaming data. This is especially true with distribution sales and service models where the machines are being deployed and serviced by partners rather than the manufacturers themselves.
To be fair, IoT is trending in the right direction, but is not fully there yet. Turns out that the reason is pretty simple. Research shows that roughly 2% of Cisco's IoT devices "call home". For industrial manufacturers, it's the same story but exacerbated by the fact that they must rely on their un-connected installed base for any aftermarket growth. Equipments that were installed years and even decades ago are certainly not connected.
The advent of data science (and AI)
The answer to these challenges lies at the intersection of people, processes and tools. While the motivations have existed for a while, even if they had the right set of people in place, organizations simply did not have the tools to effectively sell to their installed base. With the advent of big data and the emergence of AI, the tools for a true system of intelligence are now beginning to take shape. IoT vendors have been trying for a while to solve this problem, but they struggle with year-long deployments, data streaming permission, as well as change management issues.
A new wave of applications are taking a different route. By applying AI and machine learning algorithms to massive amounts of historical and new customer data, these platform make sense of disperse customer data coming from ERP, warranty, CRM and service contract information to provide enhanced visibility into the installed base and generate predictive business insights. It's the IoT for unconnected things.
On the CRM side of things, a notable example is Salesforce. Back in 2016 they announced the launch of Salesforce Einstein, their AI-driven CRM designed to deliver more predictive and personalized customer experiences across sales, service, marketing, commerce and more; recently Einstein made its way into Salesforce Field Service CRM, a solution dedicated to helping manufacturers manage and grow their installed base. When it comes to field service, industry leader ServiceMax by GE is probably the best known field service management platform. Their AI-driven solution is set to help manufacturers optimize routes and schedule parts more efficiently thanks to their patented artificial intelligence scheduling algorithm.
But AI isn't the exclusive playfield of tech giants like Salesforce, GE, Google, Facebook, and others; many startups have been successfully deploying AI-based solutions for a variety of areas, including (as of late) what has been generally considered an "unsexy" industry: manufacturing. Palo Alto based startup Entytle for example is working with AI and machine learning to help OEMs make sense of their siloed data and provide enhanced visibility into their installed base. Once the data is cleansed and enriched through a set of proprietary algorithms, their platform - Entytle Insyghts – identifies customer patterns and behaviors to predict sales and service opportunities with high closure-rate probability.
The sophistication of such tools and the underlying big data and AI technologies powering them are now at a point where integrating and deploying these systems of intelligence can happen in a few weeks or months. Manufacturers and their distributors no longer have to be captive to multi-year million-dollar engagements, and can test and launch field service optimizations, customer success management or aftermarket engagement campaigns with minimum to no business disruption at all.
About Vivek Joshi
Vivek Joshi is the CEO and Founder of Entytle, the leading provider of aftermarket engagement solutions for Original Equipment Manufacturers. He is an executive with experience in various industries, spanning diversified industrial manufacturing, healthcare, high technology and private equity. He previously was founder and CEO of LumaSense Technologies Inc., an Operating Partner at Shah Capital Partners, and Senior Vice President of Marketing for Sun Services, a $3.6 billion division of Sun Microsystems.
The content & opinions in this article are the author's and do not necessarily represent the views of ManufacturingTomorrow
---
Comments (0)
This post does not have any comments. Be the first to leave a comment below.
---
Post A Comment
You must be logged in before you can post a comment. Login now.
Featured Product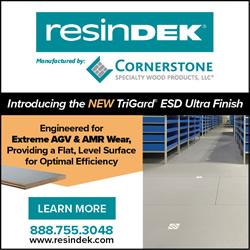 To maximize the productivity of an autonomous mobile robot (AMR) or automatic guided vehicle (AGV) deployment, it's critical to create the optimal environment that allows the vehicles to perform at their peak. For that reason, Cornerstone Specialty Wood Products, LLC® (www.resindek.com) created the TriGard® ESD Ultra finish for its ResinDek® engineered flooring panels. The TriGard ESD Ultra finish is ideal for high-traffic robotic applications characterized by highly repetitive movement patterns and defined travel paths.