On a broader scale; IoT, combined with Cloud Computing, Mobile and Digital technologies will enable an integrated end-to-end process in the supply chain the likes of which weve never seen before.
Everything You Need to Know On Industry 4.0
Tony Uphoff | Thomas
What is your take on the IoT and Industry 4.0.?
I'd categorize what we're going through today as Industry's "Moneyball" moment. What automation and technology make possible is amazing, but so much of what's happening today boils down to data collection and using that data to drive process improvement. While these are things that industry has been doing for decades; with today's hyperconnected industrial ecosystem, we're able to do them so much faster and more comprehensively now. The data being generated today is so much more actionable. In the past, industry used data to validate things it had already done, today, real-time data from the IoT is being used to drive real-time decision-making throughout the supply chain. It's changing the nature of the supply chain from a linear, step-by-step process; to one that is seamless and data-driven, where the physical, digital and financial supply-chains are starting to converge.
Have you seen any impact on sourcing trends that you attribute to the IoT and Industry 4.0?
Sure, in fact we've covered many of them in our weekly Thomas Index Report, which showcases what our data shows regarding sourcing trends on our Thomasnet.com platform. Much of the trending activity we're seeing relates to products and services that go into creating the connected manufacturing plant operations so closely associated with Industry 4.0. For example, we've seen upward trends in sourcing for Robotics, Sensors, and Automation Equipment, as well as Robotics Systems Integrators and Industrial Automation Systems Integrators, Instrument Calibrating Services, and Control Systems Integrators. Moving beyond the shop floor, we've also seen a steady upward trend for Third Party Logistics Services, or "3PL." This could be driven in part by companies that lack technical sophistication in-house looking for a provider that has experience and expertise with emerging technologies. In fact, a 2017 Third-Party Logistics Study showed that 17 percent of companies that outsource logistics use their 3PL provider's IT services; that's up from 11 percent in 2016.
How is industry 4.0 impacting the skillsets needed by the industrial workforce?
It's redefining them. While much of manufacturing still requires a certain level of physical skills, so many jobs in the industry today are combinations of "art and science" that also require an understanding of advanced technology. In visiting Thomas clients from coast to coast, the high-tech nature of some of their "shop floors" is mind-blowing. In many cases this evolution toward technology and automation is borne very much out of necessity. As the baby boom generation retires, the knowledge they're taking with them is irreplaceable. And the numbers are daunting. A 2015 report by Deloitte and the Manufacturing Institute states that retiring baby boomers will create a deficit of 2 million jobs in the manufacturing space. So I think it's a bit of a false narrative that automation is eliminating jobs; in many cases it's stepping in to fill a critical void, and in the process it's creating new opportunities that require new skillsets.
How can the workforce get prepared for the jobs created by Industry 4.0 – training or education or both?
It will take a combination of training and education, but also branding. A huge challenge for industry is that Millennials and Generation Z by and large still think of manufacturing jobs as low-tech, 'dirty fingernails' career choices. Industry as a whole needs to do far better in positioning industrial, manufacturing jobs as the advanced technology jobs that they have become, to broaden their appeal as a rewarding career path. This can start at the high school level, with a reimagining of the vocational programs that so many schools have simply eliminated. Targeting college-aged kids is also key. Mike Rowe once said "lending money to kids who can't pay it back to educate them for jobs that don't exist anymore is a bad idea." His point was made in the greater context that getting an expensive four year college degree should no longer be considered the only option, and that there are a huge number of unfilled jobs in the "trades" such as manufacturing – technology-driven, rewarding jobs that pay well. By doing things like continuing to develop and expand the STEM curriculum, providing technical training and apprenticeships, we can prepare the next generation to push the boundaries of what's possible in Industry 4.0 and beyond.
How is blockchain impacting industry? Do you know of specific applications that are currently being implemented?
There was recently a great write-up in Forbes magazine that talked about how blockchain will transform the supply chain and logistics industry. While most people think of cryptocurrencies when they think of blockchain, the technology has great potential to positively impact today's incredibly complex supply chains. It's basically a distributed digital ledger that provides an extraordinary level of transparency, security and efficiency. It's still relatively early in the game and we've barely scratched the surface of how blockchain can impact industry, but there's definitely some aggressive adoption and exploration of the technology going on today. I recently had a conversation with a procurement manager for one of the top 3 automakers in the world, and he claimed that his company was "going all in on blockchain." When you have that kind of adoption and investment in the technology at that level, it won't be long before that company's tier 2, tier 3 and tier 4 suppliers are compelled to get into the game as well.
What steps should manufacturers and other industrial suppliers be taking to thrive in industry 4.0?
Develop a game plan that includes allocating a budget for new technology adoption, and assemble a team from inside the company that spends some time evaluating new technologies and systems as they emerge. Speak with customers to learn whether those customers are planning new products or new innovations to their existing products – and what investments might be necessary to meet the customer's new needs. Getting back to the skills gap, they should do a thorough assessment of the talent they have in-house, and look into ways of educating and training staff to meet the requirements introduced by new technologies – or determine if bringing in new talent is required.
And they should definitely keep an eye out for new competitors. The technologies available today enable new entrants into the industrial product marketplace like never before. It's vital to keep a finger on the pulse of what's going on within Industry 4.0, to ensure that you're never behind the curve as the competitive landscape changes.
What do you see as the future of IoT and Industry 4.0?
This goes back to what we touched on earlier when we talked about how blockchain can impact the supply chain. On a broader scale; IoT, combined with Cloud Computing, Mobile and Digital technologies will enable an integrated end-to-end process in the supply chain the likes of which we've never seen before. Companies will be able to choose suppliers that seamlessly plug into their technology and create a real-time data flow for ongoing decision making. As I mentioned before we're in the early stages of the convergence of the physical supply chain, the digital supply chain and the financial supply chain, and as this convergence accelerates it will create entirely new capabilities, new services and new businesses. We'll see manufacturers take advantage of this tremendously powerful data and information sharing to change their business models, and do things like ramp up dynamic JIT manufacturing services. Ultimately, leadership will be more important than ever, as businesses will need to be increasingly comfortable with real-time decision making, and acting immediately upon those decisions.
Look into your crystal ball and describe the ideal manufacturing plant operation
10 years from now

.

Wow, that's a lot to ponder. Ten years is an eternity when you consider how fast technology evolves. So just try to imagine what the capabilities of AI, machine learning, automation and completely new technologies might be a decade from now, and how that will translate into what's possible on the factory floor and throughout every tier and facet of the supply chain. Whatever that looks like, ideally we'll have 100 percent transparency and connectivity between all suppliers in a company's supply chain, giving manufacturers unprecedented power to plan, collaborate, spot and address issues, quickly adapt to market forces and compete.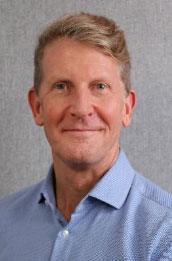 About Tony Uphoff
Before joining Thomas in January of 2017, Tony served as CEO of Business.com, where he led the turnaround, build out and successful sale of the company in June of 2016. Prior to Business.com, Tony was CEO of UBM TechWeb, where he led the transformation of a declining print-centric business into a fast-growing digital media, live event and marketing services powerhouse. He also served as President of VNU Media's Entertainment Group and Publisher of The Hollywood Reporter, building out and expanding the brands via digital media and live events. Uphoff was the founding CEO of Internet Media company Beliefnet and served as Publisher of InformationWeek in the mid-90s, growing the brand into the largest in the history of B2B media. Uphoff also served in several key management positions at Ziff-Davis during the company's rapid growth in the early 1990s.
The content & opinions in this article are the author's and do not necessarily represent the views of ManufacturingTomorrow
---
Comments (0)
This post does not have any comments. Be the first to leave a comment below.
---
Post A Comment
You must be logged in before you can post a comment. Login now.
Featured Product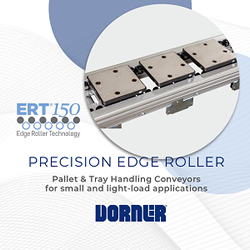 The next evolution in Dorner's Edge Roller Technology conveyor platform, the ERT®150, is ideal for small and light-load assembly automation, as well as medical and medical-device assembly application. The ERT platform is the only pallet conveyor of its kind available with an ISO Standard Class 4 rating for cleanroom applications. Earning the ISO Standard 14644-1 Class 4 rating means Dorner's ERT150 will conform and not contribute to the contamination of cleanrooms to those standards. As implied by its name, the ERT150 (Edge Roller Technology) uses rollers to move pallets through the conveyor smoothly with no friction (a byproduct often seen in belt-driven platforms). The conveyor's open design eliminates concerns of small parts or screws dropping into rollers and causing conveyor damage or jamming. The ERT150 is suited to operate in cleanroom environments requiring a pallet handling conveyor. It is capable of zoning for no or low-back pressure accumulation and is ideal for automation assembly applications within industries including medical devices, electronics, consumer goods among others.