3D printing is becoming the standard in preparing for surgical procedures, using patient-specific models, and implanting devices and tissue during the operation with the help of surgical guides.
3D Printing for Surgical Procedures
Len Calderone for | ManufacturingTomorrow
The average American will have an average of 9.2 surgical procedures during their lifetime. 3.4 will be as an inpatient; 2.6 as an outpatient; and there will be 3.2 invasive procedures not performed in a hospital setting. The most common operations for men are coronary angioplasty, the removal of unhealthy tissue from a wound to promote healing, and groin hernia repair. For women, cesarean section, gallbladder removal, as well as lens and cataract surgery are the most common. As we get older, we will see more surgical procedures. Because of the substantial risks of surgery, new ways to improve the safety and successful outcomes of surgery would have a far-reaching impact on public health.
Medical models allow surgeons to plan precisely what they must accomplish during the surgery. A patient-specific model gives the surgeon the ability to see and feel what they will be encountering during the surgery. This way, the surgeon can plan out accurately what must be done during the surgery.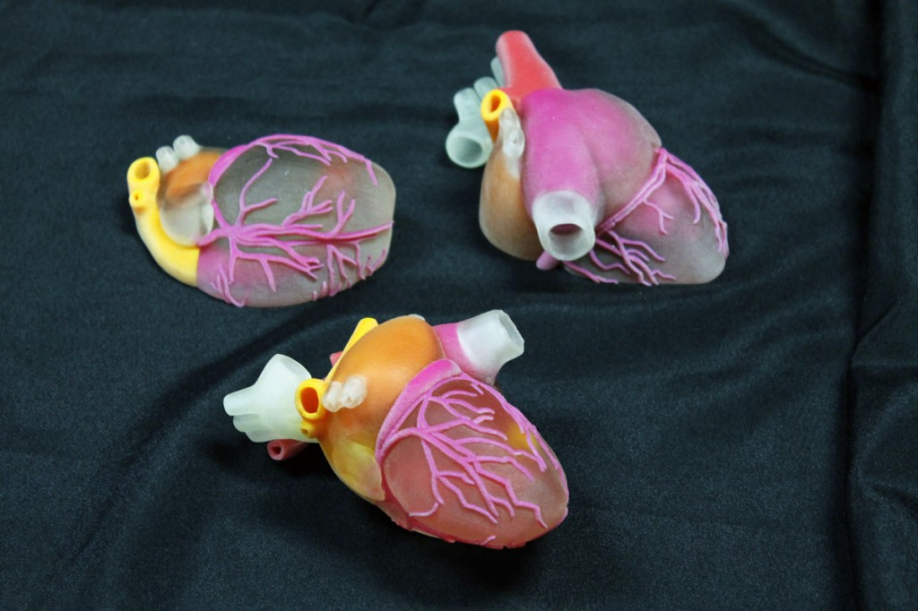 3D Operations, Inc. surgical models
This is where 3D printing comes in. 3d printing can decrease the number of surprises that could occur during the procedure. The benefits of 3D printing is the ability of the surgeon to handle patient-specific anatomical models, rather than viewing X-rays, ultrasound images, computed tomography (CT) images, or magnetic resonance imaging (MRI) images that might not be as clear as the surgeon would like. The information presented by a patient-specific model gives the surgeon greater insight as to what he/she will be facing, which would lead to a more satisfactory outcome for the patient.
When things don't go smoothly in surgery, the operation's time and costs increase, and the patient's recovery time might be extended. When a surgeon's knowledge of the patient's anatomy comes from the 2D perspective of an MRI, X-ray or CT scan, some situations are impossible to anticipate.
Typically, surgeons pre-plan the required cuts by studying images of the site of the surgery. This method increases the time needed for the surgery because the surgeon isn't able to practice the surgery ahead of time on a physical model. 3D models can be made showing the conditions that a surgeon will face. These models can be touched, passed around, and discussed by the surgical team.
Stratasys PolyJet-based 3D printing produces smooth, accurate parts, with microscopic layer resolution and accuracy down to 0.1 mm with the capability to fabricate practically any anatomy while simulating both soft and hard textures, as well as full color, which can be used in a variety of surgical specialties.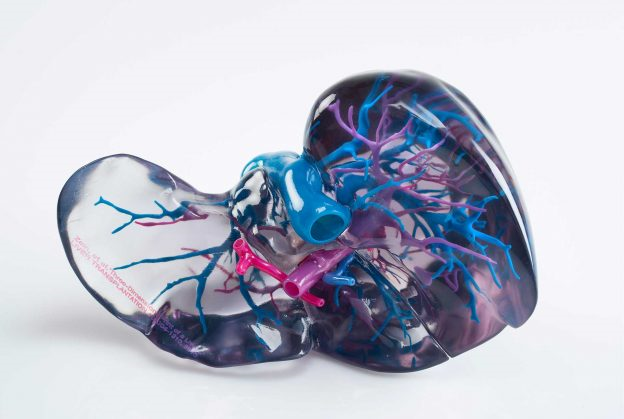 Stratasys PolyJet-based 3D printed anatomical model
The 3D models are developed from patient scans, thereby allowing the surgeons to perfect their corrective methods before entering the operating theater. The physical, spatial and tactile benefits of a 3D physical model can increase the preparedness, hopefully reducing the time in surgery.
3D printing can simulate everything from soft tissue and muscles to cartilage and bone in a single print job. A surgeon can even combine clear materials to get an unobstructed view of hidden tissues and blood vessels.
3D surgical planning software and patient-specific surgical guides are used for knee surgery, which allow surgical teams to plan knee surgeries based on a patient's unique anatomical and structural requirements. The system is used to make pre-operative plans and fabricate patient-specific guides, which are then 3D printed for use during operative procedures.
A patient-specific surgical guide is a one-time use device. Patient-specific guides are manufactured from resin, which is very biocompatible. It is used to guide a surgical instrument for precise handling at an exact angle where precise cutting or drilling is required. Each guide is prepared prior to the surgery with guidelines that are set by the surgeon.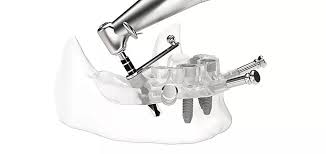 A 3D model offers the pathology that may reveal a solution or possible complication that could not be observed when assessing a 2D image. Another use of a 3D model is to determine the viability of procedure or a particular device. Using the model, the surgical team may decide that a completely different approach may be required; or that a more appropriate device would better work with the patient's anatomy.
There are 7 medical specialties and 31 procedures within these specialties, in which 3D printing has been used. Orthopedic surgery has 7 procedures, Cardiac has 5, Gastroenterology 2, Neurosurgery 3, Reconstructive surgery 5, Oncology 5, and 4 transplant surgeries.
3D printing technology is faster than traditional methods of making items such as prosthetics and implants, which require milling, forging, and a long delivery time. A 3D model can be made in just a matter of hours. Besides quick production, resolution, accuracy, reliability, and repeatability are of key importance.
3D printing of medical models used before surgeries and other medical devices used during surgery means there could be a huge savings. Not only prosthetics, but also implants could be 3D printed patient-specific. This is specifically significant in complex and rare cases.
Whether printing blood, bones, heart or skin, 3D printing is evolving as a prevailing tool for tissue engineering. A 3D printer can bind chemicals to a ceramic powder, forming complex ceramic scaffolds that encourage the growth of bone in any shape. Biological tissues 3D printed from scratch that contain many of the natural geometry, stiffness, and biological cues can be created for full function.
Aortic valve disease (AVD) is a serious health condition that affects people of all ages. Surgical replacement of the defective valve is the solution. Tissue engineering has the potential to address the problem of nonliving prosthetics by providing living tissues that can grow, remodel, and integrate with the patient. This could also be a solution to human donor supply shortages.
3D printing is even now being used in pharmaceutical research and fabrication. The advantages of 3D drug printing include accurate control of droplet size and dose, high reproducibility, and the ability to produce complex drug forms. Using 3D printing to produce prescription drugs, will increase effectiveness and decrease the risk of adverse reactions. With 3D printing, it will be easy to manufacture personalized medications.
3D printing is becoming the standard in preparing for surgical procedures, using patient-specific models, and implanting devices and tissue during the operation with the help of surgical guides.
For additional information:
The content & opinions in this article are the author's and do not necessarily represent the views of ManufacturingTomorrow
---
Comments (0)
This post does not have any comments. Be the first to leave a comment below.
---
Post A Comment
You must be logged in before you can post a comment. Login now.
Featured Product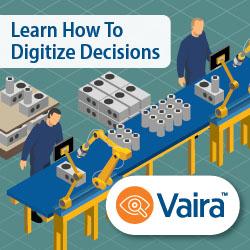 Vaira™ helps manufacturers digitize, automate, and upgrade error-prone manual processes and decisions to boost productivity and increase profits by helping humans make decisions consistent, reliable, and traceable. The camera-based solution is powered by a scalable suite of shop floor-ready apps built on proven machine vision and AI expertise for frontline manufacturing operations, with two-way integration to resource planning tools to help drive continuous analysis, insight, and improvements. Start digitizing immediately, streamlining processes customized to your unique requirements and reduce errors that lead to costs, delays, and quality concerns.