While threading is used in multiple industries from large turbine shafts down to small precision metric threads for custom machining projects, each thread type is tooled, both internally and externally, to provide functions for specific applications.
Understanding Screw Threading
Alyssa Nutile | Inlet Tool Inc.
With the advent of modern technology, custom and precision screw threads can be produced quickly, accurately, and efficiently, often regardless of size. While threading is used in multiple industries from large turbine shafts down to small precision metric threads for custom machining projects, each thread type is tooled, both internally and externally, to provide functions for specific applications.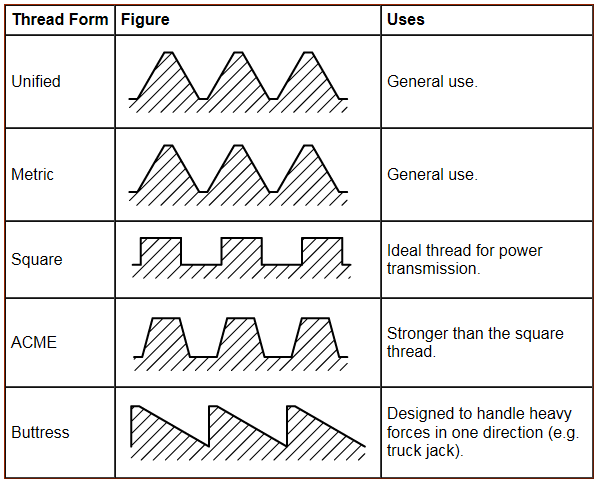 Source: Types of Thread
Unified threads are an excellent threading option for general use. From Class 2 to Class 5, unified threads are produced to meet standard tolerances and specifications across industries and manufacturers. Both economical and easy to apply, unified threads function in many environments from machine shops to automotive applications.
Using the same 60° profile as unified threads, Metric threads, measured using millimeters, also function in a variety of applications. Versatile, precision CNC milling machines and OD grinders work to create superfine metric threads for aviation components, designed to withstand heavy vibrations with minimal wear, and coarse threads for general construction needs.
Acme threading has multiple applications in many industries, providing the most power transmission at an economical price, as the threads are fairly easy to mill with high accuracy. The acme thread angle, in conjunction with a split nut, withstands wear and provides additional strength for high capacity loads. Acme threads are produced in a wide range of classes, from basic to high precision, including centralizing acme threads designed with limited diametrical clearance to maintain axial alignment under side-loading. Long-length acme threads create the ideal profile for drive tubes and jacks, while short-length threads function for valve stems and steering mechanisms.
Utilizing a load-bearing thread face that is perpendicular to the screw axis, Buttress threads are designed to handle extremely high axial thrust in one direction. Combined with their low friction and high shear strength, buttress threads can also resist deterioration by using split nuts. Large buttress threads are an efficient option for jacks, lifts, and hydraulic sealing, with applications from automotive to water and sewer.
Trapezoidal threads are milled and function similarly to acme threads. Calculated in millimeters, trapezoidal threads are highly customizable, and with 2-D and 3-D modeling software, CNC milling machines are capable of producing trapezoidal threads to any standard. Applications for these threads include leadscrews, conveyors, and threading on gas canisters.
With thread flanks that are perpendicular to the thread axis, Square threads provide the lowest friction and highest efficiency available for power screws, reducing wear as radial force on the mating nuts is eliminated. OD cylindrical grinders can mill square threads with precision at any size, though the process is more difficult than with acme and other thread types. Square threads are milled to perform in high load applications, including side loading, as the 90° thread flanks eliminate wedging. These qualities create the ideal thread for power transmission from jackscrews and machine tools to mechanical presses and vices.
Providing both strength and convenience, Multi-start threads are produced with double, triple, or quadruple starts. The additional starts reduce closing force and distance, improving efficiency and minimizing wear. An excellent option for waterproofing, mutli-start threads have been applied in ship shafting, breech closures for large vessels, and plant maintenance shafting.
No matter the type of threading you or your company may need, Inlet Tool Inc. has the machining capabilities and modern technology needed to produce the exact and custom screw threads for you. For quotes and more information head over to their website today.
The content & opinions in this article are the author's and do not necessarily represent the views of ManufacturingTomorrow
---
Comments (0)
This post does not have any comments. Be the first to leave a comment below.
---
Post A Comment
You must be logged in before you can post a comment. Login now.
Featured Product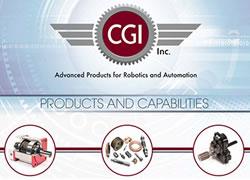 From Prototype to Production CGI Motion enables design excellence across a wide range of industrial applications. We thrive on customer driven innovation in precision gearbox, precision machined components and electro-mechanical assembly solutions ranging from aerospace systems to semiconductor applications. We are your design and manufacturing partner helping to differentiate your product, machine or innovation. Our team of problem solving engineers and product managers can bring your application to market on time and under budget. Whether it's an improvement on a current design or groundbreaking new designs, CGI has the know-how and team to enable design excellence. Connect with us today to explore what CGI Motion can do for you.