When it comes to linear actuators, the housing, fasteners, rod, gasket and seals need to have the required corrosion resistance in order for the actuator to withstand the environment.
How to specify an electric linear actuator that's industrial strength
Gary Rosengren | Tolomatic
Manufacturing environments can be challenging. There may be dust or metal shavings. There may be oil, coolant, or water. There may be corrosive agents like solvents, cleaners, and various chemicals and compounds.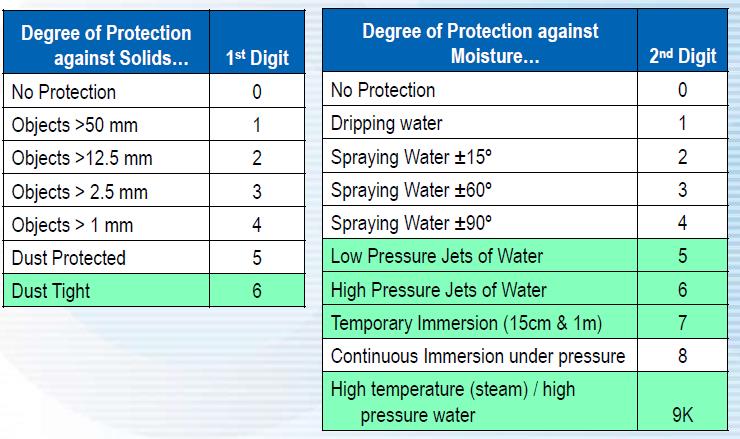 All these factors impact the performance and life of components like electric linear actuators. Dust may clog the action or cause parts to wear out prematurely. Moisture may short electrical connections and cause rusting. Corrosive agents can eat away at housings, seals, fasteners, and more. Industrial environments call for industrial strength components.
A machine designer needs confirmation that a component will stand up to environmental factors. We recommend looking for the IP (International Protection or Ingress Protection) rating. This rating system, developed by the IEC (International Electrical Commission), classifies the degree of protection provided against dust and water. It was originally developed to rate electrical enclosures but is now used to rate a variety of components, including electrical linear actuators. The system rates equipment on two factors: first, protection from dust, and second, protection from moisture. This chart explains the rating levels.
Learn about the IP rating system. Download our white paper.
Dusty environments
There's dust in most manufacturing plants. Often, it's dry and light. For this kind of light dust, you need an electric linear actuator that's rated at least IP5X (dust protected). If conditions are extremely dusty (as in woodworking, machining, or grinding), look for linear actuators with an IP6X rating (dust tight).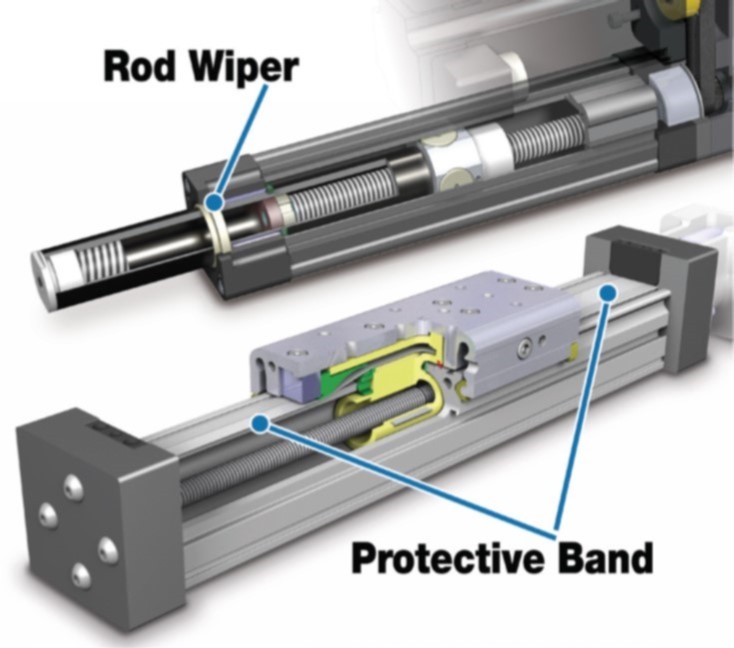 An electric rod actuator will work well in both light and heavy dust, although in heavy dust (IP6X), a rod wiper or rod seal is needed to protect internal components.
If a protective band is added, a rodless electromechanical linear actuator can work well in conditions of light dust (IP5X) since it will prevent dust from fouling internal components. If there's heavy dust, you may have to work with the manufacturer to get the custom protection needed.
Wet conditions
Here again, the protection rating should match the level of the problem. With indirect water droplets or vapor, an IPX5 rating (water resistant) is sufficient. If the linear actuator will be directly in the path of water, you'll need IPX6 or IPX7 protection (water tight).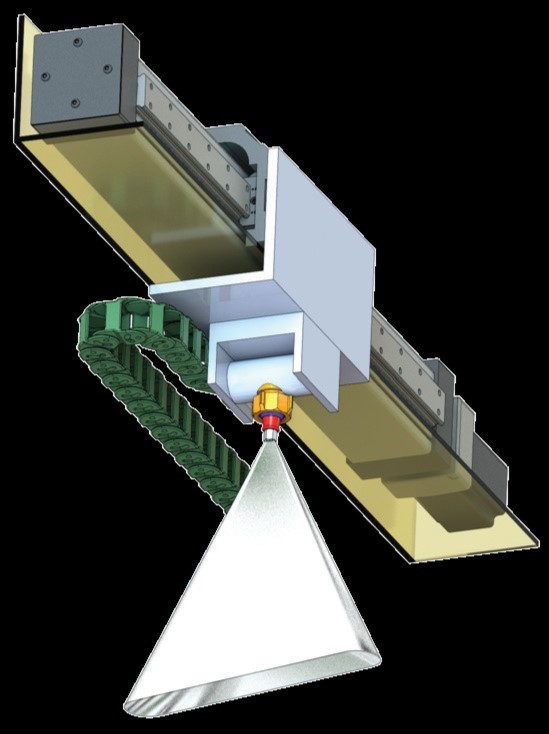 A rodless electromechanical actuator cannot meet these protection requirements, even with modifications. This type of actuator will need expensive, custom-designed shielding and well-thought-out installation to work in these wet conditions.
On the other hand, an electric rod actuator can be manufactured to meet these higher protection levels.
Then there are environments like food processing where equipment is subject to aggressive cleaning that involves caustic washing solutions, high water temperatures, and high spray pressure. This situation calls for linear actuators with an IP69K rating which indicates resistance to high-pressure, high-temperature washdowns. Only electric rod actuators can achieve an IP69K rating.
Corrosion
There is no IP rating for corrosion resistance, although many manufacturing environments have corrosive agents present. Because materials have different levels of corrosion resistance to different substances, you'll need to understand the application thoroughly in order to specify the right ones.
When it comes to linear actuators, the housing, fasteners, rod, gasket and seals need to have the required corrosion resistance in order for the actuator to withstand the environment.
IP69K hygienic electric rod actuators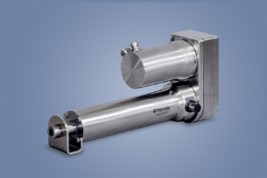 We offer ERD hygienic actuators that are IP9K rated. They feature stainless steel construction for corrosion resistance. A rounded body design, protective motor housing, and comprehensive sealing allow the hygienic ERD models to stand up to frequent washdowns and caustic cleaning solutions.
USDA certification is available as an option for actuators used in meat, poultry, and dairy operations, which are demanding environments with a focus on cleanliness.
Download our catalog for ERD electric cylinders.
The content & opinions in this article are the author's and do not necessarily represent the views of ManufacturingTomorrow
---
Comments (0)
This post does not have any comments. Be the first to leave a comment below.
---
Post A Comment
You must be logged in before you can post a comment. Login now.
Featured Product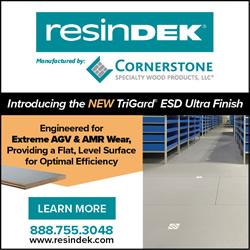 To maximize the productivity of an autonomous mobile robot (AMR) or automatic guided vehicle (AGV) deployment, it's critical to create the optimal environment that allows the vehicles to perform at their peak. For that reason, Cornerstone Specialty Wood Products, LLC® (www.resindek.com) created the TriGard® ESD Ultra finish for its ResinDek® engineered flooring panels. The TriGard ESD Ultra finish is ideal for high-traffic robotic applications characterized by highly repetitive movement patterns and defined travel paths.