With machine-to-machine communication, how does one validate "identities" and secure data at such massive scale.
How Blockchain will Transform the Enterprise
Pavan Singh | Covata, Inc
In the digital transformation of the world, the single largest trend that is emerging is data sharing. To take advantage of this trend, traditional enterprises need to evolve into connected enterprises that share data within the organization and with external stakeholders (i.e. venders, suppliers, and customers) in ways that drive competitive advantage.
In the first wave of the connected enterprise, people and applications were connected and sharing data that led to improved productivity, service and sales effectiveness. Cloud computing served as a key enabler of this transformation, driving down the cost of computing and ushering in the era of web services and apps. The next wave of the connected enterprise is just now starting to form, whereby smart, connected machines and devices communicate, share data and execute tasks without human involvement. While cloud computing provided storage and compute power to enable the first wave of enterprise services, the second "IoT" wave, which will include billions of devices, will need a whole new approach to handle the unimaginable volume of data especially the scale at which trust has to be built and managed.
In other words, with machine-to-machine communication, how does one validate "identities" and secure data at such massive scale. In the first wave, identities related to people, in the second wave it now includes sensors and devices.
Blockchain, the technology underlying the Bitcoin cryptocurrency could prove to be the engine that drives this second wave. With its ability to handle secure transactions at massive scale, Blockchain could prove to be a catalyst on par with the internet itself. The big question is, as a public, open source, peer-to-peer(P2P) model will Blockchain work for private enterprises and governments looking to deploy full scale IoT services. Blockchain is able to handle security at scale by using a distributed network of computers where trust is established not by a central authority but by what Alex Tapscott refers to as, "mass collaboration and clever code." Similar to the way Wikipedia works, Blockchain is managed and maintained by a distributed community, not a central authority. With Blockchain however, the community is constantly validating transactions using sophisticated encryption and collective computing power to provide both security and scale. For businesses looking to take advantage of the IoT opportunity, the question is whether this model can be applied within an enterprise.
How Blockchain Works
Blockchain is the technology that underpins Bitcoin. It is a distributed data structure with supporting peer-to-peer (P2P) protocols that form a distributed, and hence decentralized, ledger for transactions.
One could argue that by itself, Blockchain is not all that interesting. It is basically a distributed data structure. But it is the software and set of network protocols that have helped create the Bitcoin phenomenon. There are three components to Blockchain: a network of computers, a network protocol and a mechanism for consensus. This consensus mechanism enables community members (referred to as "miners") to verify each transaction and validate that the Blockchain has not been tampered with. Because Blockchain records and stores every transaction it also creates an audit trail with an embedded cryptographic "fingerprint" that gives the transaction itself, as well as the block in which it is contained, a unique identity. This approach instills trust in the process as the encryption and distributed validation mechanism make the block essentially unbreakable.
The rise of Bitcoin as a trusted digital currency is due to the unique approach to security provided by Blockchain. With Blockchain, the security onus that typically was with the central authority or intermediary – such as banks or government agencies – is now distributed across several computers owned by individual community members. By decoupling from a central authority, no one entity has visibility into every transaction.
Leveraging Blockchain in the Enterprise
One way to replicate Blockchain capabilities in the enterprise is to create a private Blockchain using the same distributed data structure but for a use case involving data sharing centered around an ecosystem of pre-defined players (e.g. a value chain surrounding a corporation or government agency). The challenge with this is that as soon as the Blockchain goes private, the benefit of distributed encryption goes down, as you are no longer leveraging a vast peer-to-peer network, but are operating within a "closed" community. Since trust is established through consensus within the P2P community, a private Blockchain will need a trust broker between two or more organization/domain implementations.
Under this scenario, connected enterprises will be still be able to use Blockchain, but in a limited fashion, such as when validating the identities for distributed sets of entities. For this security structure to work within the enterprise, firms will need to combine "off-blockchain" capabilities such as who has access to the Blockchain ledger, with the full capabilities of the ledger itself (validation, encryption) to enable machine-to-machine transactions at scale.
Let's look at three examples of how it might work in real life.
Manufacturing
A manufacturing company might create a Blockchain of all the key stakeholders in its value chain. This could include the identities of who will be part of the public ledger that can write to a production schedule. These set of identities are allowed to read and modify the production schedule while the more granular access control list, business processes related to the production schedule and policies are held off-Blockchain.
Transportation
Similarly, if a transportation authority wants to leverage data from all the cars that use the transportation infrastructure while keeping the identity of the driver secret, each of the cars becomes a Blockchain node. The data from each car with their Blockchain identity is part of the ledger but the relationship of the data to an owner or a driver is managed through a set of privacy procedures and policies off-blockchain.
Healthcare
In healthcare, blockchain would allow a consortium of parties, doctors, nurses, clinics, insurance companies to continually add to the patient records, creating one true source of patient data as compared to the distributed, disconnected sources of data today.
In Enterprises, blockchain will see adoption but the blockchain technology will not be answer to everything. Use cases that can be more cost-effectively addressed by blockchain will drive the early adoption. This includes the creating and securing highly distributed repositories, removing friction for highly sensitive transactions across an ecosystem or creating dramatically improved processes that can rapidly handle millions of transactions.
Blockchain is still in the early stages of adoption and being understood. Bitcoin is just one of the millions of use cases that will leverage the blockchain technology.
About Pavan Singh
At Covata, Pavan leverages his diverse background in joint customer innovations, solution creation and IoT experience to drive product strategy and accelerate market development of Covata's transformational IoT security solution, KaaS.
Pavan has more than 15 years' experience in the technology industry. Prior to joining Covata, Pavan was at Cisco Systems for six years, where he held numerous leadership roles in marketing strategy & business incubation. Most recently he was the Head of IoT Solutions GTM strategy and acceleration organization, where he was responsible for revenue growth of the IoT solutions business. Pavan was instrumental within Cisco for identifying market transitions and creating technology solutions that deliver transformational business value for customers.
Pavan is known as an Internet of Things and Digital Transformation thought leader and is a frequent speaker on business transformation topics in industry events. More information is available at: www.covata.com
The content & opinions in this article are the author's and do not necessarily represent the views of ManufacturingTomorrow
---
Comments (0)
This post does not have any comments. Be the first to leave a comment below.
---
Post A Comment
You must be logged in before you can post a comment. Login now.
Featured Product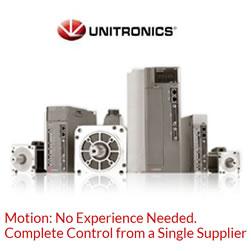 Unitronics' line of AC Servo Drives & Motors changes the traditional approach to motion control. They are simple to set up and painless to program. Unitronics Servos simplify implementation of motion applications while minimizing complexity and reducing development time. Some of the easy-to-use features in this new line include implementing motion control easily with ready-made motion code, embedded diagnostic tools, and automatic communication setup.