While much of the IIoT is focused on end-customer benefits, manufacturers need to recognize that they can also benefit from these emerging technologies and change their businesses if desired.
Industry 4.0 - Interview with Red Lion Controls
Colin Geis | Red Lion Controls
Are you familiar with the term Industry 4.0 and if so what does it mean to you and your company?
Similar to the Connected Factory and Industrial Internet of Things (IIoT), Industry 4.0 will provide the tools for organizations to be able to connect many new and existing devices, processes and equipment to get them to "communicate". This M2M communication, and most importantly the data, is integral for organizations to improve efficiency and gain a competitive advantage. The goal of Industry 4.0 is to provide a platform for the dynamic optimization of production resources within and between highly-connected factories.
How is your company set to benefit from the buzz about the factory of the future?
Red Lion has been connecting devices and moving data for many years. The current industrial revolution is showing customers that there is value in mining the data that their existing equipment has been outputting for 25+ years. This is probably the most exciting part for Red Lion; that there is renewed demand to connect existing equipment, as well as the ability to analyze data from perfectly good equipment.
What applications of the Internet of Things (IoT) are you or do you plan to implement in the near future?
One of the more interesting trends that Red Lion is implementing is the ability to get process data into the cloud for visualization and analysis. While it was previously possible to send data to the cloud, never before has it been done so easily. Data can now be sent with just a few clicks of a mouse. No longer do customers need months of database management and mapping to visualize and analyze their data.
In addition, many customers are turning to Red Lion for a few key applications relating to the IIoT, which includes:
Extending equipment lifespan: increase the value of legacy equipment with powerful protocol conversion

Improving process visibility: gain insight and drive productivity with data logging and communication capabilities

Pushing control to the edge: scale systems management with control capabilities at the device instead of the central office
These applications result from IIoT-ready solutions that use protocol conversion, visual management, remote monitoring and industrial Ethernet to connect, monitor, control and network operations.
How do you interpret the term "Connected Manufacturing"?
Bringing a facility into the 21st century of "connected manufacturing" typically requires an organization to address three key topics:
Enable communication between devices

Rethink operational efficiencies to allow more devices to talk to each other

Provide a secure, seamless platform for device communication
These issues aren't new to many organizations; the challenge is applying existing knowledge to new areas of the business, which includes the control network, and/or device-level data streams. The approach will very likely be different for control networks versus traditional IT networks.
Do you think Industry 4.0 will bring more (but different) jobs to the industry or will it result in a large loss of employment?
I believe the influx of additional tools and technologies that are now available for industrial markets is opening up many opportunities for new jobs. While addressing the skills gap may be challenging for businesses, there is no shortage of willing and skilled candidates. The combination of new technologies and resources results in new ideas and innovation being driven by the IIoT revolution.
Can you give us some examples or scenarios that help to convey the benefits of Industry 4.0 to others in your industry?
Industry 4.0, Connected Factory and the IIoT is the idea of a connected, more productive world. With so many pieces of equipment and devices deployed from thousands of different manufacturers, the industry can only continue to grow. While much of the IIoT is focused on end-customer benefits, manufacturers need to recognize that they can also benefit from these emerging technologies and change their businesses if desired.
How about scenarios to convince the general public that Industry 4.0 is a good thing for their future?
While the near-term benefits to the general public are unclear, the longer term benefits will likely include more efficient production, reduced waste, on-demand manufacturing products and manufacturing products closer to where they will be consumed/sold. All of this equates to lowering costs, reducing transportation requirements and quicker access to desired products.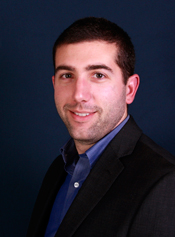 About Colin Geis
Colin Geis is Director of Product Management – IIoT at Red Lion Controls. Red Lion Controls is a US manufacturer of industrial automation and networking solutions that help organizations connect, monitor and control assets worldwide.
---
Comments (0)
This post does not have any comments. Be the first to leave a comment below.
---
Post A Comment
You must be logged in before you can post a comment. Login now.
Featured Product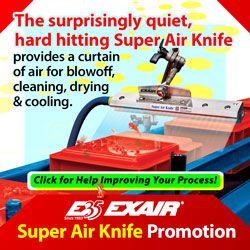 What Is The Super Ion Air Knife? EXAIR's Super Ion Air Knife removes static electricity from plastics, webs, sheet stock and other product surfaces where tearing, jamming or hazardous shocks are a problem. The laminar sheet of air sweeps surfaces clean of static, particulate, dust and dirt. Production speeds, product quality, and surface cleanliness can improve dramatically. Why The Super Ion Air Knife? The Super Ion Air Knife floods an area or surface with static eliminating ions - up to 20 feet (6.1m) away. A uniform airflow across its length will not cause misalignments to critical surfaces such as webs. Force can be adjusted from a "blast" to a "breeze". The Super Ion Air Knife is electrically powered, is shockless and has no moving parts. It also requires only 3.7 SCFM of compressed air per foot of length at 5 PSIG (105 SLPM per 300mm of length at 0.3 BAR). Sound level is surprisingly quiet at 50 dBA for most applications.