Here is a summary of what Tradeshows, Conferences & Exhibitions to look forward to in the coming months.

Brandon Hetherington for | ManufacturingTomorrow.com
Here is a summary of what Tradeshows, Conferences & Exhibitions to look forward to in the coming months.
Stay tuned for our IMTS 2016 Coverage here:
---
September:
SEP 01 - 02 2016, SINGAPORE
The IoT Show Asia will address the new business possibilities from the Internet of Things and contextual technology. It will explore new business models, facilitate new collaborations and partnerships and generate new ideas and thinking. The IoT Show Asia is about getting the prototypes out of the lab and into the market and the exhibition will showcase some of the leading IoT innovations from established players and up-and-coming start-ups. In 2016 the show will be run alongside two complimentary events: The Commercial UAV Show Asia and The Smart Machines Show, together creating the Emerging Technology Show 2016.
3DPRINTING@HOME AT IFA POWERED BY INSIDE 3D PRINTING
SEP 04 - 07 2016, STATION BERLIN
3DPrinting@home powered by Inside 3D Printing is heading to Berlin in partnership with IFA, the world's leading consumer electronics show! This edition focuses on the B2B2C channel, encompassing consumer, education, SMB sectors and mid-to-low end 3D printers, associated suppliers and software. It will take place September 4th to 7th in Berlin, Germany, as part of IFA's Global Markets feature. IFA attracts over 249.000 visitors, 60% of whom are from the channel.
IMTS - THE INTERNATIONAL MANUFACTURING TECHNOLOGY SHOW
SEP 12 - 17 2016, CHICAGO, IL
IMTS 2016 is the 31st edition of the premier manufacturing technology show in North America. More than 2,000 exhibiting companies will occupy 1.2 million net square feet of exhibit space at the McCormick Place complex in Chicago. IMTS is held every even-numbered year in Chicago and attracts more than 114,000 buyers and sellers from over 112 countries. Manufacturing industry professionals from all over the world attend IMTS to see more than 15,000 new machine tools, controls, computers, software, components, systems and processes that can improve their efficiency. Attendees gain valuable ideas, insights and buy from over 2,000 exhibitors from the metalworking industry.
Stay tuned for our IMTS 2016 Coverage here:
ADDITIVE MANUFACTURING CONFERENCE AT IMTS
SEP 13 - 14 2016, CHICAGO, IL
The Additive Manufacturing Conference brought together manufacturing professionals who were interested in or who were already applying additive manufacturing as a production resource. More than a 3D-printing seminar, this workshop focused on industrial applications of additive technologies for making functional components and end-user production parts.
ADDITIVE MANUFACTURING INDUSTRY SUMMIT
SEP 20 - 22 2016, DAYTON, OHIO
The Additive Manufacturing Industry Summit (AMIS) is a 3-day event dedicated to demonstrating the power of this growing technology for real-world applications and the immediate and long term wins it promises for businesses. Additive Manufacturing experts gather to discuss evolving this technology beyond prototyping and modeling and into actionable, production-ready applications. This year's event focuses on the work being done in Defense, Aerospace, Medical, and Industrial arenas, offering in-depth workshops, targeted case studies, and the best minds in AM.
DESIGN & MANUFACTURING MINNEAPOLIS
SEP 21 - 22 2016, MINNEAPOLIS, MN
Design & Manufacturing Minneapolis provides the full spectrum of design, manufacturing, and process solutions showcasing exhibitors that provide the CAD/CAM/PDM systems and software, contract manufacturing and engineering, fabrication services, custom components, production machinery, materials, and enterprise solutions to Minneapolis's advanced design and manufacturing marketplace.
SEP 27 - 28 2016, ROSEMONT, IL
Sensors Midwest will feature education, networking, and a packed Expo Floor with exhibitors showcasing their latest sensing technology and products. The Education Program will feature different tracks that will explore cutting-edge trends & applications, case studies, and demos from the industry's leaders and experts focusing on focus on hot and trending sensor technologies including Embedded Systems, Printed/Flexible/Wearable, IoT, MEMS, Robotics, Wireless, and much more. Register today – passes are FREE before September 2nd!
---
October:
3DPRINTING@HOME AT CEATEC POWERED BY INSIDE 3D PRINTING
OCT 04 - 07 2016, MAKUHARI MESSE CONVENTION CENTER
3DPrinting@home is returning to CEATEC, Japan's largest consumer electronics show for its second year. CEATEC brings together leading companies in advanced technologies and electronics where they can present the latest developments to the world. 3DPrinting@home will showcase how 3D printing is revolutionizing industries and making consumers' lives easier around the global. Exhibit with 3DPrinting@home at CEATEC and get your brand in front of 130K+ visitors.
OCT 20 - 21 2016, SANTA CLARA, CA
Bringing together over 4,000 attendees including developers, operators, technology providers, innovators, evangelists, vendors and OEM's; the IoT Tech Expo is set to showcase the most cutting edge technologies from more than 100 exhibitors and provide insight from over 200 speakers sharing their unparalleled industry knowledge and real-life experiences. This year's Expo will highlight the most innovative advancements in technologies which are affecting IoT. There will be cases and dedicated tracks covering the entire Internet of Things ecosystem including Smart Cities, Connected Living, Developing & Tech in the Internet of Things, Connected Industry, Wearables and Data & Security.
OCT 25 - 27 2016, ROSEMONT, IL
Each year The ASSEMBLY Show provides assembly driven content, education and suppliers and the 2016 event will continue that trend. Suppliers, buyers and users will discover new assembly techniques, products and services once again in Rosemont, IL. We are looking forward to bringing back this exclusively assembly focused trade show with the original vision in mind - helping suppliers, buyers and users of assembly equipment in manufacturing plants connect, learn share and explore all things "assembly".
---
November:
PACK EXPO INTERNATIONAL CO-LOCATED WITH PHARMA EXPO
NOV 06 - 09 2016, CHICAGO, ILLINOIS, USA
PACK EXPO International 2016 will be the world's largest processing and packaging event for the year. The co-located Pharma EXPO 2016 will feature solutions for the entire pharmaceutical life cycle. In total, 7,000 international buyers from 130+ countries will attend.
VISION, WORLD'S LEADING TRADE FAIR FOR MACHINE VISION
NOV 08 - 10 2016, MESSE STUTTGART, GERMANY
VISION is the world's leading trade fair for machine vision. The who's who in the machine vision industry meets in Stuttgart and presents an incomparable range of products and services: from sensors to processors, from cables to cameras, from software to illumination systems. However, complete machine vision systems and very specific applications for many different industries are exhibited – from mechanical engineering and the automotive industry through to the medical technology industry and many, many more industries besides. We take account of the diverse interests of visitors through special event modules such as the Integration Area and the Industrial VISION days forum.
ADVANCED MANUFACTURING EXPO & CONFERENCE
NOV 15 - 17 2016, MEXICO CITY, MEXICO
The new Advanced Manufacturing Expo & Conference will bring together 250 leading exhibitors from Mexico, the U.S., and around the world with 4,000 key decision makers from the region. Representing active projects within processing, packaging, automation, advanced design, and manufacturing roles and industries, this local community comes together for the first time in Mexico City from November 15–17, 2016 at Centro Banamex. Top industries include food and beverage; chemicals; industrial machinery; agriculture, building, and construction; plastics and rubber; pharmaceutical; electronics; aerospace; and automotive.
NOV 16 - 18 2016, LAS VEGAS, NV
FABTECH brings a wealth of innovation and technology solutions to Las Vegas, NV November 16-18, 2016. More than 27,000 attendees and over 1,200 exhibiting companies are expected to gather once again to celebrate metal manufacturing at its best. The event also provides educational sessions and expert-led presentations covering the latest trends and technology in the metal forming, fabricating, welding and finishing industries.
NOV 30 - 02 2016, SHANGHAI WORLD EXPO EXHIBITION & CONVENTION CENTER
Inside 3D Printing returns to Shanghai in 2016 for its third edition! Gear up for two days of engaging conference sessions and keynotes, plus three days of interactive exhibits and ample networking opportunities.
---
December:
ADDITIVE MANUFACTURING AMERICAS 2016
DEC 07 - 09 2016, PASADENA, CA
Moving beyond 3D printing's benefits for design and prototyping, additive manufacturing is today a technology that also allows for the creation of complex new products with entirely new properties – lighter, stronger and less wasteful. Come to Additive Manufacturing Americas 2016 and see the latest technology in action. It's the entire advanced design and manufacturing ecosystem in one place!
DEC 14 - 16 2016, SAN DIEGO CONVENTION CENTER
The largest professional 3D printing and additive manufacturing event is launching in San Diego! As a conference attendee, you'll be the first to learn about new cutting edge printers from companies like HP, Carbon, Stratasys, and 3D Systems and novel applications by companies like Boeing, General Electric, and Google. Inside 3D Printing features dedicated tracks in: Business, Manufacturing, Medical, and Metal. Inside 3D Printing is joining with RoboUniverse and the Virtual Reality Summit for the frontier tech event of the season, Frontier Tech Forum.
---
The content & opinions in this article are the author's and do not necessarily represent the views of ManufacturingTomorrow
---
Comments (0)
This post does not have any comments. Be the first to leave a comment below.
---
Post A Comment
You must be logged in before you can post a comment. Login now.
Featured Product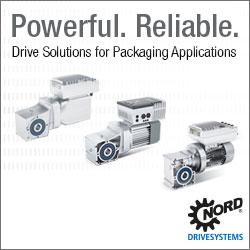 NORD's redesigned line of small CLINCHER parallel gear units showcase increased power and torque capacity for a variety of applications. These re-engineered versions will be replacing the existing SK0182NB, 0282NB, and 1382NB units. They are lightweight, have improved heat dissipation, are more cost-effective, and are available with NORD nsd tupHTM sealed surface conversion for wash-down and extreme environments.