New technologies such as IoT attract the best minds in business, but also a lot of unproven and even untested ideas. Proceed with care.
2016: Why Manufacturers Should Embrace Real-Time Data
Rick Mattock | RMG Networks
The Internet is everywhere and has conditioned people to expect instant gratification for acquiring information. If there is a disagreement at a social gathering about who won a particular Oscar — Google it! This mentality, coupled by innovative technologies that support real-time information gathering and reporting, makes real-time data a necessity rather than a luxury for manufacturers.
How Real-Time Data Improves Results for Manufacturers
IoT (The Internet of Things), an emerging technological ecosystem, is defined by Gartner as "the network of physical objects that contain embedded technology to communicate and sense or interact with their internal states or the external environment."
In the long term, as manufacturing equipment plugs in to the IoT, machinery will do things such as adjust to changing environmental conditions and sales demand with no direct human intervention. In the meantime, more immediate benefits accrue from real-time data gathering and reporting. They include:
Greater accuracy. "Clipboard" data collection provides an accurate snapshot of equipment performance (allowing for human error), but a digital monitoring system feeds precise and ongoing information into an analytics system, enabling managers to comprehensively and precisely evaluate results.

Greater consistency. A common problem with "clipboard" data collection is inconsistency between what is seen on the shop floor and what is reported in corporate financial and operating statements. A unified, digital data collection system allows all members of the organization to read from the same (and accurate) sheet of paper.

Faster response to problems. Ongoing monitoring and reporting allows the team to recognize and respond to breakdowns, glitches, bottlenecks and other issues that interrupt processes and/or affect quality — in real time. This capability obviously has an enormous impact on quality control, process efficiency and customer satisfaction.

Stronger employee engagement. Through large digital screens in high-traffic areas of the plant, as well as communication through desktop computers and mobile devices, real-time data reporting keeps all employees informed. When employees see current information about performance versus goal, accident-free days and other KPIs, their level of engagement improves, and along with it, performance, teamwork and sense of loyalty — three game-changing outcomes for every manufacturer.

Powerful market differentiation. Many manufacturers are led to real-time data systems because customers demand it. Nevertheless, at this stage, effective real-time systems are a rarity in many segments of the market. Implementing a system gives a manufacturer a strong point of differentiation, as the system supports greater efficiency and consistency.
Implementation
Real-time data platforms are available for large, complex multi-location operations, small shops and everything in between. One of the most challenging aspects of implementing a system includes the age and sophistication of the equipment to be monitored. Other common challenges include the level of technical expertise among the staff and determining what information to collect.
New technologies such as IoT attract the best minds in business, but also a lot of unproven and even untested ideas. Proceed with care. When vetting potential real-time data partners, look for experience in manufacturing, a documented track record of successful manufacturing implementations, and a firm with financial stability and a strong, demonstrable track record of customer service and innovation.
About Rick Mattock​
Rick Mattock is very familiar with how real-time data affects manufacturers as the Chief Technology Officer and Senior Vice-President at RMG Networks. Rick has worked in technology for the last 30+ years, managing development, professional service teams and marketing in the United States, India and Argentina.
The content & opinions in this article are the author's and do not necessarily represent the views of ManufacturingTomorrow
---
Comments (0)
This post does not have any comments. Be the first to leave a comment below.
---
Post A Comment
You must be logged in before you can post a comment. Login now.
Featured Product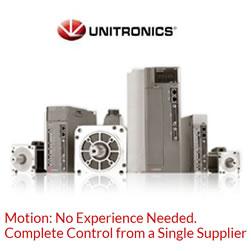 Unitronics' line of AC Servo Drives & Motors changes the traditional approach to motion control. They are simple to set up and painless to program. Unitronics Servos simplify implementation of motion applications while minimizing complexity and reducing development time. Some of the easy-to-use features in this new line include implementing motion control easily with ready-made motion code, embedded diagnostic tools, and automatic communication setup.