Weerg achieves cycle time reductions of over 50% with post processing technologies from AM Solutions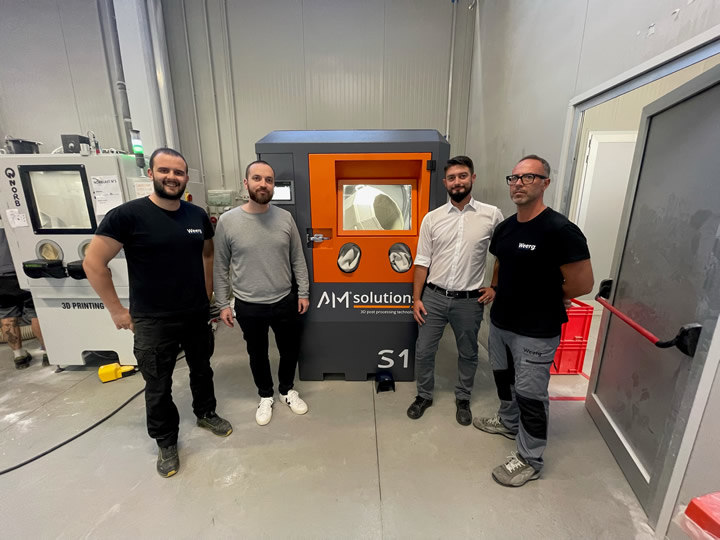 The Italian company Weerg Srl was founded in 2015 with the mission to digitize manufacturing and by so doing make it simpler, faster and more cost-efficient. With its E-commerce setup, the company offers not only CNC machining services but also the additive manufacturing of components made with the MJF-, FDM- and MSLA 3D printing systems. For post processing of the 3D printed components, Weerg (the largest global user of the HP MJF technology) is using machines from AM Solutions – 3D post processing technology. Specifically, the S1, S2 and C1 systems, as well as the 3D automatic unpacking station that was jointly developed with HP. This equipment configuration allows a high degree of automation, which reduces the amount of rework by nearly two thirds, requires less personnel, and improves overall product quality.
His passion for innovation and new technologies motivated the Italian entrepreneur Matteo Rigamotti to digitize manufacturing operations. With a small team of experts he developed a platform for CNC components that allows customers to select the base material, the machining operation, the product tolerances, and to obtain a price and firm delivery date in real time. In addition, he established an ultramodern CNC operation that ensures quick production and excellent quality of the ordered components. Within a short period from 2015 until today, this concept enabled Weerg to become Europe's largest E-commerce job shop. It does 100% of its production in-house, has a strict quality control system, offers quick delivery times, and has impressively low production costs.
Additive manufacturing – an investment for the future
Investments for the future are in the DNA of Weerg. For this reason, it was only natural for the E-commerce company, located in Scorzé, Venetia, to enter the field of additive manufacturing (AM). In 2017 it started out with an MJF system from HP, since when it has become the largest user of this technology anywhere in the world. In addition to expanding the AM operation with the FDM and MSLA printing systems, Weerg also started developing high performance materials, for example Nylon (PA 12) with a glass fiber content of up to 40%. With the 3D printed prototypes, printed from different plastic materials, the company supplies customers from industries such as automotive, machinery building, food processing, architecture, and medical engineering.
Optimized post processing
While order processing and manufacturing of the 3D components was managed digitally early-on, numerous post processing operations still had to be done manually, which required a lot of time and personnel and produced inconsistent results. To optimize this part of the AM process chain Weerg — after a comprehensive market study — chose to purchase post processing machines from AM Solutions – 3D post processing technology. These included the automatic unpacking station that was jointly developed by HP and AM Solutions. The industrial, scalable post processing solution allows the automated and consistent unpacking of components printed with the HP Jet Fusion technology in continuous flow operation. Compared to manual unpacking methods the automatic unpacking station enabled Weerg not only to increase its productivity, but to also raise the powder reclaim rate with a minimum of labor input.
Up to 65 % faster production with lower personnel costs
After a preliminary de-powdering operation the S1 from AM Solutions, a compact plug-and-play system, is used for the automatic cleaning and surface finishing of the components. The efficient 2-in-1 concept helped not only to keep the investment costs and space requirements low, but it also reduced the energy consumption and substantially decreased processing times. While in the past, 60 minutes were required for cleaning and surface finishing of a printing job, now it only takes 20 minutes. In addition to the significant time savings, the S1 also permits a higher throughput of components. Previously, because of their size and fragility, these had to be manually post-processed. The percentage of components that can now be cleaned and finished mechanically increased from 60 to 90%. An additional benefit is that considerably less personnel are required for post processing. Instead of two people only one person is needed to do the same job. Another advantage is the easy, ergonomic handling of the ATEX compliant S1 system and the possibility to switch to manual operation for processing large, complex components.
Continuous flow shot blast machine improves operational flexibility and manufacturing capacity
In November 2022, Weerg expanded its post processing capacity with a S2 continuous flow shot blast system from AM Solutions. The S2, the first of its kind in the world, is used for the automatic cleaning and surface finishing of plastic components printed with powder-bed based printing technologies. This highly productive machine requires very little operator time and offers, therefore, tremendous potential for cost savings. Designed for 24/7 operation, the S2 handles the output of several printers. The special troughed belt made from polyurethane ensures gentle handling of the work pieces and, because of this, prevents any nicking of delicate components. This eliminates the need for costly reprints. The built-in blast media recycling and cleaning system and the automatic monitoring of the shot blast process guarantee high-quality consistent results in short cycle times, even for delicate, complex components. Weerg is utilizing the S1 and S2 machines with identical processes and blast media for a wide variety of components. This guarantees a high degree of flexibility for the post processing operation.
Support and resin removal also automated
With the purchase of a C1 system from AM Solutions – 3D post processing technology, Weerg also automated the post processing of MSLA components. The process — controlled by sophisticated software — is based on chemical, thermal, and mechanical effects. Their perfect interplay allows the consistent, gentle, and fast removal of support material and resin from difficult-to-reach surface areas, even in the case of extremely complex work pieces. In addition, the standard processing programs for different work piece groups stored in the PLC can be supplemented by their own programs. Parameters like temperature, processing time and the saturation curve of the processing media are recorded and stored by data loggers. This allows the traceability of the post processing operations and guarantees a consistently high finishing quality. The process stability and safety are further enhanced by the sensor-controlled fill level control and replenishment of the compound. Since all the eco-friendly processing media are jointly developed and produced by AM Solutions and Rösler, Weerg is able to quickly obtain compounds for practically any resin the company is using.
For over 80 years, the privately owned Rösler Oberflächentechnik GmbH has been actively engaged in the field of surface preparation and surface finishing. As global market leader, we offer a comprehensive portfolio of equipment, consumables and services around the mass finishing and shot blasting technologies for a wide spectrum of different industries. Our range of about 15,000 consumables, developed in our Customer Experience Centers and laboratories located all over the world, specifically serves our customers for resolving their individual finishing needs. Under the brand name AM Solutions, we offer numerous equipment solutions and services in the area of additive manufacturing/3D printing. Last-but-not-least, as our central training center the Rösler Academy offers practical, hands-on seminars to the subjects mass finishing and shot blasting, lean management and additive manufacturing. Besides the German manufacturing locations in Untermerzbach/Memmelsdorf and Bad Staffelstein/Hausen the Rösler group has a global network of 15 locations and 150 sales agents.
For more information, please go to: www.rosler.com
Comments (0)
This post does not have any comments. Be the first to leave a comment below.
---
Post A Comment
You must be logged in before you can post a comment. Login now.
Featured Product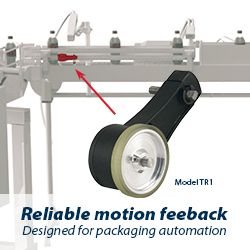 The Model TR1 Tru-Trac™ linear measurement solution is a versatile option for tracking velocity, position, or distance over a wide variety of surfaces. An integrated encoder, measuring wheel, and spring-loaded torsion arm in one, compact unit, the Model TR1 is easy to install. The spring-loaded torsion arm offers adjustable torsion load, allowing the Model TR1 to be mounted in almost any orientation - even upside-down. The threaded shaft on the pivot axis is field reversible, providing mounting access from either side. With operating speeds up to 3000 feet per minute, a wide variety of configuration options - including multiple wheel material options - and a housing made from a durable, conductive composite material that minimizes static buildup, the Model TR1 Tru-Trac™ is the ideal solution for countless applications.