How a Digital Transformation Supports Supply Chain Resiliency for Manufacturers
Even three years in, the aftereffects of the COVID-19 pandemic continue to test the resiliency of the global supply chain. News about consumer product shortages and shipping container backlogs remains an everyday occurrence across multiple countries. Not surprisingly, businesses relying on shipping and delivery services also suffer from critical problems in this current environment.
These issues are exacerbated at companies with outdated supply chain processes and technology. In most cases, their systems lack the necessary visibility and automation to predict where supply bottlenecks are likely to occur. This scenario leaves these organizations essentially flying blind when it comes to preparing for supply chain issues.
The digital transformation currently optimizing multiple business sectors also offers the potential to revolutionize supply chain operations. With relevant experience including several supply chain patents, I've been part of multiple projects optimizing shipping and delivery processes. So let's look at how leveraging AI and mobile app development modernizes supply chain operations to create more resiliency in the face of inevitable changes and disruptions.
Current Supply Chain Challenges and Trends
Over the past few decades supply chains gradually migrated overseas to take advantage of opportunities in new markets. A look at the global GDP reveals the effect of this transition. In 1990, global trade accounted for 39% of the global GDP, while that proportion grew to 58% as of 2019.
This significant growth in world trade simply adds stress to the efficacy of the supply chain. Globalization also introduced a myriad of other complexities and risks, including extreme weather events possibly exacerbated by climate change, labor disputes, and supplier disruptions. The growing threat of cybercrime also needs to be considered.
Of course, the COVID-19 pandemic also adversely impacted the global supply chain over the last 18 months. It highlighted major structural issues in these systems, leading to the product shortages and shipping backlogs mentioned earlier. It's a scenario placing the onus on suppliers, shippers, and retailers to focus more on supply chain resilience.
While the U.S. Government announced a few actions to help boost supply chain resiliency, the private sector also needs to take its own steps to reengineer outdated practices while leveraging modern technology advancements.
How Digital Transformation Supports Supply Chain Resiliency
Supply chains need to be agile; able to react to sudden changes in consumer demand as well as any disruptions in supply or transportation. Ultimately, a digital transformation of the supply chain industry offers the potential to boost efficiencies to better handle future disruptions. Here are a few ideas based on previous project successes that resulted in improving supply chain operations for our clients.
Rapid Detection and Response
Understanding supply chain issues and inefficiencies as soon as they develop, and gaining the insights necessary to quickly respond to these issues, is critical to developing a resilient supply chain. Unfortunately, supply chain operators using outdated technology sometimes lack the visibility to track critical shipments in real time.
We saw this issue in how trucking navigation and communication was managed. The existing manual process and communication between drivers and dispatchers provided a perfect opportunity to improve operational efficiency.
Mobile applications are ideal for streamlining the internal operations of supply chain elements, automating repetitive tasks, and providing greater visibility. In the example of a GPS trucking navigation app, this solution optimized routing and helped drivers avoid slowdowns caused by traffic and weather changes. In addition to boosting efficiency, more effective communication also improved the visibility of the entire supply chain.
Data-driven Supply Chain Control
Obviously, supply chain operations generate a massive amount of data. Companies in this sector with the ability to glean actionable information from their databases gain significant advantages. A custom mobile app that leverages AI and machine learning provides transparency into the end-to-end supply chain as well as the process efficiency benefits similar to the GPS trucking app example.
AI-driven Demand Planning Processes
This data-driven approach helps drive the digital transformation impacting other business sectors, so it stands to reason these same advantages are possible with supply chain operations. In fact, AI is already being used to predict customer demand trends, with the hopes of preventing those critical product shortages currently affecting parts of the retail industry. Suppliers and supply chain operators now gain the data-driven insights to be able to properly plan for peak demand periods as well as any subsequent lulls.
Ultimately, the current malaise adversely impacting supply chain operations across the globe remains a highly solvable issue. Technology innovations in AI, machine learning, and mobility provide the opportunity to truly revolutionize this industry. Because of this, issues like empty store shelves and container ship bottlenecks will soon become yesterday's news.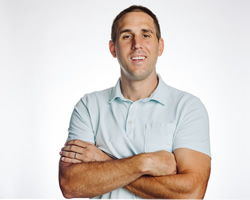 Author Bio: Since co-founding NineTwoThree Venture Studio in 2012, Andrew Amann has helped launch countless ventures for clients and emerging companies and turned his business into one of the fastest-growing private companies in America on the Inc 5000 list.
Amann is an experienced intrapreneur and entrepreneur. He is responsible for patents for nuclear submarine components and three supply chain innovations. He has successfully launched twelve startups, including the digital business card solution, Inigo App, acquired by the fourth fastest growing company in Canada. Amann excels at bootstrapping startups without the involvement of venture capital.
Amann graduated from the University of Connecticut with a B.S. in Mechanical Engineering and took his MBA classes in the University of Strathclyde. He currently helps businesses grow with innovative web and mobile technology solutions and built over 50 applications supporting millions of end users (including a Unicorn). Follow him on Twitter @andrewamann and connect on LinkedIn.
Comments (0)
This post does not have any comments. Be the first to leave a comment below.
---
Post A Comment
You must be logged in before you can post a comment. Login now.
Featured Product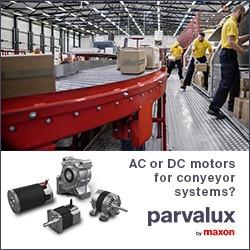 An effective, reliable and efficient drive system is essential to any material handling equipment, whether it's a motor-assisted tow truck, a barrel lifter, a robotic vehicle or a complete high-capacity parcel sorting hub; Parvalux designs and manufactures an exciting range of AC, DC brushless and brushed motors and our drives are valued for their performance and reliability.