Learn How To Protect Your Business with AI for Visual Inspection – Pleora Webinar Live April 6, 2022
Protect Your Business with AI for Visual Inspection

Learn how the best of AI and machine vision can improve quality, lower costs, increase efficiencies, and protect brand integrity for manufacturers and quality managers with camera based visual inspection system.

This webinar will discuss how two manufacturers – a distillery and an electronics assembly operation – are using camera-based visual inspection to protect their brand and make manual processes repeatable, consistent, and traceable. The session will include a live demo highlighting how quickly and easily an image compare AI plug-in is trained and deployed to start spotting product differences and deviations.

About Your Hosts:

Ed Goffin manages marketing for Pleora, and has been widely published on the use of AI for visual inspection for consumer goods, electronics, food & beverage, and packaging applications.

Zaryab Syed is an applications engineer with Pleora, and works closely with customers to help understand their needs and requirements while providing technical training and support.

Can't join the Webinar at that time? Register for the live event, and you'll receive a link to an on-demand session following the live event. Or, if you wish to learn more about Pleora's Visual Inspection System and how to maintain brand quality standards, download the Whitepaper.
Comments (0)
This post does not have any comments. Be the first to leave a comment below.
---
Post A Comment
You must be logged in before you can post a comment. Login now.
Featured Product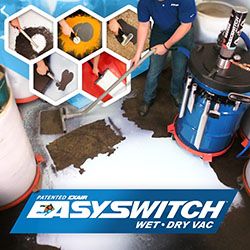 Be sure to attend the latest of EXAIR's webinars. Get educated on pneumatic industrial vacuums so you can break the cycle of replacing electric shop vacuums. Industrial environments often present a continual battle to keep them clean and safe. Unavoidable by-products of manufacturing processes include liquid and solids which often present hazards to personnel, products and processes. Solids may be trim, dusts, or chips from a manufacturing line; liquids may be coolant spills, coating overspray, or even burst packages. Cleaning up these materials often falls on the operators of the equipment who need reliable, adaptable, safe and effective tools for cleanup. Supplying them with tools which fail frequently or do not meet the requirements of the safety team is a recipe for disaster. Attend this webinar to gain an understanding of how pneumatic vacuums can reduce the maintenance, increase reliability, and improve flexibility for your facility. Attend live on May 24th at 2 p.m.