Location-Based Automation- Why a Digital Twin of Moving Things is the Missing Piece for Successful Industrial Automation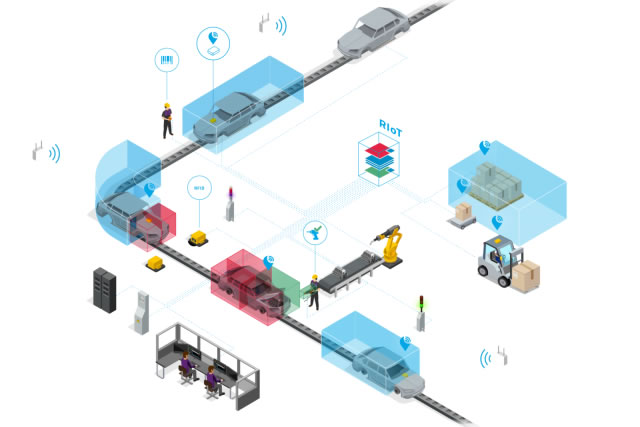 This article outlines why the promising concept of the digital twin has often fallen short of its goal of end-to-end automation and connectivity. It argues that to achieve a full digital transformation, companies need to equip their digital twins with precise location-based data of all moving assets on the shop floor and in your supply chain. This comprehensive location-based data enables digital twins to create actionable insights for operational excellence, smart process automation, and increased production quality. Use cases depicted include location-based automation from asset management to tool control resulting in higher productivity, quality, flexibility, and sustainability.
As defined by the Digital Twin Consortium, digital twins are a virtual representation of real-world entities and processes, and the mechanism by which the virtual and real-world entities are synchronized.[1] Using sensor data, digital twins create a virtual model that can be used to analyze, optimize, and automate the current and future state of physical assets or processes in industrial environments. From product iteration, asset management, predictive maintenance, and downtime prevention, digital twins enable a variety of use cases and enable companies to make data-based decisions around maintenance, sustainability, process efficiency, and performance.
The Missing Part for End-to-End Automation
While the concept of the digital twin is not a new one, its relevance for industrial automation and the implementation of smart manufacturing processes is continuously increasing. In the past, both the physical shop floor as well as its digital twin had one downside: The astounding lack of data on moving assets on the shop floor. Mehdi Bentanfous, CEO Americas of KINEXON Inc. states that "the impact of a digital twin is only as strong as the data it is drawing from. Machinery, which only makes up 1% of all assets in a typical production facility, is the main part that has been digitized so far. This means that companies are lacking critical information on 99% of their shopfloor –namely assets that are moving around the plant, including products, pallets, tools, AGVs. KINEXON's approach is location-based, meaning ultra-precise real-time asset tracking sensors provide data that truly reflects the dynamic processes on the shop floor and supply chain and creates unparalleled situational awareness."
"THE IMPACT OF A DIGITAL TWIN IS ONLY AS STRONG AS THE DATA IT IS DRAWING FROM."
So while digital twins have been leveraged successfully for machine control and prototyping, companies have barely scratched the surface when it comes to the potential of real-time data about the location and product status of assets on the shop floor and in the supply chain. KINEXON's location-based automation platform (LAP) is here to close that current data gap, turning location data from different technology sources into a location-based digital twin.
This digital twin then generates actionable insights in real-time. According to Jan Burian, Senior Director, Head of IDC Manufacturing Insights EMEA, "real-time localization is an essential and integral part of the smart factory of tomorrow. Thus, with the transparency that can be reached on the shop floor, companies are enabled to improve their production throughput and logistics."
Given the increasing automation of machinery and processes, digitizing the moving assets involved is proving to be invaluable for end-to-end automation and optimization of the production process. Along the supply chain, real-time data of moving assets can be tracked by various technologies, such as UWB or BLE indoors, and GPS outdoors. It is then processed and activated in a location-based automation platform, which simultaneously fuels other third-party systems such as WMS, MES and IoT and analytics platforms. A WMS for example could react faster and reprioritize order management in real-time, while an MES would benefit from better machine control and planning based on real-time material replenishment data. Additionally, general IoT and analytics platforms typically benefit from the integration of a location-based automation platform. Given the superior data they receive from LAP, they can analyze supply chain processes for the first time in a holistic way, from the supplier to the customer. This is possible by combining location-based data from the digital twin with sensor data like temperature, pressure, and other order-related context data. This end-to-end transparency is one of the most crucial deliverables within digital transformation initiatives.
A key to empowering companies to fully harness the benefits of the Industrial Internet of Things (IIoT) is KINEXON's unparalleled focus on interoperability. Ensuring the digital twin integrates technologies along the entire localization spectrum and also integrates seamlessly into the current software stack creates synergies between software systems, users, and processes along the entire supply chain. KINEXON aims for its digital twin to turn technology silos into value-adding data sources, and to enable smart manufacturing use cases through data sharing and integration.
There is no doubt that digital twins are here to stay, and 2020 was a case in point for their value in discrete manufacturing. "In times of economic disruption and demand volatility, as we experienced during the COVID-19 pandemic, Digital Twins can help companies develop robust and resilient plans for their supply chains and production. That's an invaluable advantage," says Bentanfous of KINEXON. Unsurprisingly, there is a tremendous growth trajectory for the digital twin market. Before the pandemic, Gartner's research found that 13% of organizations implementing IoT projects already used digital twins, while 62% were either in the process of establishing digital twin use or planning to do so. After the pandemic, Gartner expects that by 2023, one-third of mid-to-large-sized companies that implemented IoT will have implemented at least one digital twin associated with a COVID-19-motivated use case.[2] The entire market is forecast to reach USD 48.2 billion by 2026.[3]
Top 5 Reasons to Invest in a Location-Based Digital Twin
1. Process Optimization and accelerated production time
Location-based digital twins can leverage data for countless IoT use cases, including inventory management, process automation, paperless production, track & trace, automated tool control, AMR operations, search & find. The data is not only a key source for automation but also traceability and the creation of digital thread along the entire supply chain. Digital twins can help reduce waste, delays, and inefficiencies by leveraging historical and real-time data and to make future predictions.
2. Real-time risk assessment and predictive maintenance
The data processed by a location-based automation platform (LAP) is crucial for the identification of risks vis-à-vis workers as well as assets. Rather than relying on generic or periodic maintenance schedules, digital twins enable predictive, condition-based maintenance. This prevents unwanted machine downtimes, streamlines resources, and improves asset availability and reliability. At the same time, they bear tremendous potential for worker safety, collision prevention, and other workplace safety applications.
3. Immediate value & fast ROI
A Digital Twin for moving things is fueled by data from ready-to-use RTLS and other locating systems. Their findings fuel data-driven decisions, help identify bottlenecks, and optimization opportunities.
With a customer-friendly interface, they provide immediate value on an operational level without putting a burden on existing IT or OT systems.
4. Integration of all IoT systems
Interoperability is a key aspect of a successful digital transformation strategy. KINEXON's Digital Twin is designed to seamlessly integrate into existing software stacks and process data from any technology source. Without excessive demands on either IT or OT, it directly enables location-based automation while providing superior input for other IoT processes and big data analyses in 3rd party software.
5. Future-proofing your business
Digital twins and location-based automation are the groundwork to harvest the benefits of new cutting-edge technologies such as AI or machine learning. As a central automation hub, they reduce technology and department silos and foster collaboration and innovation. This becomes more and more relevant when taking into account the demand for remote real-time monitoring, troubleshooting, cooperation, and working realities in an increasingly global, fragmented world.
"BY 2023, ONE-THIRD OF MID-TO-LARGE-SIZED COMPANIES THAT IMPLEMENTED IOT WILL HAVE IMPLEMENTED AT LEAST ONE DIGITAL TWIN ASSOCIATED WITH A COVID-19-MOTIVATED USE CASE."
Sample Use Case:
Digital Twins are valuable across industry verticals, but automotive and manufacturing are among the key sectors for its use:
– Manufacturing: 5% Faster Assembly Line Speed through Automated Tool Control
A globally leading automotive manufacturer has been leveraging KINEXON's location-based automation platform for automated tool control along the assembly line. The automated configuration of tools, the fast and effective creation of geofences, and the ultra-precise digital visualization of the assembly process have not only created millions in savings, but they also helped reduce manual errors as well as product recalls. KINEXON's solution for the multinational vehicle manufacturer has been acknowledged with multiple industry awards.
– Automotive Supplier: Annual Savings and Productivity Increases through Material Flow Optimization
Leading automotive supplier Continental leverages KINEXON's software for supply chain & material flow optimization. AGVs and picking boxes are equipped with RTLS sensors whose data is processed in the digital twin. The solution did not only increase the AVG utilization, it also optimized the material provision and replenishment while providing full transparency over intralogistics processes. More detail on the full spectrum of solutions is available in this case study.
Conclusion: Complete your Digital Transformation with Location-Enabled Digital Twins
"Location data remains one of the greatest untapped resources for companies today. At the same time, deriving true value from IoT applications relies on reliable, precise data from the "Location of Things" universe," so Bentanfous.
Investing in digital twins is not only a reasonable financial decision for today's bottom line, it sets a company up for further cost savings in the mid- and long-term. Given the recent price revolution and increasing adoption rate of different localization technologies like ultra-precise Ultra-Wideband (UWB) for indoor tracking or GPS for outdoor tracking, the potential to add value through location-based automation with a digital twin for moving things is now ready and available for every company to harness.
Jasmin Welter is the B2B Marketing Manager for global technology company KINEXON. With KINEXON, Jasmin is driving the utilization of location technologies for location-based industrial automation forward. Jasmin has over 10 years of experience working with and for international companies in the manufacturing and logistics industries, with a particular focus on smart manufacturing and digital transformation. You can connect with Jasmin on LinkedIn and follow updates on location-based automation here
Comments (0)
This post does not have any comments. Be the first to leave a comment below.
---
Post A Comment
You must be logged in before you can post a comment. Login now.
Featured Product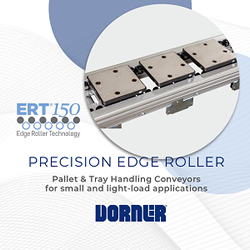 The next evolution in Dorner's Edge Roller Technology conveyor platform, the ERT®150, is ideal for small and light-load assembly automation, as well as medical and medical-device assembly application. The ERT platform is the only pallet conveyor of its kind available with an ISO Standard Class 4 rating for cleanroom applications. Earning the ISO Standard 14644-1 Class 4 rating means Dorner's ERT150 will conform and not contribute to the contamination of cleanrooms to those standards. As implied by its name, the ERT150 (Edge Roller Technology) uses rollers to move pallets through the conveyor smoothly with no friction (a byproduct often seen in belt-driven platforms). The conveyor's open design eliminates concerns of small parts or screws dropping into rollers and causing conveyor damage or jamming. The ERT150 is suited to operate in cleanroom environments requiring a pallet handling conveyor. It is capable of zoning for no or low-back pressure accumulation and is ideal for automation assembly applications within industries including medical devices, electronics, consumer goods among others.