Moving from Scare Easy to Secured Share Easy in Additive Manufacturing
One of the widely recognized characteristics of additive manufacturing (AM) is that it is a highly fragmented ecosystem. In spite of this, an end to end solution is usually needed and therefore partnerships and collaborations are crucial for the ecosystem to succeed. We continue to see many such relationships form, but they are typically cumbersome and time consuming to establish. When collaboration and knowledge sharing is needed for practically every item and process, this is a problem.
From Part to Finish
Let's take an imaginary AM-manufactured part for the passenger area of a car and assume it has some material and strength requirements. The car part manufacturer most likely has internal engineers that can design the part. If optimization for AM is desirable, that might be another expert, potentially outside the organization. Next, the material properties need to be considered, so an AM materials expert is needed, and if there are special requirements an external specialist might also be called in. Finally, the part's exterior texture needs to be the same as other interior car parts. You've guessed it; this requires a texturing expert.
This is daunting for any sized company - even more so when we dive into the details of this arrangement. Let's consider that a specialty material is needed. The material expert will need to make sure the company has all the information for the correct material properties in the part. How much should such an expert charge for his or her services? Is it the same price if the car part company plans to use it for 1 part (SKU) or for 10,000 different parts? How about for 10,000 of the same part? How about 10,000 each of 200 parts? If the expert is paid a lump sum, that lump sum is hard to determine. They could use a retainer, but once the company knows how to create the correct material properties, why continue the retainer? Finally, it makes a lot of sense to pay by the number of parts produced, but how would the expert know these numbers? Would the company be willing to open its books? Probably not. What can be done?
Software to the rescue
Luckily, there are software, especially SaaS (Software as a Service, or Cloud) solutions that can help. First, there are those that enable the uninitiated to benefit from expertise in a particular area. One example is a recently announced texturing solution which is itself a collaboration of Adobe's Substance and CoreTechnologie, combining both companies' know-how. The software provides the user with a menu of different textures they can apply to their parts. Even more interesting, there are software solutions (most prominent among them, LEO Lane) that allow you to securely share a wide variety of knowledge without revealing it and also support per part arrangements without the need for the company to open its books.
Secured knowledge sharing allows different entities to apply their specific expertise to an AM part without revealing this expertise to other parties contributing to the part or the part owner. Importantly, the solution makes sure the expertise is applied correctly, securely, and repeatably every time the part is produced. Furthermore, it allows the knowledge sharing expert to know their expertise was used without revealing proprietary information on how it was used. These types of solutions can speed up collaborations and allow for more AM applications to get to production faster.
In the often complicated and currently difficult business climate that we're contending with, it's good to know that such pain-free, risk-free solutions that drive efficiencies within AM operations exist. Indeed, as someone once (almost) sang – Shareway to Heaven.
***
Lee-Bath Nelson is Co-Founder and VP Business at LEO Lane, an Israel-based business which, via its cloud-based SaaS solution, helps companies to safely use digital inventories and protect their IP by enforcing a consistent, repeatable, secure and trackable digital supply chain for additive manufacturing. She can be reached at info@leolane.com.
Comments (0)
This post does not have any comments. Be the first to leave a comment below.
---
Post A Comment
You must be logged in before you can post a comment. Login now.
Featured Product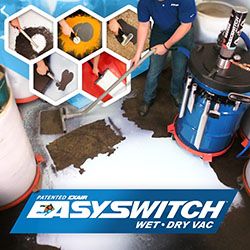 EasySwitch Wet-Dry Vacuum simplifies the filter change process when switching from vacuuming a dry material to a liquid or vice versa. The EasySwitch is a powerful pneumatic vacuum that is ideal for any application - wet, dry, light and heavy. https://exair.co/184_5175 Learn more about our special on our vacuums at https://exair.co/184-vacpromo