Faulty Takata Airbags Make Headlines Again
Takata airbags are in the news again for all the wrong reasons. The Australian media is rife with reports of faulty airbags from the manufacturer. Some reports even suggest that the driving license of motorists who continue to drive these vehicles could be canceled. Late in 2019, cars with faulty Takata airbags were being recalled on a massive scale. The National Highway Traffic Safety Administration (NHTSA) reported that this recall was a little different from the millions of vehicles that have been under recall over the years, for faulty Takata airbags.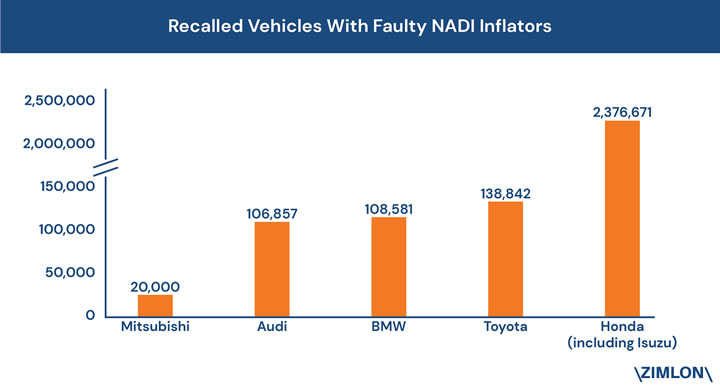 Source: NHTSA
https://www.nhtsa.gov/recalls/takata-air-bags-nadi
The recalls made in late-2019 was due to defective NADI (Non-Azide Driver Inflators). These defective airbags have inflators that could explode, which the manufacturers have narrowed it down to a faulty seal. This defect could lead to a delay in the deployment of airbags (which fails to serve the purpose of an airbag) or an aggressive deployment, which ultimately could lead to an explosion, injuring the occupants.
A History of Recalls and Faulty Safety Devices:
This is not the first time that Takata Corporation has run into problems. Following investigations by Federal officials, cars with Takata seat belts were recalled in 1995. A New York Times report suggested that the issue was with the plastic release button, which grew "brittle and weak" over time. The NHTSA recorded over 539 complaints and 47 injuries.
Takata's airbags started running into problems in 2013. According to the NHTSA, over 63 million airbags have been recalled because of the possibility that they could explode when deployed. These explosions can be quite fatal to the occupants, as proven by numerous recorded incidents of injuries and fatalities. NHTSA's report puts the number of fatalities due to defective Takata PSAN airbags at 16, with at least 250 people injured. The cars have been divided into 12 priority groups, and vehicle manufacturers are required to have repair parts available for each of these groups last by September 30, 2020.
This major crisis drove Takata to bankruptcy in 2017, with debts of over $9 million. The company had even admitted to withholding information about faulty airbags. In April 2018, Key Safety Systems acquired Takata with a $1.6 billion deal. An agreement was reached between the companies, that they would be called Joyson Safety Systems going ahead. This deal will see to it that the company can continue manufacturing replacement inflators before it ultimately winds down in a few years, putting an end to decades of run-ins with the NHTSA and safety standards.
Zimlon, over the years, has listed out several ways in which drivers can improve savings on auto insurance in the country. Seat belts, airbags, and other safety devices are key safety elements that help reduce the risk of injury and/or death. Auto insurance providers offer discounts to motorists who equip their vehicles with the latest anti-theft and other safety equipment.
Zimlon analyzes the numerous factors that affect the cost of auto insurance in the country. It aims at helping homeowners choose an auto insurer that suits their needs in the best possible way.
Comments (0)
This post does not have any comments. Be the first to leave a comment below.
---
Post A Comment
You must be logged in before you can post a comment. Login now.
Featured Product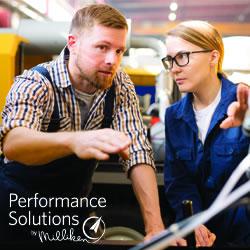 Performance Solutions by Milliken is a dedicated consulting and training group that helps guide businesses toward success. From supply chain, to operations and safety, we're dedicated to developing sustainable results for our clients through the implementation of a holistic operating system. We believe engaging all associates in the process will systematically transform your company to create efficiency, uncover hidden capacity, and generate long-term gains. Are you ready to reinvent your operations and transform your organization? Let's get started.