Zebra Study: Six in 10 Plan Warehouse Automation to Augment Labor by 2024
Zebra Technologies Corporation (NASDAQ: ZBRA), an innovator at the edge of the enterprise with solutions and partners that enable businesses to gain a performance edge, today announced the results of its 2024 Warehousing Vision Study, analyzing IT and operations decision makers' current and planned strategies for modernizing their warehouses, distribution centers and fulfillment centers.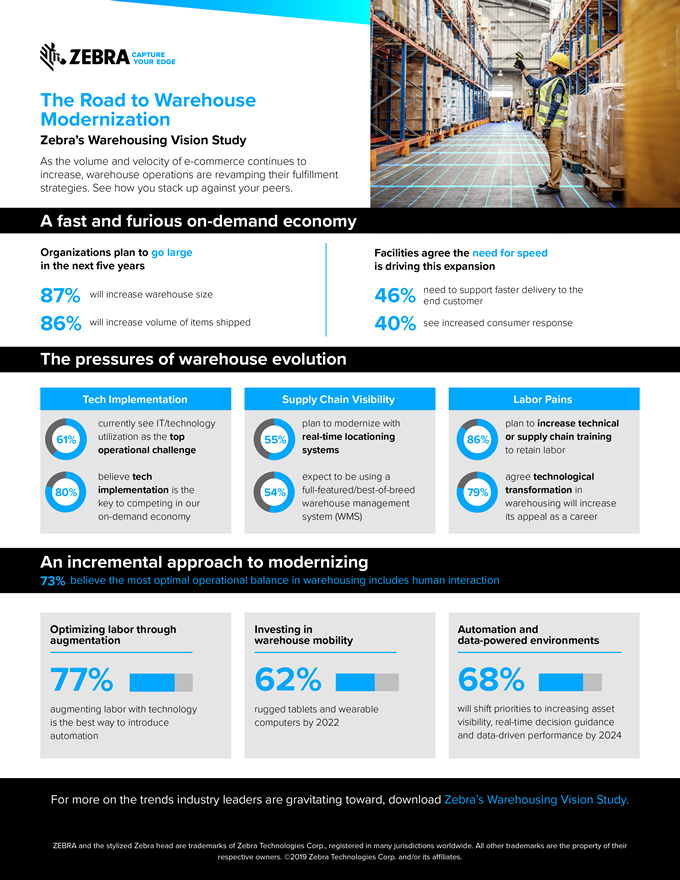 The study reports on the forward-thinking fulfillment strategies companies are focusing on to keep up with the growth of the on-demand economy. Both automation and worker augmentation solutions will be a key focus for decision makers' plans during the next five years. More than three-quarters (77 percent) of respondents agree that augmenting workers with technology is the best way to introduce automation in the warehouse, but only 35 percent have a clear understanding of where to start automating. Eighty-seven percent of decision makers are currently in the process of or planning to expand the size of their warehouses by 2024, with 82 percent anticipating an increase in the number of warehouses during this timeframe.
"IT and operations decision makers are prepared to meet this heightened demand over the next five years by taking an incremental approach to modernizing their warehouse operations, in which they will first work to improve individual and team productivity, while achieving workflow conformity," said Mark Wheeler, director of supply chain solutions, Zebra Technologies. "By 2024, leaders will shift their focus to the integration of more holistic solutions to build data-powered environments that balance labor and automation in the warehouse, ultimately empowering front-line workers with a performance edge to lead the way."
KEY SURVEY FINDINGS
By 2024, automation will enhance worker performance rather than replace workers.
Sixty-one percent of decision makers plan to enable partial automation or labor augmentation with technology in the warehouse.
Three-quarters of respondents believe human interaction is part of their optimal operational balance, with 39 percent citing partial automation (some human involvement) and 34 percent citing augmentation (equipping workers with devices) as their preference.
Decision makers anticipate using robotics/bots for inbound inventory management (24 percent), outbound packing (22 percent) and goods in/receiving (20 percent) by 2024.
Rethinking fulfillment strategies and operations to meet emerging challenges across the warehouse remains a top priority.
Fifty-nine percent of respondents cited capacity utilization as a significant expected challenge and plan to address it by expanding the size of their warehouses.
Sixty percent of organizations cited labor recruitment and/or labor efficiency and productivity among their top challenges, with 63 percent of respondents noting an immediate focus on individual or team productivity outcomes.
IT/technology utilization was identified both as the most anticipated operational challenge (61 percent) of the next five years and a desired long-term outcome for increased asset visibility, real-time guidance and data-driven performance.
As warehouses expand, so will the volume of stock keeping units (SKUs) and the speed items need to be shipped. Decision makers will seek increased visibility and productivity by implementing more robust returns management operations (81 percent), task interleaving (80 percent), value-added services (80 percent) and third-party logistics (83 percent).
The investment and implementation of new technologies is critical for remaining competitive in the on-demand economy.
Almost half (46 percent) of surveyed respondents cited faster delivery to end-customers as the primary factor driving their warehouse growth plans.
More than three-quarters (77 percent) of decision makers agree that they need to modernize operations across the warehouse to remain competitive in the on-demand economy but are slow to implement new mobile devices and technology.
Seventy-three percent of companies are currently modernizing their warehouses by implementing or refreshing mobile computers, tablets and barcode scanners.

By 2024, modernization will be driven by Android-based mobile computing solutions (83 percent), real-time location systems (RTLS) (55 percent) and full-featured warehouse management systems (WMS) (54 percent).

Sixty percent of respondents cited mobile barcode label or thermal printers as a key area of investment as part of their plans to add, expand or upgrade devices in the next three years.
KEY REGIONAL SURVEY FINDINGS
Asia-Pacific
By 2024, 87 percent of respondents plan to implement a mobile execution system to better manage workers on the warehouse floor.
Seventy-three percent of decision makers plan to invest in smart watches, smart glasses and hip-mounted wearables in the next three years.
Europe
The square footage of the average warehouse is projected to increase by 26 percent—more than in any other region—in the next five years.
By 2024, RFID and locationing technology usage is anticipated to increase for outbound operations with more than one in five planning to use them for packing (25 percent), inventory management (20 percent) and picking (19 percent).
Latin America
Latin American decision makers identified labor efficiency or productivity (71 percent) as the top operational challenge of the next five years.
Ninety-five percent of organizations plan to implement Android-based mobile computers in the warehouse by 2024 to help improve worker productivity and efficiency.
North America
Almost half (49 percent) of North American decision makers identified outbound packing, staging and loading as a challenge.
Ninety-four percent of respondents will have implemented or plan to implement trailer load optimization and/or load compliance solutions by 2024.
SURVEY BACKGROUND AND METHODOLOGY
The 2024 Warehousing Vision Study included 1,403 IT and operational decision makers in the manufacturing, transportation & logistics, retail, post and parcel delivery and wholesale distribution markets in North America, Latin America, Asia-Pacific and Europe who were interviewed by Qualtrics.
ABOUT ZEBRA
Zebra (NASDAQ: ZBRA) empowers the front line of business in retail/ecommerce, manufacturing, transportation and logistics, healthcare and other industries to achieve a performance edge. With more than 10,000 partners across 100 countries, we deliver industry-tailored, end-to-end solutions that intelligently connect people, assets and data to help our customers make business-critical decisions. Our market-leading solutions elevate the shopping experience, track and manage inventory as well as improve supply chain efficiency and patient care. Ranked on Forbes' list of America's Best Employers for the last four years, Zebra helps our customers capture their edge. For more information, visit www.zebra.com or sign up for news alerts. Follow us on LinkedIn,Twitter and Facebook.
ZEBRA and the stylized Zebra head are trademarks of Zebra Technologies Corporation, registered in many jurisdictions worldwide. Android is a trademark of Google Inc. All other trademarks are the property of their respective owners. ©2019 Zebra Technologies Corporation and/or its affiliates. All rights reserved.
Comments (0)
This post does not have any comments. Be the first to leave a comment below.
---
Post A Comment
You must be logged in before you can post a comment. Login now.
Featured Product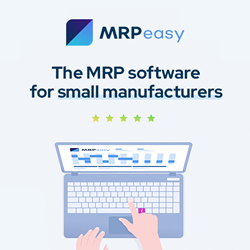 Always know what you have in stock and what you'll need to fulfill orders. Never forget to order parts on time or fail to notice a late delivery from your vendor. Easily create manufacturing orders and schedule them automatically according to resource availability or delivery deadline. Generate accurate cost and lead time estimates and provide customers with quick quotes. Receive notifications when orders are late or inventory levels reach a critical point. Ensure seamless communication between sales, production, warehousing, procurement, administration, and finance. Integrate with popular accounting, CRM, and e-commerce apps. MRPeasy is an ERP software for small manufacturers that gives you all that and more. Our users report a 54% average improvement in the overall performance of their business and a 42% increase in on-time deliveries. Try for free, no credit card needed.