KeraCel, a World Leader in Solid-state Lithium Ion Batteries, Announced a Breakthrough in its Multi-material Ceramic Battery Using its Proprietary 3D Printing Technology
There are significant challenges in producing ceramic solid-state batteries which KeraCel has overcome. As such, the ability to print battery elements uniformly and with seamless interfaces is highly challenging. Significant R&D effort has gone into developing the materials and the process technology required to successfully build the structure without any defects.
"There are multiple technology breakthroughs in our ability to 3D print a very sensitive part of our ceramic solid-state battery," said Robert Bagheri, KeraCel's CEO. "Our lead customers are evaluating our latest generation samples targeted at wearable applications. Over the coming months we will be expanding our engagements with tier one players in mobile and EV, while we continue to improve battery capacity as well as cycle life performance."
KeraCel's 3D printed manufacturing technology will allow highly cost-effective production of solid-state batteries. These advancements in materials science, electrochemistry, and innovative 3D print process will allow KeraCel ceramic batteries to deliver 1200 Wh/l energy density, which is approximately twice that of standard Lithium ion batteries, and high C rates required by industrial and automotive applications.
About KeraCel
KeraCel is bringing to market a next-generation Lithium-ion solid-state battery design and manufacturing method that will allow production of cells with ceramic-based electrolytes and lithium metal anodes to achieve energy densities 2-3 times greater, and improved safety, and at a cost of less than 50%, when compared to Lithium Ion cells today for same energy. The 3D print manufacturing process will allow virtually any shape or size of cell to be built for a multitude of applications without changing equipment or tooling under software control.
Comments (0)
This post does not have any comments. Be the first to leave a comment below.
---
Post A Comment
You must be logged in before you can post a comment. Login now.
Featured Product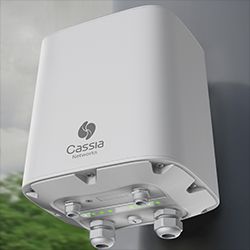 Cassia works with smart IIoT equipment manufacturers to help them overcome their challenges and to provide the competitive edge they need to reach their business goals. We provide companies in various IIoT sectors with a comprehensive suite of enterprise Bluetooth IoT products and solutions they need to enable smart IIoT solutions such as Condition Monitoring, Predictive Maintenance as well as Personnel and Asset Tracking solutions. Cassia's long-range Bluetooth gateways are uniquely designed for today's Industrial IoT enterprises to provide the scalability, flexibility and ease of deployment needed to reduce costs and achieve greater ROI.